After Lengthy Court Battle, Colorado School Board Votes to End Contested Voucher Program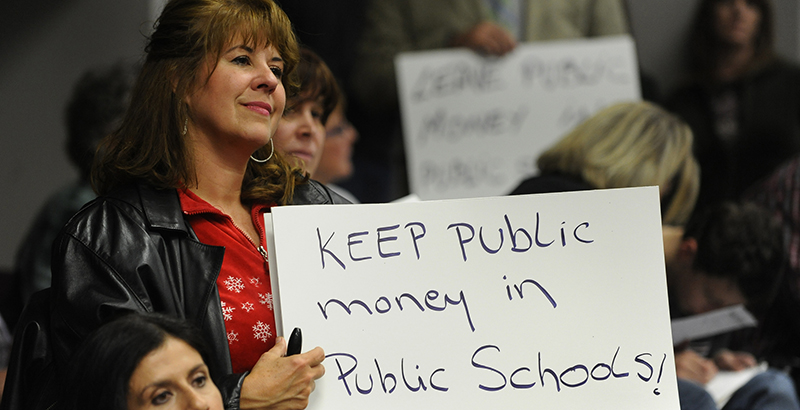 The Douglas County, Colorado, school board voted last night to end the district's controversial voucher program in a highly anticipated yet closely watched move.
In a race that received national attention for its potential implications for voucher programs around the country, voters in November elected four anti-voucher school board candidates, who joined three like-minded members on the board.
In the run-up to the election, the American Federation of Teachers spent $300,000 to support anti-voucher candidates, and Republican donors contributed heavily to their opponents, The Denver Post reported.
The campaigning didn't stop after the election. Last week, the pro-voucher nonprofit Americans for Prosperity announced it was running a "five-figure accountability push" to promote vouchers in Douglas County.
The board wasted no time voting to end the Douglas County Choice Scholarship program, which a conservative-leaning school board established in 2011 to give up to 500 families tax-funded vouchers to use for private school tuition, some at religious schools. About 80 people attending the Monday night meeting applauded the decision.
The program has been controversial from the start and tied up in court for years. Unlike most voucher programs, Douglas County's was open to any student. The county, about 25 miles south of Denver, is one of the nation's wealthiest suburbs. Opponents of the program said it would take money away from local public schools and give it to schools with less accountability.
The Douglas County case was closely watched as a national experiment in school choice that would potentially prompt a ruling from the Supreme Court.
The Colorado Supreme Court ruled the program unconstitutional in 2015, sending it to the U.S. Supreme Court. But the Supreme Court passed the case back to the state courthouse after its decision about public funding for religiously affiliated education programs and facilities in Trinity Lutheran v. Comer this summer. The court ruled in that case that the state of Missouri violated the First Amendment when it banned a church preschool from receiving public funds for playground safety.
Get stories like these delivered straight to your inbox. Sign up for The 74 Newsletter