Colorado School Board Races Draw Outsize Attention as School Reform, Vouchers at Stake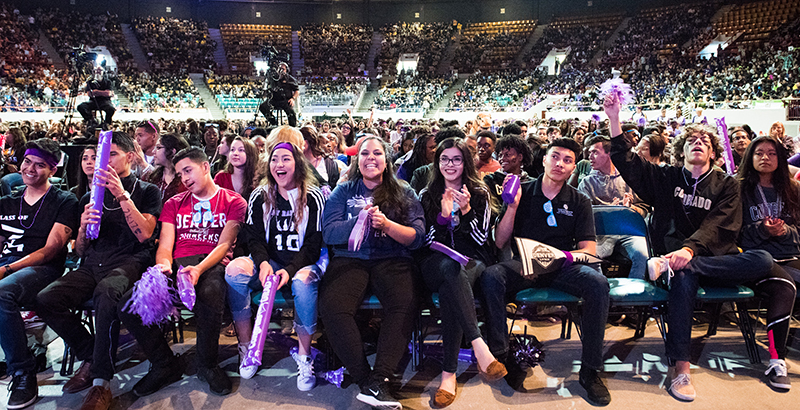 Voters in two Colorado school districts will go to the polls next week for school board races that could have implications far beyond their borders and that have attracted a commensurate level of national attention.
In Denver, challengers could switch the balance of the school board from unanimously pro-reform to a slim majority that wants to change course from the district's current efforts to create top-performing schools through some of the most ambitious reforms in the nation, including a breadth of choices, charter school cooperation, and closures of failing schools.
In suburban Douglas County, meanwhile, voters will indirectly decide the fate of a pending court case that could change the legal status of private school vouchers in the country.
"It keeps popping up all around the country that this local school board election could change the course of education in the nation," Norman Provizer, a political science professor at Metro State University, told The Denver Post.
Douglas County voters in 2009, after a big push from the county Republican Party, elected a slate of Republicans to the nonpartisan school board to oversee the 86,000-student district, Chalkbeat Colorado reported.
They enacted a host of changes, including, in 2011, a universal voucher program that would have allowed up to 500 children to attend private schools, many religiously affiliated, using taxpayer dollars. If more than 500 students applied, the district planned to use a lottery.
Advocates sued to stop the program, citing the state's Blaine Amendment, a provision barring state funding for religious education. Similar provisions are included in many state constitutions, and judges have cited them to stop voucher and other private school choice programs.
After years of court battles, the case is again in legal limbo. In early 2017, an appeal of the Colorado Supreme Court's decision to block the voucher program was sitting before the U.S. Supreme Court.
Then justices in June decided a different case, Trinity Lutheran v. Comer, which struck down a Missouri ban on a church-affiliated preschool participating in a state-funded playground safety program. The justices argued that rather than being an issue of the state supporting religion, Missouri's move to block the church's participation amounted to discrimination against a religious entity participating in a wholly secular program.
Though a majority of justices signed on to a footnote limiting the decision to just the Missouri issue, justices referred the Douglas County case back to the state's high court to reconsider in light of the Missouri ruling.
"The Trinity precedent, the thinking goes, lit a path for the Douglas County case to strike down Blaine Amendments, in Colorado or even nationwide. But that can only happen if the case moves forward," Max Eden wrote in the journal Education Next.
A union-backed slate of candidates calling themselves "CommUnity Matters" have said they'll stop defending the program, while those on the GOP-backed "Elevate Douglas County" slate have said they'd continue the litigation to keep it. There are four seats up on the seven-member board.
Voters will also have to consider more local issues, like a tax increase, teacher pay, capital needs, and restoring civility on an often-contentious board, Colorado Public Radio reported.
In Denver, DeVos, Trump, and 'for-profit' charters?
Denver has for several years been one of the cities most hospitable to education reform efforts.
The number of charter schools, which are authorized by the school board, has grown rapidly, and leaders have experimented with new "innovation" school models that give school leaders more autonomy, including over teacher contracts. Families have a robust public choice environment in the 92,000-student district, and leaders have closed poor-performing schools, both charter and district.
Though all seven of the current board members back the reforms, that could change next week. Four seats are up for election, and each has at least one candidate who wants to shift direction.
The school board elections, like much else in the landscape of education politics this year, have been heated, and have drawn in national education issues and leaders in the Trump administration.
Protesters this summer tied unpopular Education Secretary Betsy DeVos to Denver-style reforms, Chalkbeat Colorado reported.
DeVos, though, hasn't been shy about criticizing Denver, and district leaders have sought to distinguish their reforms, which don't include private options, from DeVos's proposals.
A union-affiliated independent campaign committee also sent out a mailer tying District 2 candidate Angela Cobián to President Donald Trump and DeVos, a move the daughter of Mexican immigrants said was a "hypocritical, absurd and inane attack," according to Chalkbeat.
In another race, a different union-backed campaign committee sent out a mailer claiming incumbent Rachele Espiritu had, among other things, voted to cede space in a district-run high school to a "for-profit" charter school.
The school in question, a campus of the high-performing Denver School of Science and Technology, better known as DSST, is run by a nonprofit board, as are all charter schools in Colorado.
Charters in Colorado may contract with for-profit management companies, but DSST runs its own schools. The school is in a separate building, on the same campus, as the district school, Chalkbeat reported.
"A very sad day in Denver when candidates for school board and interest groups model lying for our students. Character matters. Winning at all costs never ok," Bill Kurtz, DSST's CEO, wrote on Twitter.
The committee, Brighter Futures for Denver Students, has agreed to stop using the "for-profit" language after being contacted by DSST lawyers, Chalkbeat reported.
The Denver Post and education reform groups have endorsed the incumbents and Cobián, who is running for the one empty seat, while the Denver Classroom Teachers Association, the 5,600-member teachers union, has endorsed challengers.
Outside organizations, including unions and education reform groups, spent $1.5 million on the Colorado school board races as of mid-October, with much of that going to the Denver and Douglas County contests, Chalkbeat reported.
Get stories like these delivered straight to your inbox. Sign up for The 74 Newsletter