A Blow for Republicans — and a 'Warning Light' for Education Reformers — in the 2017 Elections Results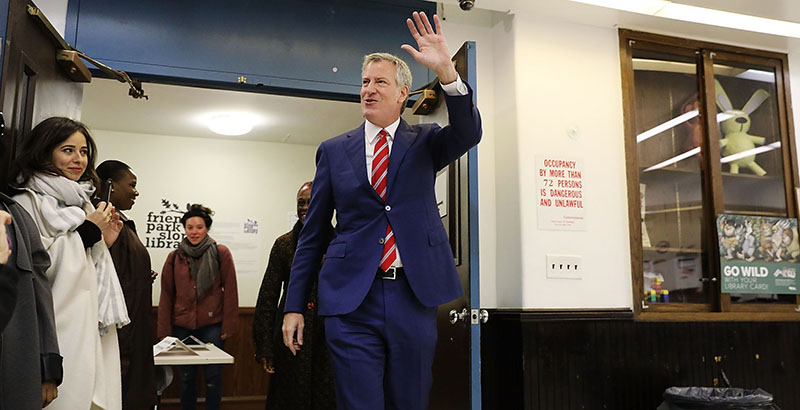 Tuesday marked the first round of state and local elections of the Trump era, and Democrats showed their eagerness to shake off their 2016 hangover.
The party's candidates — and particularly its mayors — secured control over city halls, statehouses, and governors' mansions from coast to coast. Aside from a special congressional election to replace a retiring Republican in Utah, Democrats swept virtually every high-profile race.
While many of the campaigns seemed to turn on national politics, including the performance of President Donald Trump, municipal races for school board and mayor were often animated by debates over school choice and education finance. Teachers unions weren't shy about opening their wallets, donating heavily to winning and losing candidates alike. And some education observers are already reading the tea leaves for hints about 2018.
"The main thing for education reformers to think about is: What happens if there's a wave election for Democrats [next year], as there is likely to be?" said Michael Petrilli, president of the right-leaning Fordham Institute. "Certainly that will have an impact in Washington, but it will also affect the kinds of governors getting elected."
But before looking ahead to next year, we should examine the returns from this year's major Democratic romp.
The governors
In the race that generated the most media attention by far, Democrat Ralph Northam defeated Republican Ed Gillespie to become the next governor of Virginia. Though the campaign was largely interpreted as a referendum on Trump's sharp-elbowed politics, public schools loomed in the background.
Teachers unions spent nearly half a million dollars electing Northam, while Gillespie accepted over $100,000 in contributions from family members of Education Secretary Betsy DeVos. On his way to victory, Northam won the plaudits of reform critics like Diane Ravitch for his skepticism of charter school expansion.
As expected, Democratic ambassador and banker Phil Murphy defeated Republican Lt. Gov. Kim Guadagno to succeed Chris Christie as New Jersey governor. Though the outcome of the election wasn't truly in doubt, Murphy now has to face tough questions over labor and school funding in one of the nation's worst-run states. Though property taxes are through the roof, public pension funds are still chronically underfunded, and Murphy may find governing less diverting than campaigning.
"As a practical matter, in order to provide any kind of property tax relief through education, you're going to have to redo the formula somehow," a prominent Republican told Politico. "I just don't think he's going to be up for doing that."
Elsewhere in the Garden State
Meanwhile, Senate Majority Leader Steve Sweeney, regarded by some as the most powerful Democrat in the state, easily turned back an attempt to unseat him launched by New Jersey's largest teachers union. Reportedly miffed over Sweeney's support for pension reform, the New Jersey Education Association donated $5 million to his Republican opponent in a bid to strike fear into wayward Democrats.
It didn't work, and now the union has to be concerned about blowback from a Trenton powerhouse. Alluding to the street warfare of HBO's The Wire, education commentator Patrick Riccards wrote, "NJEA came at the king, and it missed. As a result, the union — and its members — may have to pay the price."
Finally, two school board candidates who were targeted with racist flyers in Edison, New Jersey, were both comfortably elected. The Asian-American candidates were the biggest vote-getters for the city's three contested seats.
Inclusion triumphs
If Democrats were the prominent victors on Tuesday, so were gender inclusiveness and racial diversity. Across the country, female, LGBT, and minority candidates won offices that had previously only gone to white and/or male candidates. It was a particular debut for trans candidates.
In Erie, Pennsylvania, not known as a bastion of identity politics, Tyler Titus won a school board race to become the first openly transgender person elected to office in the history of the state. Democrat Danica Roem did the same in Virginia, where she defeated an incumbent Republican assemblyman who had made opposition to transgender rights a signature of his campaign. And in winning her race for Minneapolis City Council, Andrea Jenkins is now the first openly transgender black woman to hold office in the United States.
The mayors
Incumbent mayoral candidates won new terms in cities large and small. Most prominently, Bill de Blasio easily became the first Democrat re-elected as New York's mayor since Ed Koch in 1985. He succeeded in part by building strong relationships with the city's unionized teachers, often setting off skirmishes with powerful members of the city's school reform committee.
Elsewhere, Cleveland's mayor, Frank Jackson, — who has fought hard, if not always successfully, for greater charter school quality, including entering a politically risky pact with Republican Gov. John Kasich — earned an unprecedented fourth mayoral term. Mayor Marty Walsh in Boston ran roughshod over his opponent, who challenged him from the left on teacher pay and charter schools. A former charter founder, Walsh nevertheless opposed a measure to lift a statewide cap on the sector. The second-term mayor will now have to hammer out a new contract with the city's teachers, who have driven hard bargains in the past.
"With a renewed mandate from voters, Walsh can revive his stalled high school redesign program, provide universal pre-K, and follow through on the universal application for parents," The Boston Globe wrote hopefully. That may be a tall order, but Walsh's convincing victory margin could provide the political cushion he needs.
School boards
Finally, union-backed candidates in Colorado handily defeated their reform-oriented rivals for seats on the Douglas County school board. As a result, local officials will likely drop their defense of a legally contested program authorizing private school vouchers. In nearby Denver, where four of the school board's seven seats were up for grabs, reformers and pro-union candidates each won two. In Seattle, an attorney backed by the group Democrats for Education Reform lost his quest for an open seat on the city's board.
In sum, the elections will change the lives of millions of voters throughout the United States, but they likely also hold an omen for future races.
"This should be a warning light for reformers," said Petrilli. "We have 12 months to prepare and to get those Democrats running for governor toward at least a neutral stance toward education reform, and maybe even to embrace reforms."
Support The 74's year-end campaign. Make a tax-exempt donation now.