WATCH: Parkland Students Speak at Harvard University About How They're Changing America's Conversation About Guns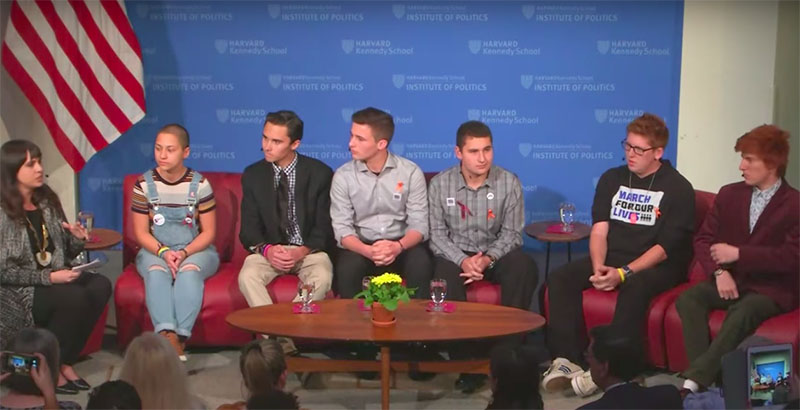 Survivors of the mass shooting at Marjory Stoneman Douglas High School who are organizing a movement around gun control stopped to reflect on violence, activism, and this Saturday's national march at an event at the Harvard Kennedy School of Government Tuesday.
One of the students, Cameron Kasky, explained that he decided he and his classmates needed to speak out while listening to the radio in the car on the way home from school on the day of the February 14 shooting that left 17 dead.
"I was looking at my phone, and seeing what was going on, and I started to realize, I've seen this before," he said. "I've seen this happen countless times, and what happens is we get two weeks in the news, we get a bundle of thoughts and prayers, everybody sends flowers, and then it's over. I said, 'What's different this time? What can we do differently this time?' "
"We know that we can fix this, but we have to jump now. We have to start now," he said.
In addition to Kasky, the conversation included Ryan Deitsch, Matt Deitsch, Emma González, David Hogg, and Alex Wind, who are leading the "Never Again" movement and organizing Saturday's March for Our Lives.
The forum happened the same day a school shooting in Maryland left two students injured and a student gunman dead.
At the Harvard event, one of the Parkland students, Ryan Deitsch, noted that the very forum in which they were participating was named for a man killed by a gun, President John F. Kennedy.
"The bullet doesn't discriminate," he said.
Get stories like these delivered straight to your inbox. Sign up for The 74 Newsletter