The Revolution Will Be Hashtagged. Social-Media-Savvy, Irreverent, and Maybe a Bit Entitled, Parkland Students Succeed Where Others Have Failed to Launch a National Movement Around Guns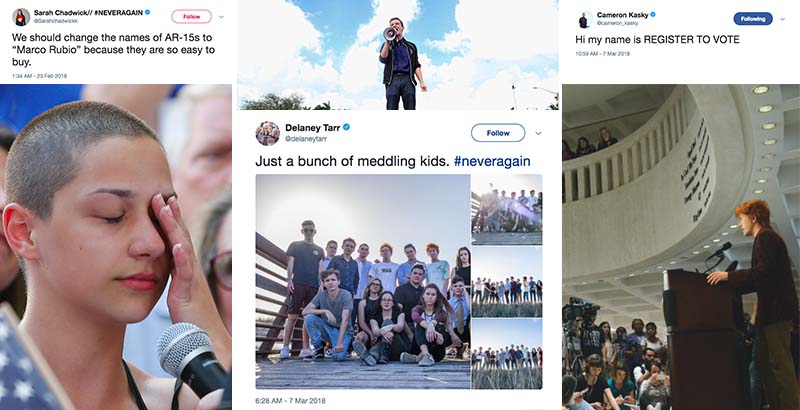 When a gunman took over his school, student-journalist David Hogg knew it was a moment he should document. Hiding in a closet with classmates as a former student stalked the halls of Marjory Stoneman Douglas High School with an AR-15, Hogg took out his phone to report what was happening. Within a few days of the February 14 shooting in Parkland, Florida, that killed 17, he and his friends were tweeting about their grief, rage, and plans for action.
In the process, Hogg and his classmates began to change the rules about how we talk about mass shootings in the U.S. The power of the movement is underscored by tomorrow's national walkout, in which students from around the country will cut class in what is expected to be one of the largest student demonstrations since the Vietnam War.
In the weeks since the incident, the Parkland students have amassed thousands of followers on Twitter. Just two weeks after she created her account, Emma González, one of the most visible, had more than twice as many followers as the official account for the National Rifle Association. The students' #NeverAgain movement has gained endorsements and donations from the likes of Oprah Winfrey, George and Amal Clooney, and Lin-Manuel Miranda. Their national GoFundMe page had raised more than $3.2 million at the time of publication.
In addition to tomorrow's walkout, students, with help from national and local organizations, are planning a March on Washington scheduled for March 24 and another national school walkout on April 20, the 19th anniversary of the Columbine High School shooting.
Already, it has become common for observers to note that something "feels different" this time about the national dialogue around guns. Media attention on the issue has lingered longer than usual.
Sen. Jeff Flake, a moderate Republican from Arizona who is not seeking re-election, has said Republicans must grapple with the issue in a new way.
"This shooting was different," Flake told reporters. Due in large part to "high school kids who have been very articulate," he said: "We seem to have crossed the Rubicon."
The students' activism is strengthened by a facility with Twitter and other social media that comes from spending an average of nearly nine hours a day (not including time spent on schoolwork) using technology. Plus, they're coming of age in the Trump era, when tweets regularly make the front page of The New York Times, and in the midst of the #MeToo movement, which stripped Hollywood moguls and TV personalities of their power seemingly overnight.
The student-activists are funny. They're irreverent.
And they're willing to stand up to powerful figures, as they did last week when Education Secretary Betsy DeVos visited Stoneman Douglas.
They've proposed an assault weapons ban and urged gun control measures, using words that parents who lost children in the 2012 shooting at Sandy Hook Elementary in Newtown, Connecticut, were told never to say.
But some caveats are in order: Despite the student outcry, legislators in Florida and in Washington, D.C., have thus far resisted enacting sweeping policy changes on guns. With students watching from the gallery, the Republican-controlled Florida House declined, days after the Parkland shooting, to take up a bill that would ban assault rifles. State lawmakers have passed a package of measures that authorizes arming some school employees, adds a waiting period for firearms purchases, and raises the minimum age requirement for buying guns. The package also includes funding for resource officers, mental health services, and safety programs in schools.
The students' strongest impact may be on the private sector. More than 20 corporations have terminated their relationships with the NRA in what The Atlantic calls "a perfect storm of articulate student outrage and savvy online activism." Dick's Sporting Goods and Walmart, both major gun retailers, announced they would stop selling "assault-style rifles" and would stop selling guns to anyone under 21 years old, regardless of local and federal laws.
In addition to being articulate and demanding, the Parkland students are used to being seen: in live-streamed video on Facebook, on a friend's Snap Map, and in photos on Instagram — making them less reluctant than previous generations might have been to appear on national news so soon and so frequently after a national tragedy. (Some of the student leaders also have experience with theater and broadcasting, which certainly helps.)
Along the way, they have absorbed lessons about how to focus media attention. Just a few days after losing 17 members of their school community, they let a Buzzfeed News reporter into their command center (really, a family living room in their affluent South Florida neighborhood).
They appear undeterred by internet trolls. Research shows that about a third of teens have been cyberbullied and even more have seen it happening online, so receiving negative attention online was likely not a surprise.
Hogg, the student-journalist, even thanked those spreading conspiracy theories accusing him of being a crisis actor, saying they are "great advertisers" for his cause.
Despite their newfound fame as high-profile activists, the students continue to remind followers that they're still kids — comfortable retweeting memes and pictures of dogs when they're not organizing trips to meet legislators or confronting Sen. Marco Rubio on live television.
Other factors are contributing to their outsize role in the national conversation on guns. The Parkland students are well-off and highly educated. Daily Show host and comedian Trevor Noah praised them for using their affluence "in the best possible way" to disrupt the gun control debate and demand answers from adults.
"This is people using their privilege … because these kids are like, 'No, I don't accept this world," Noah said. "It's amazing when you combine resources and point of view."
Perhaps aware of their outsize role, Parkland survivors recently met with students from Chicago who have faced regular gun violence but without the media spotlight. González, one of the student leaders in Parkland, said the Chicago students "face gun violence on a level that we have only just glimpsed from our gated communities."
In a piece for Harper's Bazaar, González attempts to distill the Parkland students' message for adults:
If I'm able to communicate one thing to adults it would be this: it should not be easier to purchase a gun than it is to obtain a driver's license, and military grade weapons should not be accessible in civilian settings. You don't drive a NASCAR on the street, no matter how fun it might be, just like you don't need an AR-15 to protect yourself when walking home at night. No one does.
Get stories like these delivered straight to your inbox. Sign up for The 74 Newsletter