Watch: Dr. Ashish Jha Says Cities That Close Their Schools Before Bars 'Don't Care About Kids and They Don't Care About COVID'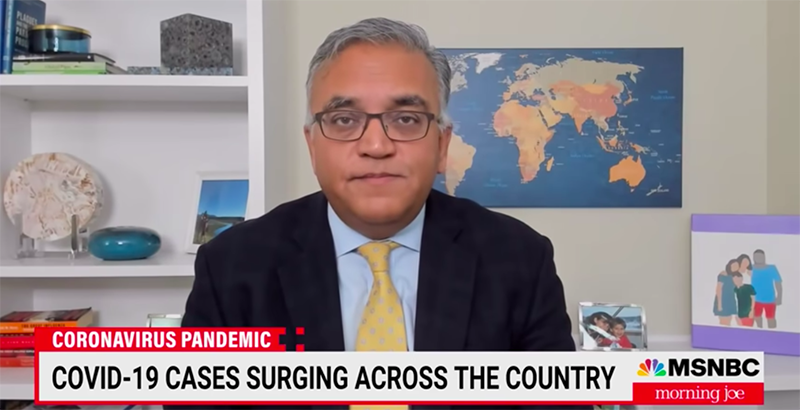 Amid a tsunami of new COVID cases tied to the Omicron variant, and the first headlines pointing to K-12 schools extending winter breaks and pivoting to remote learning to cope with the surge, Dr. Ashish Jha, dean of the Brown University School of Public Health, appeared on MSNBC Monday and urged policymakers to treat school closures as only a last resort.
"What I'm hearing from school districts is already questions about going remote. I think it's irresponsible at this point to do that," he said.
"We have all the tools to keep schools open and safe: Vaccinations, testing, improvements in ventilation, tens of billions of dollars have gone to schools … If I hear of a single school district that goes remote but keeps bars open what that says to me is: They don't care about kids — and they don't care about COVID. Because bars spread COVID. Schools generally don't — not if you put in place mitigation efforts."
"I'm worried that city leaders are going to give up on kids and not do the right thing." See Dr. Jha's full comments:
See some of our recent coverage about COVID, Omicron and schools (sign up here to receive our daily updates):
—Tracking School Closures: As Omicron threat looms, school closures continue ticking upward (Read more)
—Push to Vaccinate: A COVID vaccine advocacy group in Boston by youth of color, for youth of color (Read more)
—Mandatory Boosters: Some states start requiring school staff booster shots as Omicron fears fuel nationwide vaccination spike (Read more)
—Test-to-Stay: As schools brace for winter wave, CDC endorses test-to-stay to keep students in school (Read more)
Get stories like these delivered straight to your inbox. Sign up for The 74 Newsletter