New Mexico Requires School Staff Booster Shots as Omicron Fears Fuel Nationwide Vaccination Spike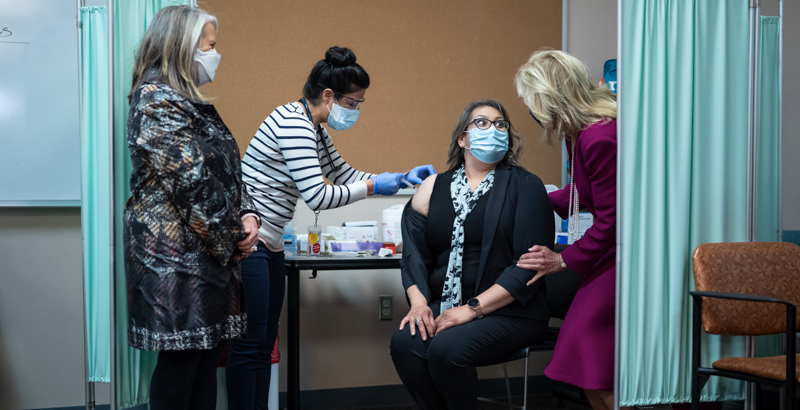 Support The 74's year-end campaign. Make a tax-exempt donation now.
Updated Dec. 7
In what may be a national first, New Mexico issued a Dec. 2 order requiring that all school staff receive coronavirus booster shots or submit to weekly testing.
The state was already enforcing a vaccinate-or-test rule for K-12 workers and other state employees, but due to concern surrounding the recently identified Omicron variant, the state announced that it will require school staff to up their immunity with an extra shot of the vaccine by Jan. 17, 2022.
Booster shots, infectious disease specialists believe, are the best defense against the new strain.
"We recognize the gravity of the situation," Nora Sackett, press secretary for Gov. Michelle Lujan Grisham, told The 74. "For folks who are fully vaccinated, they are now required to get their booster shot, if they're eligible."
As of Nov. 29, 85 percent of school staff had been fully vaccinated, according to the state Public Education Department. K-12 employees who are unvaccinated, or who have two doses but choose not to receive a third, must undergo weekly testing for the virus, she explained. If staff are non-compliant with the testing regimen, individual school districts will decide on repercussions.
Only about 9 percent of school staff reported having received a booster shot as of Dec. 7, meaning the vast majority of vaccinated K-12 employees still must submit documentation of a third dose by Jan. 17 in order to avoid the state's weekly testing regimen.
Outside of schools, the order requires third doses with no testing opt-out for New Mexico's health care workers. It's the first booster mandate in the nation that the data team behind the COVID policy tracker Burbio has identified.
"We haven't seen it anywhere else," Burbio co-founder Dennis Roche told The 74.
While numerous districts, including Chicago, gave teachers a day off to get their third shots, he said, "we have not seen [boosters] mandated until we saw it in New Mexico."
Sackett, also, said she was not aware of any other states having such a policy on the books.
The news release published by the governor's office includes multiple paragraphs outlining the threats posed by the Omicron variant, which seem to have motivated the announcement. The new COVID strain has been detected in at least 17 U.S. states, with cases continuing to increase, according to the Centers for Disease Control and Prevention.
In late November, the World Health Organization named the Omicron strain a "variant of concern" just days after it was first identified. Its high number of mutations — including three times more than the Delta strain on the protein used to latch onto cells — raises alarm for officials. But scientists have yet to determine whether the new version of the virus is indeed more transmissible or better able to evade the protections provided by existing vaccines. More clarity will arrive in the coming weeks, experts say. For now, the Delta variant remains the dominant coronavirus strain in the U.S. and is responsible for the vast majority of cases, hospitalizations and deaths.
The CDC last Monday strengthened its language on booster doses to recommend that all adults "should," rather than "may," receive a third shot six months after their second. A day later, Pfizer CEO and Chairman Albert Bourla announced that his pharmaceutical company requested authorization from the Food and Drug Administration to extend eligibility for third doses to 16- and 17-year olds.
Alarm over possible threats from the Omicron strain may be translating into more demand for coronavirus immunizations. On Thursday, nearly 2.2 million doses were administered, according to CDC data, a level not seen since late May.
It remains unclear, however, who exactly has been rolling up their sleeves. Counts published by the American Academy of Pediatrics indicate that the number of youth getting vaccinated against the coronavirus had slowed considerably in the seven-day period ending Dec. 1, but the nationwide spike in doses has mostly come after that window.
On Thursday, President Joe Biden announced a spate of new policies designed to enhance school safety and boost youth vaccination rates. He introduced measures including the expansion of clinics in underserved areas and a requirement that Medicaid pay health care providers for vaccine consultations with families.
"​​We're going to fight this variant with science and speed, not chaos and confusion," said the president.
Biden also indicated that the CDC would soon release updated guidance on "test-to-stay" programs for schools that allow students potentially exposed to the virus to avoid quarantine if they test negative before the school day. This fall, the practice has grown increasingly popular nationwide as schools seek to keep healthy students learning in person. Test-to-stay schemes would likely expand further should the federal government recommend their implementation.
In California, the state that so far has taken the most aggressive approach to vaccinating its public school students, a federal appeals court on Sunday delivered a win to San Diego Unified School District, lifting an injunction against the implementation of its student COVID immunization mandate. Students 16 and up in the state's second-largest school system will have until Dec. 20 to receive their second vaccine doses if they wish to attend school in person after Jan. 24, when the policy is set to take effect.
"This latest decision recognizes that we have both the responsibility to protect students and the authority to do so by implementing a vaccine mandate, which is really our best hope as a country to get this deadly disease under control," Board President Richard Barrera said in a statement.
The case, however, may be ongoing according to Paul Jonna, the attorney representing the lawsuit's plaintiff, a 16-year-old high school junior who sued the district over its mandate in October, citing religious objections.
"We will seek emergency relief from the U.S. Supreme Court as soon as possible," Jonna said in a statement.
More than 7 in 10 eligible San Diego students are fully vaccinated, the San Diego Union-Tribune reports.
Just north in Los Angeles, where a student immunization rule will also soon go into effect, the district published figures Nov. 22 showing that 79 percent of eligible youth had received at least one coronavirus shot or were medically exempt. L.A. Unified's mandate applies to all students ages 12 and up.
California is also the only state in the nation to adopt a statewide student COVID mandate, which will likely kick in next school year. But already, a small district in San Diego County has said that it will allow unvaccinated students to continue learning in separate, off-campus buildings, contradicting the state law.
"For whatever reason, if the parent chooses not to vaccinate [their child], I still believe that a student deserves every opportunity to reach their potential," schools Superintendent Rich Newman said.
On the other side of the country, New York City will up the stakes on vaccination even for its youngest residents, requiring restaurants and movie theaters by Dec. 14 to check the vaccination status of children ages 5 to 11, Mayor Bill de Blasio announced Monday.
Back in New Mexico, bracing for the possible threats of the Omicron variant, acting Health Secretary David Scrase shared his reasoning on the state's new booster requirement.
"New Mexico isn't an island," he said, "and we can't prevent the new variant from arriving here. So we must defend ourselves with the tools we know to work."
Support The 74's year-end campaign. Make a tax-exempt donation now.