As Schools Brace for Winter Omicron Wave, CDC Endorses Test-to-Stay to Keep Students in School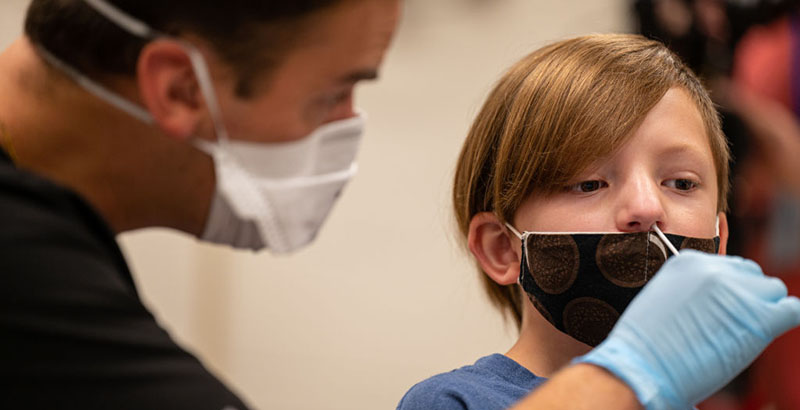 Support The 74's year-end campaign. Make a tax-exempt donation now.
Test-to-stay is a "another valuable tool" that can keep students from missing school and learning due to quarantine, the Centers for Disease Control and Prevention announced Friday. 
Under the protocol — which many states and districts have had in place for months — unvaccinated students who are exposed to COVID-19 can remain in school if all students wear masks, don't display any symptoms and test twice a week.
Data suggests "that a school-based [test-to-stay] strategy in a large and diverse county did not increase school transmission risk and might greatly reduce loss of in-person school days," according to an evaluation of a program in Los Angeles County, one of two studies released with the CDC's statement. "Thus, schools might consider [test-to-stay] as an option for keeping quarantined students in school to continue in-person learning."
With schools breaking for the holidays and rising concerns about the spread of the Omicron variant, observers said the announcement — now part of the CDC's COVID-19 guidance for schools — comes just in time. John Bailey, a senior fellow at the American Enterprise Institute who publishes a daily newsletter on COVID-related research, called it "welcomed news" that helps schools prepare for the potential Omicron wave in January. But the agency also urged all eligible students to be vaccinated and get a booster shot, and said schools shouldn't abandon other safety procedures, including social distancing, improving ventilation and handwashing.
"It's encouraging that test-to-stay strategies are proving effective both in limiting transmission of the virus and in ensuring that students can remain learning in school, so that entire classrooms or schools do not have to shut down when a case of COVID-19 is discovered in the school community," Education Secretary Miguel Cardona said in a statement.
It's unclear, however, how many students those shutdowns have affected. Bailey faulted the Department of Education for not issuing weekly reports on how many students are in quarantine and whether they're receiving instruction.
"We should not be relying on third parties for that data," he said. "An agency that is using civil rights authorities to enforce mask mandates should be curious about the civil rights of kids who are not being served in the midst of quarantines."
The CDC's two studies show that test-to-stay is significantly minimizing disruptions in learning.
Thirty-nine of Los Angeles County's 78 school districts implemented test-to-stay. In those that didn't follow the model, 4,322 students tested positive between Sept. 20 and the end of October, compared to 812 students in the districts that implemented the program.
In Lake County, Illinois, 90 schools implemented test-to-stay between early August and Oct. 29. Just 16 students out of a total 65,384 tested positive. The authors wrote that assuming students would have missed eight school days during a 10-day quarantine, the program "preserved up to 8,152 in-person learning days" for students that were exposed.
Leah Perkinson, a manager at the Rockefeller Foundation, which has worked with districts to implement testing, called this "one of the happiest days for me throughout this whole entire pandemic" and said the announcement will likely prompt more districts to adopt the strategy. "Some people are only willing to move forward when the CDC releases guidance."
The data, she added, could also inspire other settings, such as child care centers and camps, to see if they can implement test-to-stay.
One challenge, however, is that some rapid COVID tests are not picking up Omicron, according to Dr. Anthony Fauci, director of the National Institute of Allergies and Infectious Disease.
The two studies also noted complications that limit districts' ability to implement the model, such as staffing shortages, the need for "robust contact identification and tracing" and a lack of support from parents.
"Some schools reported a shortage of testing supplies, requiring [test-to-stay] participants to access off-site testing, which might have presented a barrier in low-resource school settings," according to the second evaluation on Lake County, Illinois. "State and local public health and education agencies should strive to ensure that schools in low-resource areas have equitable access to staffing and testing supplies to implement [test-to-stay]."
Support The 74's year-end campaign. Make a tax-exempt donation now.