This Week In Education Politics: Government Funding Countdown, Think Tanks and Advocates Consider Bullying, School Police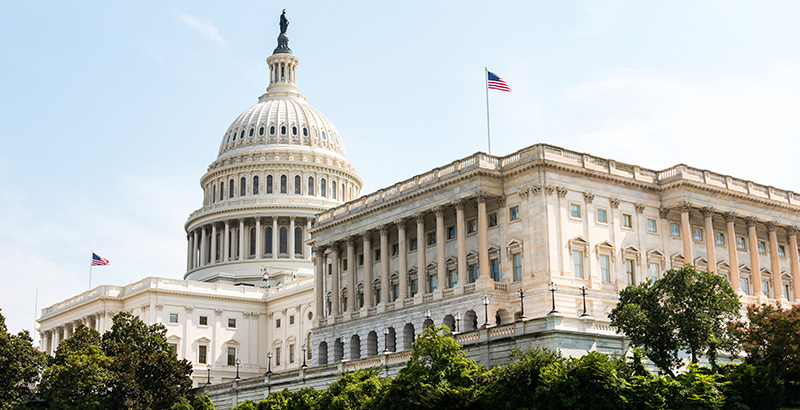 THIS WEEK IN EDUCATION POLITICS publishes most Saturdays. (See previous editions here.) You can get the preview delivered straight to your inbox by signing up for The 74 Newsletter; for rolling updates on federal education policy, follow Carolyn Phenicie on Twitter @cphenicie.
INBOX: APPROPRIATIONS CLOCK — Lurking beneath the political drama of a bombshell anonymous op-ed and a full-on Supreme Court nomination battle is a much more routine political crisis in the making: funding the federal government.
The Senate last month, for the first time in a decade, debated and passed a $71.4 billion bill funding the Education Department. The education bill, which is always bundled with funding for the Labor and Health and Human Services departments, was packaged with the defense spending bill to ease its passage through the Senate.
The House passed its own bill through committee earlier in the summer but has not considered it on the floor. Both chambers voted last week to go to conference on the bill and begin ironing out differences.
House members are scheduled for just seven more days before the Sept. 30 funding deadline. Members are likely to want to wrap up work before that so they can go back home and campaign for re-election. Speaker Paul Ryan said he has a "very good understanding" with the president about the need to continue government funding before the deadline, despite President Donald Trump's comments that a shutdown, largely over money to build a border wall with Mexico, could happen.
ICYMI: KAVANAUGH HEARING — Much of Judge Brett Kavanaugh's two-day-long testimony before the Senate Judiciary Committee focused on political hot-button topics like abortion and presidential pardon power. A few K-12 education-adjacent topics, though, did come up in questioning late Thursday.
Hawaii Sen. Mazie Hirono, a Democrat, asked about the Janus decision, the Supreme Court's June ruling exempting dissenting public-sector employees from paying required union dues. An earlier Supreme Court case from the 1970s held that non-union public employees still had to pay fees to cover the costs of collective bargaining and other shared benefits. With Janus, the current court found that being compelled to support those activities violated the dissenting members' First Amendment rights.
Hirono charged that Kavanaugh's nomination is part of a larger campaign by conservative donors to take away workers' rights, and she questioned how and when justices can overturn long-standing precedent.
"That's a precedent of the court, that, of course, because it's one of the recent cases, I can't comment on whether I agree or disagree with it. But it's a precedent that is now part of the body of the Supreme Court case law," Kavanaugh said of Janus.
Sen. Kamala Harris, Democrat of California, questioned Kavanaugh over 1999 comments he made that the government, within 10 to 20 years, wouldn't need to recognize differences in races. And, she asked, if that point ever arrives, whether that would mean the federal government should stop funding historically black colleges and universities.
Kavanaugh said the effort for racial equality is not finished and discrimination "is still a reality we see on an all-too-frequent basis."
On the question of funding for HBCUs, Kavanaugh said it's "hard to foresee what that would mean," but he recognizes the history and "importance" of the institutions.
MONDAY: SCHOOL SAFETY — The conservative Heritage Foundation hosts a panel discussion on ensuring student safety through the use of "child safety" school choice accounts. Florida earlier this year passed a program to offer vouchers to bullying victims.
WEDNESDAY: CONGRESSIONAL BLACK CAUCUS — The Congressional Black Caucus Foundation holds its annual legislative conference, including sessions focused on "removing the stigma of career and technical education," "combating the administration's assault on education," and "protecting our students from gun violence."
THURSDAY: SCHOOL POLICE — The Advancement Project and Alliance for Educational Justice releases a new report on school policing, calling for an end to law enforcement in school, highlighting "how school policing uniquely harms youth of color," and analyzing national and city-specific policing and school discipline data.
The Advancement Project this spring brought together student organizers to call for less law enforcement and more counselors in school ahead of the March student walkouts to call for more gun control and memorialize the Parkland victims.
FRIDAY: EDU-PINIONS — The journal EdNext hosts a discussion of this year's results of its annual poll on school choice, accountability, school spending, and other issues. This year's poll looked at teacher salaries, charter schools, Common Core, and immigration, among other issues.
Get stories like these delivered straight to your inbox. Sign up for The 74 Newsletter