'There Is an Open Question': Four Religious School Choice Cases That Could Face SCOTUS and Kavanaugh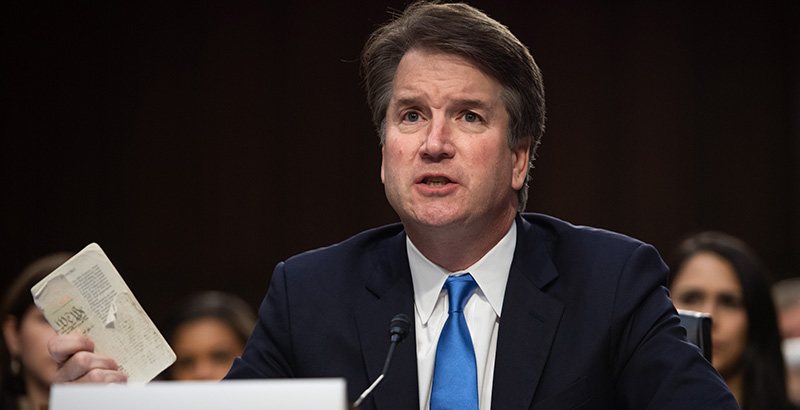 Judge Brett Kavanaugh, who is in the midst of a heated confirmation hearing, has been clear that he backs school choice, predicting that the Supreme Court would uphold vouchers and working in 2000 to defend a publicly funded state scholarship program that allowed Florida students to attend private and parochial schools.
Should he be confirmed and join the court, there's a very good chance he could consider another case concerning school choice and the appropriate role of government funding for religious schools.
The Supreme Court ruled 7-2 last year, in a case known as Trinity Lutheran, that a religiously affiliated preschool couldn't be excluded from a state grant program that provided upgraded safety materials for playgrounds simply because it was run by a church.
Missouri officials had excluded it because a provision in its state constitution prohibits state funding of religious schools. Similar Blaine Amendments are included in many state constitutions. Named after U.S. Rep. James Blaine, who unsuccessfully tried to include one in the U.S. Constitution in the 1870s, they were fueled by animosity toward a growing Catholic immigrant population.
Though justices in their majority opinion included a footnote clarifying they "do not address religious uses of funding or other forms of discrimination," several other cases concerning school choice and public funding of religious institutions are percolating in state courts.
Advocates for religious liberty say the Blaine Amendments inappropriately discriminate against religion in violation of the First Amendment. Others who advocate for the separation of church and state say the provisions protect taxpayers from funding causes they disagree with, from religion generally to rules at some churches banning, for example, LGBT teachers or students.
Experts are divided over whether, or how soon, the Supreme Court could consider any of these cases after the Trinity Lutheran ruling.
"I do believe one of these cases will ultimately have to be decided by the Supreme Court. There is the open question left after Trinity Lutheran … as to whether or not states may rely on their Blaine Amendments to exclude religious options from school choice programs," Tim Keller, senior attorney with the Institute for Justice, which brought several of the cases, told The 74.
Alex Luchenitser, associate legal director at Americans United for Separation of Church and State, said Kavanaugh's expected addition to the court means the justices are likely to take up one of the cases.
"He's made pretty clear that he thinks that it's OK to use public funds for religious activities if the funds are neutrally available to both religious and non-religious institutions. I think it's probably fair to say that if he's confirmed, that probably would increase the odds that the Supreme Court would take one of these cases," he said.
That doesn't mean, however, that it would come immediately, as the Supreme Court generally likes to wait a few years between cases on the same issue, he said.
Although Kavanaugh has spoken out for allowing state support of religious schools, it's not clear how the rest of the justices would decide, even those who usually side with the conservative bloc on decisions and ruled in favor of the church-affiliated preschool in Trinity Lutheran, Luchenitser said.
Here are four First Amendment school choice cases moving through the lower courts, in order of how close they may be to consideration by the Supreme Court:
Montana: Lawmakers in 2015 passed a tax-credit scholarship, and the state Department of Revenue, citing the state's Blaine Amendment, wrote administrative rules banning participation by religious schools.
The Montana Supreme Court heard the case in April. Because the case was brought under state law, rather than federal, any decision can be appealed directly to the U.S. Supreme Court.
New Mexico: The New Mexico case is perhaps not the best test case for the bigger question of state funding of religious schools, because the state's Blaine Amendment bans public funding to all private schools, not just religious ones, experts said. The program at issue funds textbooks at schools throughout the state; private schools have been barred from participating since it was challenged in 2015.
Attorneys argued that though the Blaine Amendment has broader prohibitions, it was still motivated by unconstitutional anti-Catholic animus, and judges were receptive to that argument, said Eric Baxter, vice president and senior counsel at the Becket Fund for Religious Liberty, which is working to overturn the law.
The case has been appealed to the Supreme Court once, but it was sent back to state court for a rehearing after the Trinity Lutheran decision.
The New Mexico judges heard arguments in May, and attorneys anticipate a ruling in the next month or so, Baxter said.
Maine: The state has for many years had a law allowing towns too small to merit their own schools to either send students to an assigned school in another district or pay for students to attend another school of their choice. Since the 1980s, state regulations have banned those "tuitioning" agreements from going to religiously affiliated schools.
The Institute for Justice filed a case challenging the religion ban in federal court; the group has tried and lost twice before but re-filed in light of the Trinity ruling.
The Supreme Court has already ruled that school choice programs, so long as they are available to all types of religious institutions and controlled by parents, pass muster under the U.S. Constitution, the Institute's Keller said, citing the 2002 case Zelman v. Simmons-Harris.
"The school choice situation is a much easier case than Trinity Lutheran because you're not talking about any sort of direct aid to an institution. You're talking about aid to individuals, who make an independent choice as to where to use their government benefits," he said.
Luchenitser said he doesn't think Trinity Lutheran is applicable because that concerned public funding at a religious institution of an explicitly non-religious program.
Here, though, public dollars would fund tuition, "which is a quintessentially religious activity. We don't think that Trinity Lutheran changes anything," he said.
Washington: The Institute for Justice last month filed a case challenging Washington state's ban on using a college work-study program at religious institutions. The state pays a portion of the student's salary. The organization represents Summit Christian Academy, a K-12 school in Spokane that wanted to hire a college student as a math tutor, and members of a student group at Whitworth University, also in Spokane, who couldn't use the work-study program at their Presbyterian college.
Support The 74's year-end campaign. Make a tax-exempt donation now.