'This Is the Reality I Go Home To': Students at Virtual Town Hall Urge Educators to Talk About Race and Racism. Here Are Some Starting Points for Teachers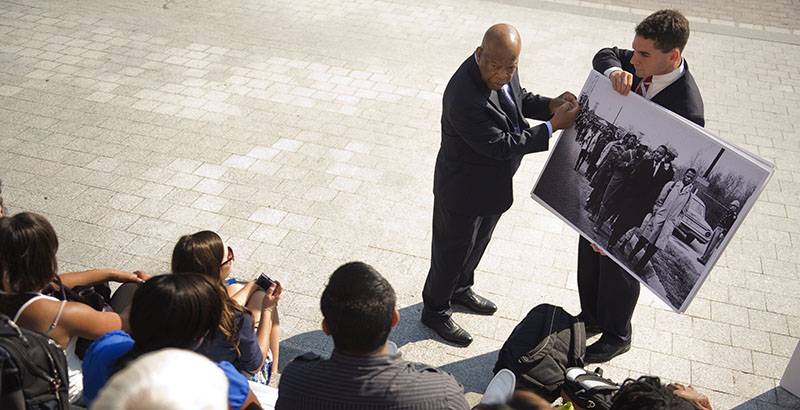 The 2020-21 school year will be unlike any other in history, with many students learning online from home, and with those who are in school wearing masks and taking other precautions against the coronavirus pandemic.
After an intense summer of protests for racial justice in response to high-profile incidents of Black people being killed and injured by police, students would like to see another difference at school this year: frank and honest conversations about race and racism.
It's "insensitive" for teachers to gloss over race in class discussions and history lessons, Shanyce Taylor, a high school senior from Staten Island, New York, said during a recent Virtual Youth Town Hall where she was a panelist. "This is the reality a lot of our students go home to. This is the reality I go home to."
"This is a big topic that kind of has to shake the table because this is not going away until everyone understands what's going on," she said. "And we can't just keep ignoring it and passing it to the next generation because it's only going to get worse as time progresses."
The Aug. 26 town hall, attended by some 500 people and hosted by The 74 and America's Promise Alliance, a nonprofit organization that supports youth, was a chance for students from across the country to share their insights and advice for teachers and education leaders as the school year begins amid a pandemic and a nationwide movement for racial justice.
Panelist Azariah "Z" Estes, a dual enrollment high school and college student from St. Louis, Missouri, has some simple advice for teachers: Start with yourself.
"Just research, keep yourself knowledgeable about it, especially for the white teachers that aren't too sure how to approach the conversation, just keep yourself educated and knowledgeable and talk to someone who has experienced those types of things so that you can base it off their perspective and you're not just basing it off the knowledge that you have received," said Estes, who is currently taking community college courses online.
Although a majority of America's public school students are people of color, the teaching force remains about 80 percent white. In an informal real-time poll, about a third of students attending the town hall said their schools never provided the opportunity to discuss race or racism, and another third said their schools "rarely" did so.
Paul Forbes, New York City Department of Education's director of educational equity, anti-bias and diversity, said he was reluctant to share a list of resources from which people could cherry-pick books and lessons without meaningfully engaging with the issue of systemic racism. No book or resource is a "magic pill" that can replace hard conversations, he said.
"If we want to talk about creating a better tomorrow, … it's imperative for our force, our profession, the teaching force, to be having these conversations in our classrooms," whether in person or online, said Forbes, who runs implicit bias training sessions for educators in the nation's largest school district. "With the challenges of a pandemic, now more than ever, we need to have these conversations and not just read a book, not just get a lesson plan but authentically, genuinely have these conversations."
Forbes, who spoke to The 74 Thursday — a day after an athlete strike shut down the NBA and canceled games and practices in other professional sports in support of Black Lives Matter — said he's hopeful this summer will spark meaningful change, if teachers take the opportunity that's in front of them.
"There are so many on-ramps and entry points for us" to discuss race and civil rights, he said, such as the life of John Lewis, who died July 17 and was a teenager when he first wrote to Martin Luther King Jr. At age 23, Lewis was the youngest speaker at the March on Washington, whose 57th anniversary was marked Friday by a fresh civil rights demonstration at the Lincoln Memorial.
Forbes recommended that teachers start with this reading list and compilation of anti-racist toolkits and the #FergusonSyllabus project, a crowdsourced list of news and opinion writing as well as movies, music and academic research. Over the summer, Forbes helped a group of white teachers create a book club, recommending that they read Wes Moore's book The Other Wes Moore and Bryan Stevenson's Just Mercy. The group also watched and discussed the documentary 13th and the movie American Son.
Here are some more resources to help teachers get started:
Books offer a good starting point for class discussions. Gloria Ladson-Billings, an education researcher known for coining the term "culturally relevant pedagogy" in the 1990s, recommended authors Jacqueline Woodson and Angie Thomas. For younger children, she suggested Kenneth Braswell's book Daddy, There's a Noise Outside, which describes recent and historical protests for racial justice in kid-friendly terms.
"Anyone who really WANTS to teach about this topic will find no shortage of resources — online, in the literature, newspapers, etc.," Ladson-Billings said in an email. She also recommended that teachers check out Teaching for Change and Teaching Tolerance.
Beverly Daniel Tatum, author of Why Are All the Black Kids Sitting Together in the Cafeteria?, echoed some of Ladson-Billings's suggestions and also recommended that educators visit Socialjusticebooks.org, which offers curated reading lists on a wide range of topics and resources for adults.
Teaching Tolerance is a project of the nonprofit Southern Poverty Law Center that publishes a print and digital magazine for educators and provides lesson plans, social justice standards to guide curriculum development and make schools more equitable, professional development and training for teachers and other resources. The site has a page dedicated to resources for race and ethnicity that includes lesson plans, webinars, articles for students and adults and more.
Facing History and Ourselves provides history lesson plans, professional development for teachers and other content with the mission of using "lessons of history to challenge teachers and their students to stand up to bigotry and hate." The content is relevant even to teachers who don't explicitly focus on history, said Laura Tavares, a program director there.
"I think there's a really strong argument to be made that all teachers need to be students of history to understand how did we get to this moment, to understand the ways that race and racism, ideas about race and racism, have really influenced the institution of schooling itself," she said. That awareness can help teachers "show up for our students, not just with the curriculum we teach but also in the way that we foster equitable and inclusive climates and practices in our schools."
Tavares recommends that teachers start with these sections of Facing History's site:
At the town hall, Taylor, the Staten Island senior, noted that teachers often share the classroom with a strong source of information: their students. Her school held conversations over Google Meet this summer for students to talk about their thoughts on the protests and riots.
"We had to school some teachers on a lot of things they didn't know," Taylor said.
Watch highlights from the town hall:
The town hall highlighting the perspectives of American youth was sponsored by Pure Edge, Inc., a foundation that equips educators and learners with strategies for combating stress and developing social, emotional and academic competencies, and Sanford Harmony/National University System, which is focused on building supportive learning communities where all students feel connected, valued, and heard through social and emotional learning.
Disclosure: Carnegie Corporation of New York and Chan Zuckerberg Initiative provide financial support to America's Promise Alliance and The 74.
Get stories like these delivered straight to your inbox. Sign up for The 74 Newsletter