Lessons From a Global Reckoning: New York City's Implicit Bias Workshop Goes Remote in the Shadow of Budget Cuts and the Spotlight of Black Lives Matter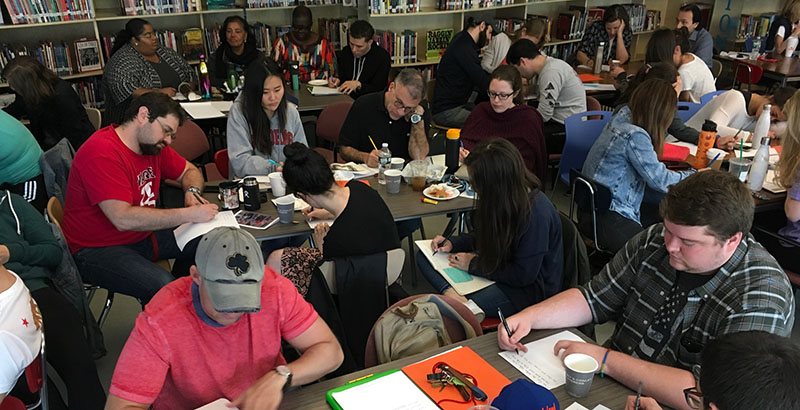 This is the fourth story in a six-part series, "Lessons From a Global Reckoning," in which The 74 examines how issues of race are taught — or ignored — in America's classrooms. As the pandemic continues and after nationwide protests following the death of George Floyd, this series seeks to take a hard look at how educators are tackling these painful but important issues. Read the rest of the pieces as they are published here.

On a recent summer Tuesday at noon, a straggler checks into a Zoom meeting, where 107 teachers, administrators and school counselors are listening to Paul Forbes deliver a lecture on implicit bias, the human tendency to judge others based on stereotypes unwittingly internalized.
Forbes is the New York City Department of Education's director of educational equity, anti-bias and diversity. He's run these mandatory workshops for two years, but the past four months have been different, with schools shuttered by a global pandemic — one that still threatens September's reopening — and a national reckoning taking place over the long-standing inequities faced by Black Americans.
"Now, more than ever, this is incredibly important," Forbes told The 74. "People have been quarantined, folks have been sheltering in, and people are seeing things in the news and on the streets. They're starting to think about the introspective work needed to understand their historical context. This is an opportune time to reflect."
His is a hopeful take on how hundreds, or potentially thousands, of staff will process a required professional development exercise that was contentious even before COVID-19 struck. Then again, Forbes's work is fueled by optimism, predicated as it is on the idea that the nation's largest school district can use empathy to move a mostly white teaching corps toward a more mindful approach, as they teach 1.1 million students who largely don't look like they do.
At the forefront of Forbes's mind is how this gap in life experience plays out in the classroom. New York remains one of the nation's most segregated school systems. Across the city, Black students are suspended at disproportionately higher rates and placed in gifted and talented classes less frequently than their white and Asian peers. In 2018, a white teacher drew outrage after stepping on a student while teaching a lesson about slavery.
As Forbes explains in his workshop, the policies and procedures that have led to those problems can't change until the administrators who put them in place — and the teachers who uphold them — take some time to examine the subtle preferences that they carry into daily interactions.
He likens this process to darkening a window so that it turns into a mirror. Workshop proponents say the endeavor is long overdue and might just stand a better chance at success now that, following weeks of protesting, a majority of Americans across racial groups say they support the Black Lives Matter movement.
But tackling the underlying assumptions of 130,000 employees has never been an easy feat, and it certainly isn't now, with 5,551 school safety officers, who were under the supervision of the New York Police Department, beginning their transition to the DOE. That move, in part a response to last month's police brutality protests, will include continuing the officers' training in de-escalation, implicit bias and restorative justice work, a DOE spokesman told Politico.
In person, the implicit bias workshop was a five-hour affair held in a rented space. Now, it consists of three hour-long, self-paced sessions, followed by an hour-and-a-half-long videoconference led by Forbes or one of his five colleagues.
Like the in-person version, the virtual session introduces a number of social psychology terms, including affinity bias (the tendency to side with people who share things in common with us), confirmation bias (the habit of preferring information that validates already-held beliefs) and conformity bias (the desire to align with a group's opinion).
Before the pandemic, attendees were clustered to discuss a TED Talk by Nigerian author Chimamanda Ngozi Adichie on the danger of a single story, draft poems about the people and places that shaped them, and chat about the origins of their names.
These interactive elements are no longer built into the workshop; the team tried using breakout rooms initially but ran into too many technical problems to keep them up.
Instead, the pandemic iteration is a lecture punctuated by three chances to engage using the Zoom chat box. Attendees are invited to vote on their musical preferences, guess student graduation rates by demographic, and select the most widely held American bias — which, it turns out, is ageism, a point Forbes drives home by playing Jay Z's cover of "Forever Young" by Alphaville. The workshop addresses not only age and race but also gender, disability and sexual orientation. Viewers don't have to participate in the chat to pass the class.
Researchers are still trying to understand how to decouple people from their prejudice in a way that sticks. Some data show that implicit bias workshops fail on that front.
"The relative scarcity of field experiments testing effectiveness leaves ambiguity about whether diversity training improves attitudes and behaviors toward women and racial minorities," the authors of one paper wrote in 2019. "One-off diversity trainings that are commonplace in organizations are not panaceas for remedying bias in the workplace."
Rachel Godsil is a co-founder of the Perception Institute, an organization that gained recognition for anti-bias workshops coordinated with Starbucks in May 2018. Around that time, officials at the NYC Department of Education approached Godsil's staff and asked them to help shape their own training.
While she acknowledges that research shows that success from the workshops is minimal, Godsil argues that they're still useful.
"We're not suggesting that the five-hour training will make people unbiased," she says. "It's really hard to reduce biases. The goal is to have teachers understand the vulnerability it takes to engage with students differently."
She hopes that the steps outlined in the session — spending more time with people from different backgrounds outside of work, imagining oneself into different perspectives and slowing down — might change how participants interact with students in the fall.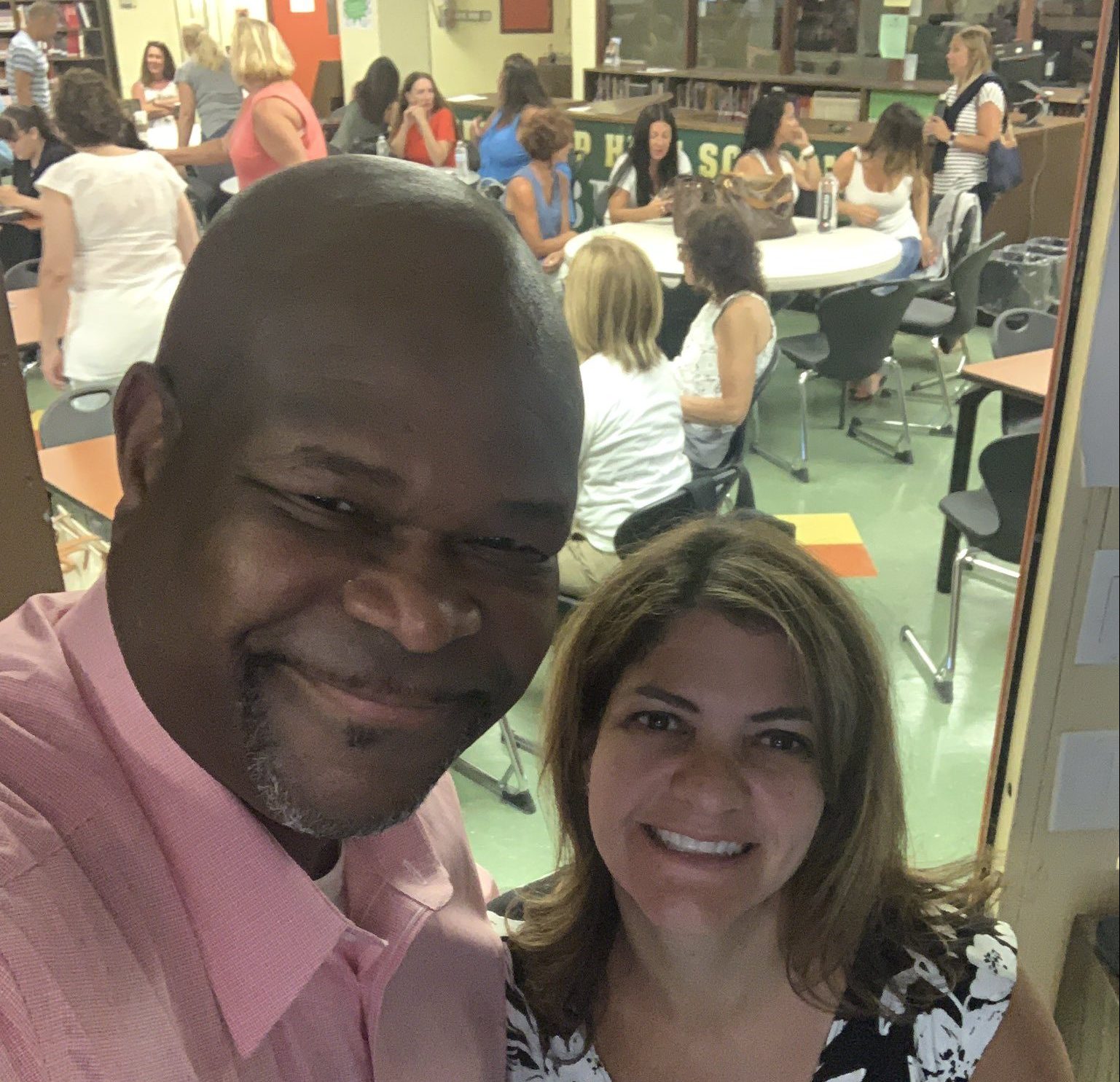 As Forbes put it on the Zoom call, "You're not going to end a session and be cured or healed or saved or sanctified. But you'll be more aware."
The Brooklyn-born sports fan is in his 23th year with the DOE, where most recently he was working with young Black and Latino men to boost their graduation rates.
During quarantine, Forbes spends his days leading the remote workshops and his nights reading the feedback he receives from staff. He misses the in-person sessions, where he could see them nod and shake their heads and call out from the audience.
"This work is about human connection," he says. "A piece of that has been the face-to-face."
In the current format, he can't tell what's happening on the receiving end for most participants during the lecture. Unlike some of his colleagues, Forbes turns his camera on, but attendees don't have to.
"You could cook while you're doing it. You could be on your computer shopping," he says. "I can't tell if you're not paying attention."
When the pandemic shuttered schools in March, it cut the in-person workshops short and shattered the possibility that the DOE might make the June 2020 deadline to train all employees that had been publicized in emails to school leaders a year earlier. By mid-May, the department was running the live sessions over Zoom, three times a day, four days a week.
The DOE has trained about 55,000 school-facing staff — less than half of all employees. Of those, just under 9,000 have done the workshop remotely in the past few months. Department officials say they're working with superintendents on an updated timeline for completion, with the aim of wrapping up by June 30, 2021.
So far, the department has spent $6.3 million on the workshops, leaving $16.7 million of the total set aside by schools Chancellor Richard Carranza in 2018 for one of the cornerstones of his school improvement agenda. Forbes acknowledges that's money his team could lose, given the city's fiscal crisis.
"COVID-19 disrupted a lot," he says. "I hope we're fully funded to do what we need to do. I'm also pragmatic and know that cuts are going to occur, and that everyone's going to feel it. If I find we only have two people, I'll do what I can."
Despite controversy over the workshops — some educators have said they're too "one-size-fits-all"; others have balked at the mere suggestion that they harbor biases — teachers who spoke with The 74 reported that, overall, they've found the sessions useful.
Nicole Brennan, a science teacher at Queens Explorers Elementary School in Ozone Park, said her initial frustration over having to take the workshop evaporated quickly as she sat through a session in February.
She was moved by the scope of biases addressed, she says, and was struck in particular by the part that tackled gender.
"I never really thought before about the pressure boys are under, especially when it comes to athletics. That opened my eyes a bit," she says, adding that the experience has influenced how she interacts with her 20-month-old son. "I've been thinking about how to be careful about the things I say to him."
Another science teacher, Mike Loeb, who teaches seventh-graders in the Bronx, also found the experience informative.
"It was as effective as a one-off professional development workshop can be," he says. "I believe being an anti-racist teacher is a requirement these days."
Loeb says he's seen some educators push back against the idea of re-evaluating their race-based inclinations during his work as a school union representative.
"It gets thorny very quickly," he says. "There are folks who feel like, 'I have biases, I need more [training].' There are others who say, 'This is a whimsical, fluffy, liberal agenda.'"
A few teachers interviewed by The 74 hadn't taken the workshop, and some were surprised to learn about the new deadline. Several hadn't heard that it had moved online at all — including officials with the United Federation of Teachers. Others wondered how effective an online version could be. Most said the work is a step in the right direction but that the department could do more to support educators in their pursuit of mindful teaching.
Forbes says the workshops were never meant to be a silver bullet; rather, they were meant to fit into a broader push by the department to understand disparities among students.
He cites the "equity teams" organized by 29 districts around the city as an example. Each has selected two incubator schools, which have been collecting data on the demographic composition of school suspensions and gifted and talented classes.
Prior to the pandemic, the plan had been to add 17 more districts into the mix. According to Forbes, budget cuts could threaten that.
"We've had a couple of starts and stops," he says. "We'll see what happens now."
It's almost 2 o'clock. Forbes has somehow addressed death and discrimination, COVID-19 and Amy Cooper in the span of 90 minutes, endearing himself to at least some of his vast audience in the process — although given the format, what most of them are thinking is anyone's guess. He invites attendees to unmute themselves, and a cascade of voices fall forward, blipping in and out, thanking the team and signing off.
A few people stay behind to chat with Forbes in the 20-minute window he has before his next meeting.
"I'd turn on my camera, but I'm still in my pajamas," one says sheepishly, adding that the name-related part of the session really resonated with her, given that her own comes from adopted Sicilian and Arabic roots.
"Very nice," Forbes smiles. "By the way, I'm in my pajamas, too."
Get stories like these delivered straight to your inbox. Sign up for The 74 Newsletter