Third Annual Reagan Institute Event to Spotlight DeVos, State Chiefs at a Time of Strained Relations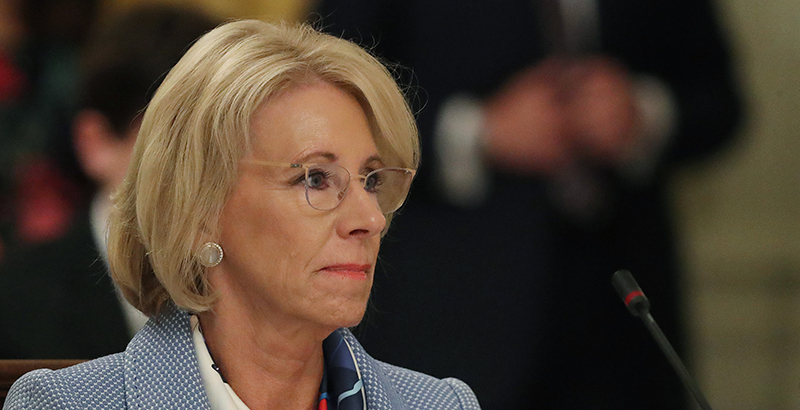 Maybe it's good news that this year's Reagan Institute Summit on Education is virtual after all.
One could imagine the tension if Secretary of Education Betsy DeVos, who chose to visit a Michigan Catholic school this week to promote in-person learning, and some of the nation's state superintendents, who have strongly opposed the secretary's efforts to direct more federal relief funds to such schools, gathered in the same room.
DeVos, who has been losing in the federal courts on that matter, will likely keep her keynote remarks focused on the argument that parents should have the funds to send their children to any school they choose — public or private — especially during the pandemic. The topic is also bound to come up when South Carolina Republican Sen. Tim Scott addresses participants on the federal role in education. Scott is a co-sponsor of school choice legislation that DeVos has promoted and that Republicans in Congress have pushed as part of negotiations over another pandemic relief bill.
Three current state superintendents — Wyoming's Jillian Balow, the District of Columbia's Hanseul Kang and Mississippi's Carey Wright — will be on a panel at the event, which was originally scheduled to be held in person in June. Those chiefs, and several others, will participate virtually.
The negotiations in Congress, however, haven't gone the way state and district leaders had hoped. Just last week, the Senate failed to agree on another relief package that would have provided about $70 billion for schools. Two-thirds of that amount would have been directed toward districts that reopen for in-person learning.
An earlier pandemic relief package passed in March was "money … to manage a crisis," said Balow. "States used that money very, very wisely to just manage and recover."
But she added that now, states need funding to continue improving distance learning and curriculum models that allow students to work at their own pace. "The notion of not having funding to propel us forward means that some districts may be a little bit stifled in terms of being able to really … leverage this moment."
Balow said DeVos could also address new Title IX regulations, which attorney generals in 17 states and D.C. unsuccessfully attempted to block in court, as well as her letter to chiefs Sept. 3 stating that they shouldn't expect waivers from standardized tests this school year. Chiefs tend to be in greater agreement with her over that issue.
Three governors — Larry Hogan of Maryland, Jared Polis of Colorado and Bill Lee of Tennessee — will also answer questions about education in their states, likely focusing on issues surrounding reopening schools. Polis may discuss a tobacco tax measure on his state's November ballot that would pay for universal pre-K — one of his major policy goals. And three former governors will discuss what they did during their administrations to improve early learning programs.
Merrit Jones, senior adviser at Student Voice, which focuses on ensuring that students' perspectives play a role in education policy, will moderate a panel of museum leaders on how their institutions can fill the gaps in learning for students, particularly around civics education. She said she might discuss "how state leaders have risen in the absence of federal leadership around COVID." Students involved in some of the organization's programs will also participate.
Another session will feature former education secretary Arne Duncan, who has been commenting on districts' reopening efforts lately and is now helping to lead the Los Angeles Unified School District's massive COVID-19 testing effort. Duncan will join Margaret Spellings, another former education secretary, and others to discuss how organizations such as PBS are adapting for the future.
Read the rest of Thursday's agenda here.
Support The 74's year-end campaign. Make a tax-exempt donation now.