DeVos Waves White Flag on Private School Aid Fight, Pledging to 'Respect the Rule of Law' on Use of Pandemic Funds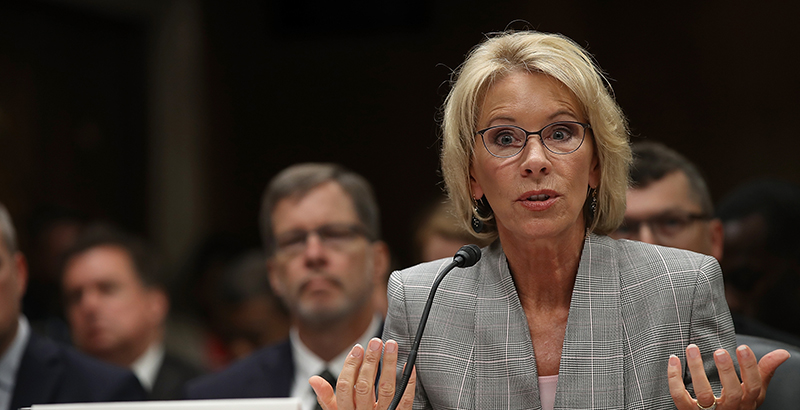 Updated September 25
U.S Secretary of Education Betsy DeVos informed state education officials Friday that she will accept the rulings of three federal judges who said she didn't have the authority to alter the way districts share funds for poor students with private schools.
"We respect the rule of law and will enforce the law as the courts have opined," she wrote, but premised that by saying that she still believes "with every fiber of my being" that the pandemic hurt all children and that students in private schools deserved as much federal aid as those in public schools.
DeVos said the Department of Education won't take any action against states or districts that followed the guidance. She also wrote that federal law "requires robust consultation with private schools" to determine which students qualify for services and that the department would "use our enforcement authority aggressively to ensure districts comply with this." The rule was removed Sept. 4 after D.C. Circuit Court Judge Dabney Friedrich's decision, which followed two earlier decisions blocking implementation of the plan.
Virginia Rep. Bobby Scott, chairman of the House Committee on Education and Labor, said in a statement that DeVos's announcement will allow districts to use the emergency funds as intended. "In the midst of an unprecedented crisis, schools need clear and responsible leadership from the federal government," he said. "Instead, the Trump administration pursued a political agenda that has done serious harm to the students, parents, and educators it is supposed to serve."
Plaintiffs in a fourth federal case over the U.S. Department of Education's controversial rule for allocating COVID-19 emergency funds to private schools are pushing forward with their lawsuit as they wait to see whether Secretary Betsy DeVos will appeal last Friday's ruling by a D.C. district court judge striking down the rule.
"The ball is in the DeVos court now," said Seth Galanter, senior director of the National Center for Youth Law, which is representing the Council of Parent Attorneys and Advocates in a lawsuit, filed in Maryland District Court, arguing that the rule would have "devastating effects" on public schools. He added that if the secretary is "willing to publicly accept the decision" in the D.C. case, which was filed by the NAACP, "then it may not be necessary for COPAA to continue its lawsuit."
In D.C., Judge Dabney Friedrich ruled Friday that "it is difficult to imagine how Congress could have been clearer" when it passed the Coronavirus Aid, Relief and Economic Security, or CARES, Act in March and cited the federal law that has determined how public schools share funds with private schools for more than 50 years. "Congress knew how to delegate programmatic authority to the secretary when it wanted to and chose not to do so here," she wrote.
Friedrich's decision applies nationally, whereas those of two previous judges were more limited.
In a brief hearing Wednesday before Judge Barbara J. Rothstein for the Western District of Washington — the first federal judge to block the rule from being implemented — William Lane, an attorney with the U.S. Department of Justice, said that Friedrich's decision means the rule no longer exists and that districts can distribute CARES Act funds as if the department had never issued it. But he added that it's normal procedure to discuss rulings with the U.S. Solicitor General and that the department could potentially "raise additional arguments" in a future response.
That's why Paul Crisalli, with the Washington State Attorney General's Office, said the state would prefer to not withdraw its request for a ruling similar to Friedrich's in case DeVos decides to appeal. Rothstein's ruling was followed by a similar decision in a multistate case, led by Michigan and argued in the Northern District of California.
The cases all focus on two education funds included in the CARES Act. DeVos first issued guidance and then followed with an interim rule outlining a new formula for providing "equitable services" to private schools. States, districts and education advocacy organizations have argued that the legislation was straightforward and that DeVos's rule only muddied the situation.
In Friday's hearing before Friedrich, Lane argued that the plaintiffs in the Washington and Michigan cases raised different issues in their lawsuits and that both Rothstein and Judge James Donato, who heard the multistate case, gave slightly different rulings. "The fact that we have multiple interpretations proves ambiguity," he told Friedrich.
But attorney Tamerlin Godley, who represented the NAACP, said Lane was the one trying to create confusion.
"Everyone, in all cases, agrees that the allocation provision [of federal law] is incorporated into the CARES Act," she said. "It doesn't matter if anything else is incorporated. They can't make a rule that is contrary to a provision that is incorporated in the act."
She said she couldn't predict what DeVos might decide, "but in the past when DeVos has lost, I think she has generally backed down."
Following the second ruling from Donato, Angela Morabito, a spokeswoman for the department, said she couldn't comment on specific cases. But she added, "The Secretary has said many times, this pandemic affected all students, and the CARES Act requires that funding should be used to help all students. It is simply wrong to discriminate against kids and their taxpaying parents solely because they chose a school that worked for them instead of the state-run option."
Support The 74's year-end campaign. Make a tax-exempt donation now.