The Week Ahead in Education Politics: Teachers Unions Await SCOTUS Janus Ruling, Senate Rewrites Career & Technical Ed Law, House Talks Ed-Labor Merger & More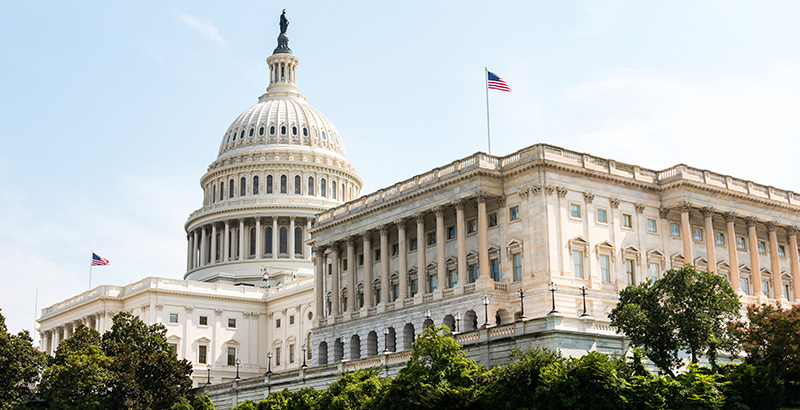 Update, June 25: The House Appropriations Committee markup of the Education Department spending bill, originally scheduled for Tuesday, has been postponed. A new date was not announced; Congress is on recess the week of July 2.
THIS WEEK IN EDUCATION POLITICS publishes most Saturdays. (See previous editions here.) You can get the preview delivered straight to your inbox by signing up for The 74 Newsletter; for rolling updates on federal education policy, follow Carolyn Phenicie on Twitter @cphenicie.
INBOX: 2019 SPENDING —All three branches of the federal government are slated to have a busy week ahead of the July 4 holiday: members of the executive branch are working on school safety; Congress is taking up Education Department appropriations and immigration, among a host of other issues; and the Supreme Court, of course, has yet to decide the Janus case.
In the House, the full Appropriations Committee Tuesday will consider a measure that would provide $71 billion for the Education Department for fiscal 2019. The measure avoids many of the hot-button issues that surrounded last year's proposal, including eliminating funding for Title II teacher training grants and cutting money for afterschool programs.
Democrats on the House subcommittee earlier this month said that given an overall higher spending cap for next year, this bill should've gotten a bigger increase, particularly for school safety.
On education issues, Democrats could, as they have in past years, offer amendments to address their ongoing concerns with the Education Department, like changing standards for Title IX sexual assault investigations.
The bill also funds the Department of Health and Human Services, which cares for unaccompanied minors crossing the border as well as the children more recently separated from their parents by the Trump administration.
In the Senate, education advocates are urging members to follow the House's lead and remove language that prohibits federal funding from being used for busing for school integration efforts. The provisions are outdated and limit state authority granted under the Every Student Succeeds Act, advocates say.
A subcommittee will consider the bill Tuesday, and the full committee on Thursday.
Meanwhile, all eyes will also be on the Supreme Court, as justices wrap up the last week of their 2017 term. A decision in the Janus case, which could end mandatory agency fees for public employees, including teachers, is among those yet to be announced and could come Monday.
We will be tweeting and covering the news as it breaks, follow me at @cphenicie.
IMMIGRATION?: A plan to consider what's been called a compromise immigration bill, including a solution for DACA recipients, was pulled from the House floor late last week after passage was in doubt. Another, more conservative bill, also failed. Even if House Republican leaders could find a compromise that would pass muster with their split caucus, any immigration measure is unlikely to pass the sharply divided Senate.
President Trump Friday morning also said on Twitter that the House should give up on immigration until after the midterms in the hope of electing a larger Republican majority, what he termed "the Red Wave."
SCHOOL SAFETY: Members of the Trump administration will hold two events on school safety outside Washington this week.
The School Safety Commission will hold a public listening session at the Council of State Governments Tuesday in Lexington, Kentucky. Two panels will have roundtable discussions between state and local government officials and members of the commission, and a third will be for "members of the general public to express their views on how to improve school safety." The event will be livestreamed.
Attorney General Jeff Sessions addresses the National Association of School Resource Officers annual conference in Reno, Nevada. The number of schools with security staff has spiked in recent years, and the presence of law enforcement in schools has been at the center of both school safety debates and concerns about discipline and the school-to-prison pipeline.
The commission last week held a session focused on the effects of violent entertainment on school shootings.
MONDAY: FREE COLLEGE? — Think tank FutureEd holds a panel discussion on making the first two years of college free, and whether it expands opportunity or increases government costs without targeting aid to students who need it most.
TUESDAY: CAREER ED — The Senate Health, Education, Labor and Pensions Committee will amend and vote on a bill reauthorizing the federal career and technical education law. The House passed its own reuathorization last year. Members will also vote on the nomination of Scott Stump to be assistant secretary for career, technical and adult education. The meeting was rescheduled from last week.
TUESDAY: APPRENTICESHIPS — Centrist Democratic think tank Third Way holds a discussion about how to expand and modernize apprenticeship programs for the current era. Sen. Chris Coons, Democrat of Delaware, and Rep. Seth Moulton, Democrat of Massachusetts, will give opening remarks.
TUESDAY: INTELLECTUAL FREEDOM — A House Judiciary subcommittee holds a hearing on the "state of intellectual freedom" in the country. Several professors are witnesses.
WEDNESDAY: GOVERNMENT REORGANIZATION — The House Oversight and Government Reform Committee holds a hearing on the Trump Administration's government reorganization plan, the most noteworthy portion of which calls for combining the Education and Labor departments.
Administration officials last week touted the move as a way to streamline two departments with similar goals of workforce training, while Democrats and others said the longshot plan could bury important Education Department functions, like early education and civil rights work, in a behemoth agency.
THURSDAY: HIGHER ED — The Center for American Progress, a liberal think tank, holds a panel discussion on accrediting agencies, the organizations that decide whether universities meet quality standards and are therefore eligible for federal financial aid. The Education Department has expressed a willingness to experiment on accreditation, for example by allowing more innovative degrees, Inside Higher Ed reported.
FRIDAY: ED POLICY — The Education Commission of the States, a national group that helps translate education research and policy, holds its annual policy summit Wednesday through Friday. State leaders and education advocates will speak at a series of sessions throughout the three-day summit, and Deputy Education Secretary Mick Zais "will provide an overview on the federal perspective on school safety" during the summit's closing session on Friday.
Get stories like these delivered straight to your inbox. Sign up for The 74 Newsletter