NYC Mayor: 'We Are Lifting the Indoor Mask Requirement for DOE Schools'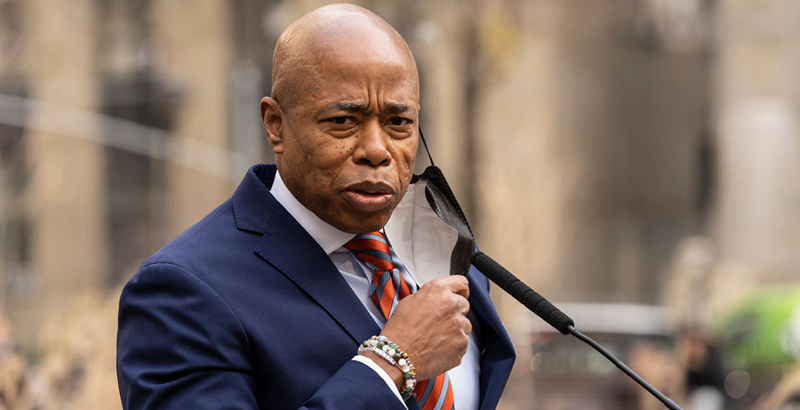 Support The 74's year-end campaign. Make a tax-exempt donation now.
On Monday March 7, masks will be optional in New York City's K-12 classrooms, Mayor Eric Adams announced Friday during an address held in Times Square.
"Our schools have been some of the safest places," said Adams, citing a COVID positivity rate this week of 0.18 percent in schools. "We are lifting the indoors mask requirement for DOE schools."
"We want to see the faces of our children. We want to see their smiles," he said.
The seismic move in the country's largest school district was in accordance with plans the mayor signaled on Sunday, days after the Centers for Disease Control and Prevention lifted their universal masking guidance for schools in areas with low to moderate transmission. 
After a tumultuous two years in which the teachers union and City Hall were often at odds over COVID protocols, United Federation of Teachers President Michael Mulgrew endorsed the change in a brief emailed statement.
"Our doctors agree with the city's medical experts that this is the right time to safely move from a mask mandate to an optional mask system," he said. "This is the responsible, thoughtful way to make our next transition."
Face-covering requirements will stay in place for those younger than 5 in pre-kindergarten and child care settings, Adams said, noting that age group is not yet eligible for vaccination. That distinction will set up a scenario in some city schools with pre-K programs that certain grade levels can go mask-free while others cannot.
In February, Pfizer and BioNTech postponed their request that the U.S. Food and Drug Administration authorize their COVID shots for toddlers, pushing the timeline back several months for that age group.
Over three-quarters of all New York City residents have received at least two vaccine doses, including 87 percent of adult residents, according to city data. Studies show that three doses of the COVID vaccine are 99 percent effective at preventing hospitalization, even against the Delta and Omicron variants.
However, student vaccination rates vary widely from school to school, from just under 10 percent coverage in some places to above 90 percent at others, numbers published by Chalkbeat reveal. Schools in wealthier areas tended to have higher rates of immunization, leading some to worry that lifting the face-covering mandate will lead to a disproportionate toll on underserved families who have suffered outsized death tolls through the pandemic.
On Wednesday, parents took to the steps of Tweed Courthouse to protest the city's plans to drop universal masking in an event organized by the parent advocacy group PRESS NYC. They rallied under the hashtag #MaskingForAFriend to emphasize the need to protect the most vulnerable, including the immunocompromised and the elderly, they said.
"I know there's some who state that they still want their children to wear their masks," acknowledged Adams. "You can."
He himself will continue masking in crowded venues from time to time, he said, and wants to ensure that no child is ostracized for their decision to cover up. 
Monday will also mark the end of proof-of-vaccination requirements for gyms, restaurants and movie theaters, though individual businesses may keep their rules in place if they so choose, the mayor said.
Meanwhile, his administration has indicated that they are interested in creating a virtual learning option for families who prefer to keep their children out of the classroom, but has provided no concrete details on a timeline, frustrating parents who have advocated for that possibility since before the start of the school year. In January, at the height of the Omicron surge, Adams told officials that the process could take as long as six months.
The mayor closed his Friday address on a rejoiceful note.
"This is a celebratory moment," he said. "We've been waiting for this day for so long. And it's here."
Watch the full address:
Support The 74's year-end campaign. Make a tax-exempt donation now.