Schools May Drop Masks When COVID Risk is Low or Medium, CDC Says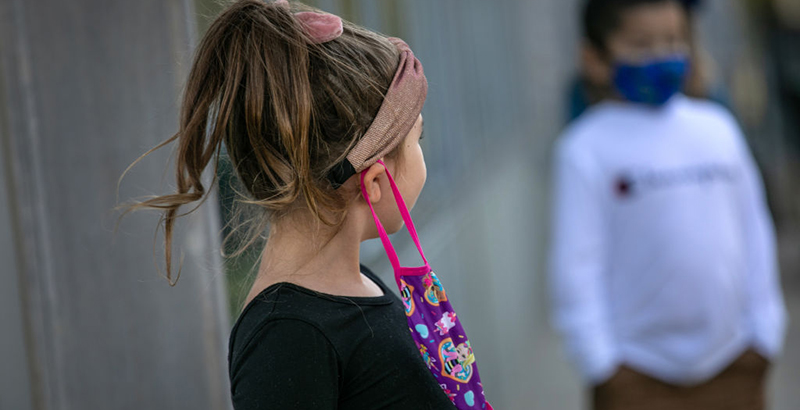 Get stories like these delivered straight to your inbox. Sign up for The 74 Newsletter
School districts in areas where COVID risk is low or medium may now drop masks, the Centers for Disease Control and Prevention announced Friday afternoon.
It's a major departure from the agency's prior stance, which held that schools should enforce universal masking regardless of virus levels.
"Since July 2021, CDC recommended universal masking in schools no matter what level of impact COVID-19 was having on the community. With this update, CDC will now only recommend universal school masking in communities at the high level," said CDC epidemiologist Greta Massetti in a media call.
The change comes as part of a wider reconfiguration in COVID policy now recommended by the CDC, easing masking guidelines for most Americans. Rather than using community case rates as the sole metric to determine risk levels, the agency will now use a new formula that also takes COVID hospitalizations and hospital capacity into account.
Only in counties where COVID risk is high does the agency now recommend universal masking indoors, though individuals may continue to choose to wear face coverings at lower levels depending on their own personal risk and comfort, officials said.
While only about 5 percent of U.S. counties were considered low or moderate risk under the old framework, nearly 60 percent now fall into that categorization, accounting for about 70 percent of Americans. Individuals may check the updated risk level for their county on the CDC's website.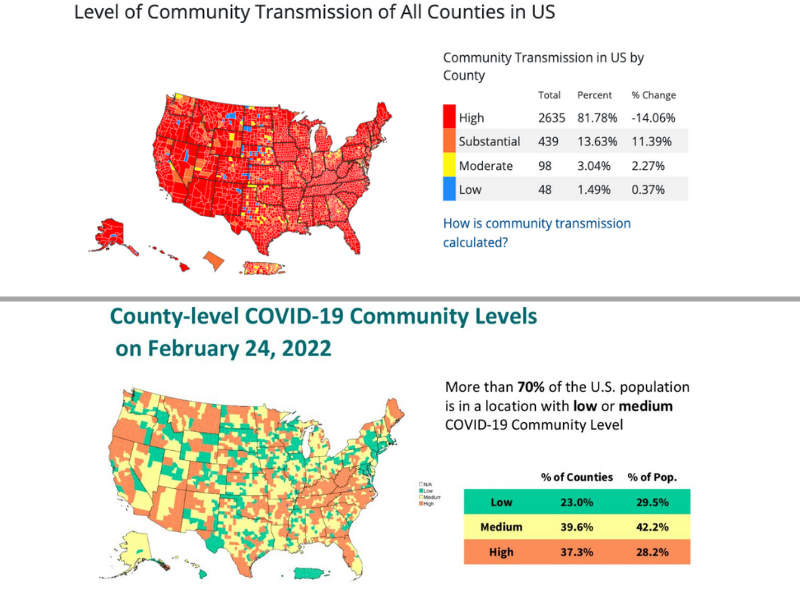 The change in school masking guidance comes after weeks of movement at the state and local level to scrap face-covering policies. In early February, several states including New Jersey, Connecticut and Massachusetts announced the end of their school mask mandates, and on Tuesday, the Maryland State Board of Education voted to lift their statewide requirement, though the change needs legislative approval before it will go into effect. ​​Of the 500 largest U.S. school districts, 52 percent currently require students to wear masks, down from 60 percent at the beginning of February, according to data collected by Burbio, which has tracked school policy through the pandemic.
States such as California and New York have yet to announce an end to their school masking rules. But in a small step toward loosening restrictions, New York City students will no longer be required to wear face-coverings outdoors on school grounds starting Monday, officials announced Friday morning. California Gov. Gavin Newsom said he will announce an end date for school masking in his state Monday.
The CDC's move to ease masking guidance represents a broader effort to help Americans return to a "new normal," even as the virus continues to circulate.
Over 200 million Americans have received their primary vaccine series, pointed out CDC Director Rochelle Walensky, half of whom have been boosted. Many more have a level of immunity due to prior infection.
"With widespread population immunity, the overall risk of severe disease is now generally lower," said Walensky. "Now as the virus continues to circulate in our community, we must focus our metrics beyond just cases in the community and direct our efforts toward protecting people at high risk for severe ailments and preventing COVID-19 from overwhelming our hospitals and our health care system."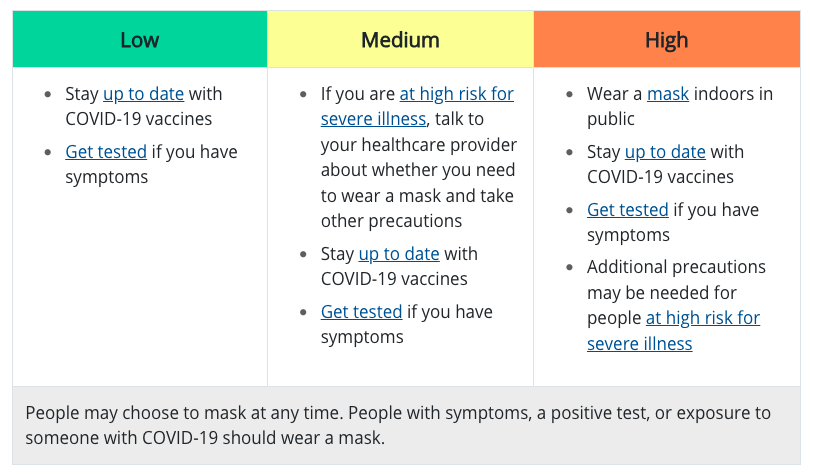 President Biden and the CDC have previously speculated the end of the pandemic, even giving the summer of 2021 the hopeful title "summer of freedom," before the Delta surge quickly proved that COVID would continue to disrupt daily life.
Perhaps with awareness of that history, Massetti emphasized that schools — and the wider community, too — should adjust virus mitigation rules based on changing conditions.
"Public health prevention strategies can be dialed up when our communities are experiencing more severe disease and dialed down when things are more stable."
Walensky added, "We need to be able to dial them up again should we have a new variant or a new surge."
Still, some have critiqued the choice to ease masking guidelines as motivated by politics and pandemic weariness. As the CDC prepared to announce updated recommendations, several disability advocates questioned the plan on Twitter.
The new metrics do not take community or school vaccination rates into account, though officials emphasized that vaccination greatly decreases the likelihood of severe illness and hospitalization and thus is indirectly reflected in the new thresholds.
Nationwide, a quarter of children aged 5 to 11 and 57 percent of youth aged 12 to 17 are fully vaccinated against COVID-19, according to data from the American Academy of Pediatrics. Shots for children under 5 will not be available for over a month.
Get stories like these delivered straight to your inbox. Sign up for The 74 Newsletter