Monthly QuotED: Of Childish Gambino, Starbucks, and Midnight Tweets — 9 Notable Quotes That Made Education Headlines in May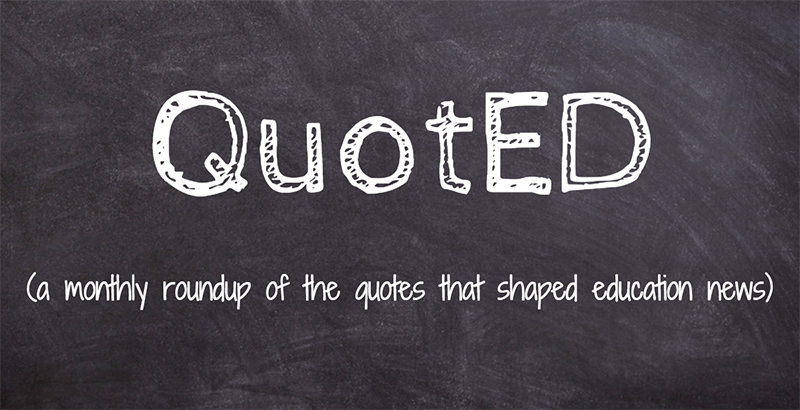 QuotED is a roundup of the most notable quotes behind America's top education headlines — taken from our daily EduClips, which spotlights morning headlines from America's 15 largest school districts. Read previous EduClips installments here.
"I will always pay more attention in the future when I re-tweet to make sure the language that is automatically generated in the retweet is something I would say." —New York City Schools Chancellor Richard Carranza, on his sharing of a tweet at 1 a.m. that read, "WATCH: Wealthy white Manhattan parents angrily rant against plan to bring more black kids to their schools." (Read at CBS)
"If you're interested in 'Will young organizers make a difference in this election,' I think the answer is yes. But if you're interested in 'Do young people really participate in our democracy,' then I think the answer is basically no. And that's a bad thing." —Peter Levine, who studies youth civic engagement and is the associate dean for research at the Tisch College of Civic Life at Tufts University. (Read at the74Million.org)
"It's really too little, too late. Especially [for] those children who needed early childhood intervention. You can't get those years back." —Jill Goolsby of San Antonio, Texas, on the state's attempt to make reforms after the U.S. Department of Education found it had illegally barred tens of thousands of children with disabilities, including her son, from receiving a free and appropriate education. (Read at Texas Public Radio)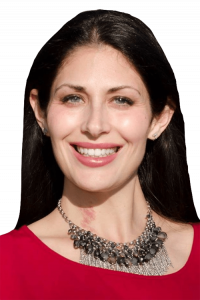 "This cross-state communication is happening because of hashtags. The reason the tactics look the same is because we're all looking at one another's pictures and saying, 'Oh, that looks super cool, all that red.' We're just stealing good ideas from each other." —Dawn Penich-Thacker, communications director at Save Our Schools Arizona, on the national teacher strike movement. (Read at The74Million.org)
"These amendments should be assigned to the ash heap of history." —U.S. Department of Education Secretary Betsy DeVos, on the so-called Blaine amendments that prohibit taxpayer funding of sectarian activities such as religious schools. (Read at Politics K-12)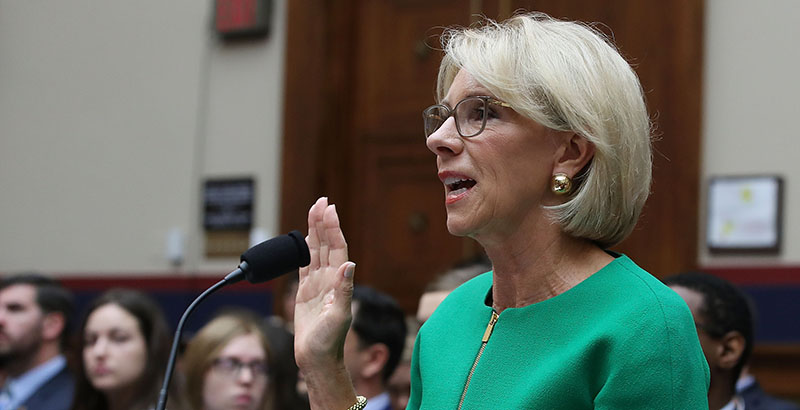 "Sir, I think that's a school decision. That's a local community decision. And again, I refer to the fact that we have laws and we also are compassionate, and I urge this body to do its job and address or clarify where there is confusion around this." —U.S. Secretary of Education Secretary Betsy DeVos answering, incorrectly, a question from Rep. Adriano Espaillat (D-N.Y.) about whether schools can decide to report undocumented students to immigration enforcement officials. (Read at The Washington Post)
"It's typically not a proactive call, it's a reactive call. I think that speaks volumes." —Jennifer Moore, a former middle school teacher who now leads racial bias trainings through her organization, Initiate Equity, on how such trainings typically get started. Starbucks closed the majority of its locations on the afternoon of May 29 to engage in similar trainings. (Read at The74Million.org)
"My first indication is that our policies and procedures worked. Having said that, the way things are, if someone wants to get into a school to create havoc, they can do it." —J.R. "Rusty" Norman, president of the district board of trustees that oversees Santa Fe High School in Texas, where a student gunman killed 10 and injured 13 people. (Read at The Washington Post)
"They gave more care to the gun than they did to the victim, which I thought was very interesting. And my teacher didn't point that out, I did. Which was pretty cool." —Kenny Shirley, 14, a student in Nathan Tanner's history class at Northwest Middle School in Salt Lake City, Utah, on Childish Gambino's "This Is America" video. The class is one of many in the U.S. to use the video to explore issues of race, gun violence, and history. (Read at The74Million.org)
For a roundup of the day's top education headlines from America's 15 largest school districts, go to EduClips.
Get stories like these delivered straight to your inbox. Sign up for The 74 Newsletter