From Viral Video to the Classroom: Childish Gambino's 'This Is America' Spurs Discussion on Race, Gun Violence, and History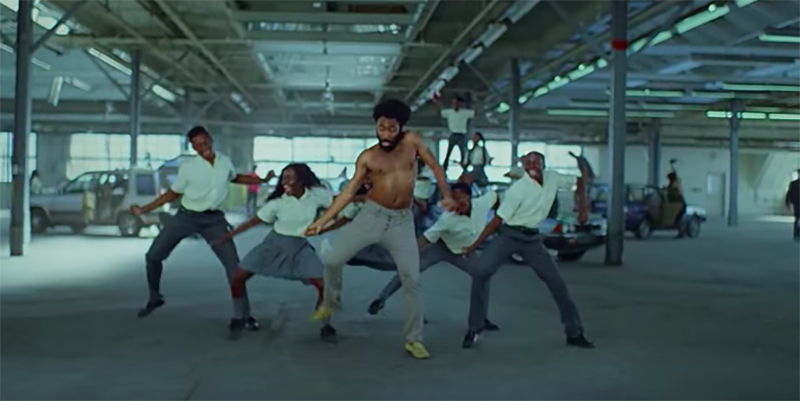 English teacher Natasha Akery eased into a recent lesson for her ninth-graders with a simple task: Answer a few generic questions about music.
"Why do you like the music that you do? Is it because of the way it sounds? The lyrics? The artist? Explain," the prompt read. All of her roughly 60 students answered that it was about the beat.
Soon after, they listened to and watched Donald Glover's "This Is America," which has captured the attention of millions for a completely different reason.
The song and accompanying video, headlined by Glover's alter ego Childish Gambino, has blown up in the past two weeks — not for its melding of choral and trap music beats, but for the elusive and provocative ways it alludes to America's tangled history with race and gun violence. Among the viral video's more than 130 million viewers are scores of teachers, who are using it to engage students in conversations on history, symbolism, and the power of self-expression.
"I was immediately like, 'I'm going to do a lesson plan on this,' " said Akery, who teaches at Military Magnet Academy in North Charleston, South Carolina. She first caught wind of the video when her Twitter feed blew up the day after the song's May 5 debut on Saturday Night Live.
Nathan Tanner, who teaches history at Northwest Middle School in Salt Lake City, Utah, had the same gut reaction. Gleaning inspiration and ideas from a #HipHopEd teacher forum on Twitter, he crafted a 50-minute lesson plan that began with placing five stanzas from the song without context on posters around class, and asking students to speculate about the lyrics' meaning.
After students analyzed the lyrics and heard the song, Tanner played the video twice, hoping to spur conversation on historical symbolism and the rapper's depiction of life in America. During the video, a shirtless, dancing Glover moves through peaceful scenes — a man playing a guitar or a choir singing — only to burst into disturbing acts of sudden violence. The acts strike a chord in the era of mass shootings, such as last Friday's massacre at a Texas high school, but also have rich historical overtones.
Tanner highlighted a few symbols that stood out, such as Glover's gray pants, a possible reference to attire worn by Confederate soldiers. Students took the reins from there.
"As soon as you show students something that they can connect to, they're like, 'Oh yeah, that totally makes sense!' " he said.
Thirteen-year-old Cass Mo'unga was largely drawn to references to Jim Crow, the 19th and 20th century segregation laws thought to be named for minstrel shows in which a white actor caricatured black movements, because the class is learning about freed slaves' oppression during Reconstruction. Early in the video, for example, she noticed that Gambino assumes a hunched posture that mimics a minstrel pose when he shoots and kills a black man.
"You wouldn't normally see those kinds of messages in that kind of video," she said.
Kenny Shirley, 14, zeroed in on how the guns Glover wields — one an AK-47, commonly used in mass shootings — are delicately handed off and placed in a cloth after each murder, while the victims' bodies are left on the ground or dragged away.
"They gave more care to the gun than they did to the victim, which I thought was very interesting," Shirley said. "And my teacher didn't point that out, I did. Which was pretty cool."
That blatant violence was "heavy," Tanner said. He admitted to having initial reservations about showing the video — there has been pushback in other cases — and gave students a warning and a choice about whether to watch. Only three students out of about 100 opted out.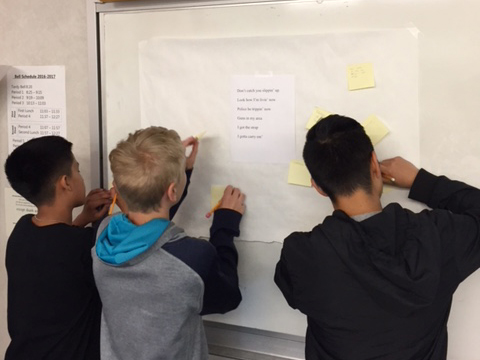 The level of engagement, paired with students' ability to draw connections to history, exceeded all expectations, he said.
"It was great for me as a teacher, too, because on their way out I heard students talking to each other like, 'Wow, that was a great lesson.' I mean, I never get talk like that," he said, laughing.
Akery, the South Carolina English teacher, felt similar energy in her classroom. Her lesson, like Tanner's, analyzed the lyrics before the class watched the video, but focused less on history than on spotting literary devices such as metaphor repetition, imagery, and symbolism.
One particular metaphor had the class hooked: the group of students who dance jubilantly behind Glover throughout the video, even as a suicide, fires, police chases, and other chaos ensues behind them. Class opinion split between those who thought the students embodied youthful lack of awareness and those who thought their obliviousness was purposeful — a method of self-preservation.
"When one of my students brought up that the students in the music video were distracting themselves from what's going on around them intentionally, I hadn't thought about that," Akery said, noting how the conversation widened her own perspective. "I'd thought it was the students [in the video] being ignorant to what was going on around them."
Her students also enthusiastically responded to cameos of music icons such as R&B singer SZA, who they thought symbolized the Statue of Liberty. In the video, SZA's hair is divided into high buns, appearing to mimic the statue's crown.
Akery's lesson later segued into an assigned literary essay. But for Alyssa Bigbee, who teaches dance at West Philadelphia High School in Philadelphia, a student-inspired performance seemed a more fitting way to explore the video's meaning.
The dance integrates six hula hoops, she explained, with each hoop representing a student take on an aspect of the Glover video: depression, gun violence, superficiality, insecurity, poverty, and homophobia. During the dance, there is one student in each hoop, she continued. While the song plays in the background, the students take turns stepping outside their hoops. When they do, tragedy befalls them: They're shot, or grabbed and taken away. The other students briefly notice, only to become distracted.
"I wanted them to be able to put what they observed [from Glover's video]" into the dance, she said. "I wanted them to have control of that. I just serve as a guide."
For sophomore Dorien Harris, who portrays "gun violence" in the dance, Glover's video spoke to him on a personal level about how society can distract itself from reality. Although Harris hasn't directly experienced gun violence or police brutality, such conflicts are not unheard of in his neighborhood, he said.
"Everything [Glover] showed … it made me woke a little bit," said Harris, 16. "I knew these things were going on, but it brought the story together." He added that he hopes the dance, which the students intend to perform publicly as part of their end-of-the-year showcase, makes people "look at what's going on in their life and try to relate it to what we're doing in the dance, to see what's actually going on in America."
The lesson's outcome has reinforced one thing for Bigbee: Don't shy away from broaching a charged and complex topic in class.
"Our students are very much aware of what's going on" in the world, she said. "They just need the space to voice their opinions."
Support The 74's year-end campaign. Make a tax-exempt donation now.