#MeTooK12: One Daughter's Trauma, and a Family's Quest to Prevent School-Related Sexual Violence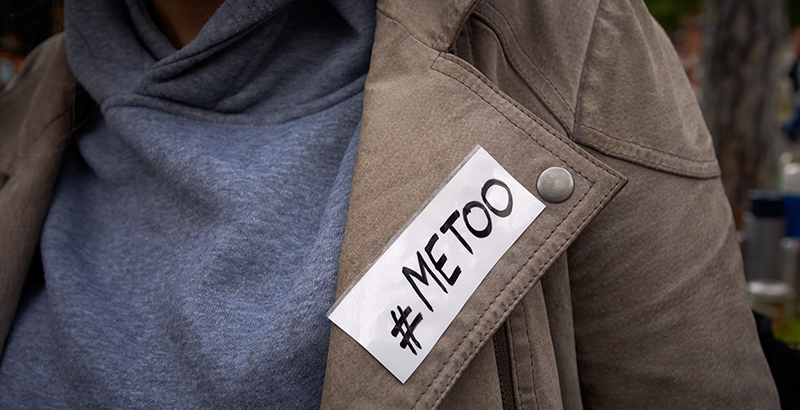 Esther Warkov and Joel Levin watched their daughter's life crumble before their eyes. In 2012, in the middle of her sophomore year at Seattle's Garfield High School, the young woman left home for an overnight ecology field trip on Washington's Olympic Peninsula. In a cabin near the edge of Olympic National Park, they say, a fellow classmate raped their daughter.
When she returned home, she wasn't the same.
"Her entire educational trajectory that she had been working on for years was completely destroyed," Warkov told The 74. "She was unable to graduate high school, she had to go into residential treatment for therapy for trauma where there was a very minimal educational component. Basically, we saw an entire life destroyed."
In light of the growing #MeToo movement that's spurred an explosion of sexual misconduct allegations against high-profile men in Hollywood and beyond — beginning with film producer Harvey Weinstein — the family is looking to push the issue closer to home for American parents. Charged by their battle against Seattle school officials following their daughter's alleged attack, Warkov and Levin are launching a new campaign, #MeTooK12, to highlight the prevalence of sexual violence among K-12 students. For several years, Warkov and Levin have operated a small nonprofit, Stop Sexual Assault in Schools, which offers resources for families in contentious battles with schools following sexual violence and harassment allegations.
Beginning with limited knowledge of their rights under Title IX, the federal law that prohibits sex discrimination in education, the family found themselves in a years-long crusade to secure justice for their daughter. The day after the incident, she was transported to a hospital and treated for sexual assault, though the alleged perpetrator was never charged with a crime. Seattle school officials, the family alleged, failed for months to launch an independent investigation, did not provide services for post-traumatic stress disorder that stemmed from the attack, and launched combative and untruthful tactics to protect their public image.
"[The district] didn't say, 'We're going to find out what happened and try to help your daughter,' " Levin said. "It was just almost adversarial from the beginning, and it was obvious the district didn't know how to handle a situation like this."
Though Seattle Public Schools officials didn't respond to a request for comment, in a statement the district denied liability for the incident, noting that law enforcement agencies determined there was "inconclusive evidence of a crime."
Seattle officials reached a $700,000 settlement with Warkov and Levin in 2014. The settlement, the district noted, required the family to drop complaints against the district including one pending in the Education Department's Office for Civil Rights. The incident prompted the district to provide additional training to educators, create a new Title IX website outlining district resources and procedures, and improve field trip procedures.
Their daughter's case is part of a larger problem, advocates say, in which the severity and prevalence of sexual violence and harassment in the K-12 setting are underreported and inadequately investigated.
Officially launched January 9 in partnership with the nonprofit National Women's Law Center, the #MeTooK12 campaign encourages survivors to share their stories on social media. Personal accounts have already begun to flood Twitter:
For Warkov and Levin, however, a viral hashtag is just the beginning. "That would be one component of it, but if it only stopped at that, it probably wouldn't be enough," Warkov said. "We're going to have to demand action, we're going to have to compel schools to fulfill their obligations to uphold students' civil rights. It's not enough to just talk about what happened. We have to have a course of action that corrects the problem."
A prevalent problem
Years before a reckoning on sexual harassment swept the stage at the Golden Globes, tough conversations about abuse stormed college campuses nationwide, spawning major victories — and setbacks — for survivors and activists. They were handed a victory in 2011 when the Obama administration released a "Dear Colleague" letter urging colleges and K-12 schools to better investigate accusations, outlining the evidentiary standard school officials should use for sexual violence cases under Title IX.
Although that document spawned significant attention for student victims on college campuses, it also received significant pushback from critics who say the former administration stripped due-process rights from students accused of sexual harassment and assault.
Children in K-12 schools, however, have largely been excluded from those conversations, even as activists say younger students often face the biggest hurdles.
The prevalence of child sexual violence is difficult to pinpoint because victims often do not report the abuse, though studies have shown that about 20 percent of girls and over 5 percent of boys are victims of sexual abuse.
A report by the American Association of University Women, released in October 2017, analyzed federal education data and found that 79 percent of public schools reported zero incidents of sexual harassment in 2013–14 — a rate the advocacy group said is "statistically impossible" and contradictory to their own student surveys. Digging into the data, the group found that the rates at which schools reported incidents varied widely between states.
Following July meetings at the Education Department to hear from various stakeholders, including those at the K-12 level, Education Secretary Betsy DeVos rescinded the Obama-era guidance in September, following a speech in which she said Obama's approach had failed survivors, victims, and school administrators. DeVos aims to propose updated Title IX guidance in March, Politico reports.
In recent years, the Office for Civil Rights — which investigates schools' compliance with federal civil rights laws — has observed a sharp uptick in Title IX sexual violence complaints against K-12 schools and colleges.
As of last week, the Office for Civil Rights has 156 pending Title IX sexual violence investigations against 134 K-12 school districts, according to a spreadsheet the Education Department provided to The 74. Among them is an investigation against Gwinnett County Public Schools in Georgia, where a student says she was punished for reporting an on-campus attack. Additionally, the Office for Civil Rights is investigating 339 cases at 245 postsecondary institutions, according to a second spreadsheet.
Moving the needle
Office for Civil Rights investigations offer only a snippet of school incidents in which students face discrimination or attacks. In May 2017, the Associated Press released a yearlong investigation that uncovered some 17,000 student reports of sexual violence between 2011 and 2015. Although reporters noted that the number is incomplete since incidents are underreported and government data are inconsistent, their findings offer the most extensive tally to date.
"Unfortunately, even filing an OCR complaint is not going to bring much relief because the process just goes on for years and years, so I think ultimately we have to find new strategies to help people address the stonewalling," Warkov said. K-12 complaints pending before the Office for Civil Rights span back as far as 2010.
In December, an investigation by The Wall Street Journal found that at least 26 districts across the country agreed in 2017 to pay out $37 million to settle sexual violence complaints from students and school staff.
Through his family's experiences in Seattle, Levin said, he realized schools won't work to improve policies and procedures without community pressure. Warkov and Levin declined to provide an update on their daughter's well-being, citing privacy concerns.
Beyond the social media campaign, #MeTooK12 aims to target lawmakers in Washington, D.C., calling on Congress to adopt rules to better protect students under Title IX. Though the Obama-era guidance warned districts they could lose federal funds for failure to comply with Title IX, that's never happened.
"One of our themes is connect the dots," Levin said. "Where does workplace sexual harassment start? If you trace it back, a lot of these behaviors are started in elementary and secondary schools. They're practiced there, they're normalized there because the schools don't do anything about it, and so people just think, 'Oh, this is sort of normal behavior.' "
Get stories like these delivered straight to your inbox. Sign up for The 74 Newsletter