One Fate, Two Fates. Red States, Blue States: New Data Reveal a 432-Hour In-Person Learning Gap Produced by the Politics of Pandemic Schooling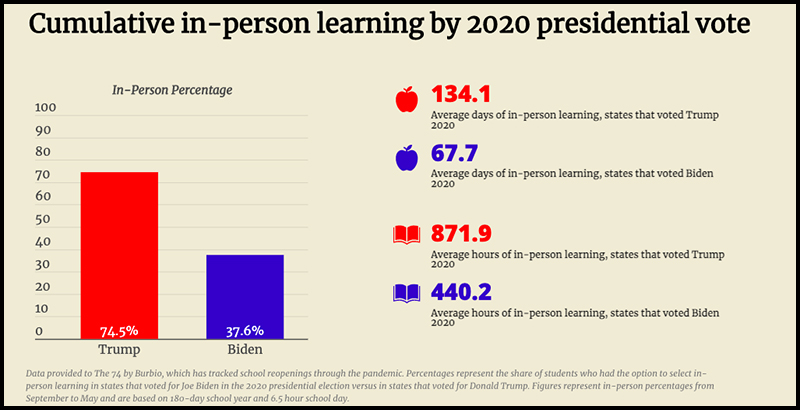 Get essential education news and commentary delivered straight to your inbox. Sign up here for The 74's daily newsletter.
Through the pandemic, schools in Republican states offered in-person learning at nearly twice the rate of those in Democratic states, according to new data, amounting to an estimated 66 additional days — or 432 hours — of face-to-face instruction for those students.
The numbers, provided to The 74 by the school calendar tracking website Burbio, deliver a cumulative view of schooling decisions throughout COVID-19 and reinforce evidence of a partisan divide long highlighted by researchers.
Averaged from September through May, states that voted for Donald Trump in the 2020 presidential election gave students the chance to learn in the classroom 74.5 percent of the time, compared to 37.6 percent of the time in states that voted for Joe Biden. Red states account for over 22 million K-12 learners and blue states account for over 28 million.
The full impact of that disparity remains largely unmeasured, says Chad Aldeman, policy director at Georgetown University's Edunomics Lab. But he suspects the effects on students could be vast.
"Time is a rough proxy for learning," he told The 74. "So lost instructional time is likely to lead to lost learning."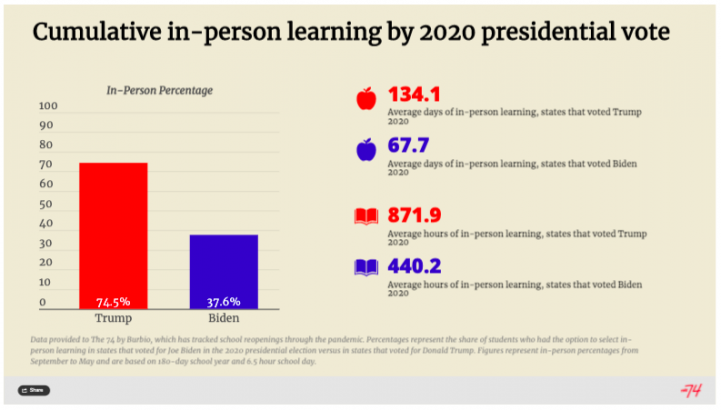 Virtual learning schemes, says Aldeman, rarely offered as much live instruction as traditional schooling models, instead trading asynchronous opportunities like worksheets and practice problems for real-time teaching. He calculated that his first-grade son, a student in Fairfax, Virginia public schools, was scheduled to receive less than half a typical school year's worth of face time with educators in 2020-21. Other districts provided even fewer hours of real-time teaching.
"This means a lot of kids are missing out on a lot of live instruction with teachers and live interactions with their peers as well," said Aldeman.
Using Burbio's data, The 74 calculated the average days and hours of in-person learning in each state based on a 180-day school year and a 6.5-hour school day. Burbio co-founder Dennis Roche, with help from his data team, has been mapping out learning models across America's top 460 districts over the past year. Very quickly, partisan trends in reopening became clear to Roche. An outsider to education policy, he opted to present Burbio's information on a map shaded purple to avoid association with one political party or the other. Regardless, the patterns were obvious, he said.
"It started to look like an electoral map pretty intensely by the mid- to late fall," he told The 74.
Deeper purple, representing a higher share of in-person learning, swept through the middle of the country and the Southeast, while near-white shades, meaning mostly virtual or hybrid learning, occupied the West Coast and Northeast. There were even light purple "swing state" regions, Roche noted, that had in-between rates of classroom instruction.
Burbio's numbers reinforced academic findings, which since last summer had pointed to strong links between local support for then-President Donald Trump and the choice last fall to return students to classrooms. Brookings Institution Senior Fellow Jon Valant published much-discussed findings that counties' partisan lean was more far more predictive of its school reopening decision than were coronavirus case rates in the surrounding community — a trend he says mirrored other responses to the pandemic, beyond just education.
"This whole pandemic has broken on political lines in lots of different places, and schools are just one of them," Valant told The 74.
Differences in reopening across Republican and Democratic states were most pronounced in late fall and early winter, also coinciding with the most deadly surge in coronavirus cases. In February through the end of the current school year, the gap began to tighten, with near-universal progress toward higher rates of in-person learning. Democratic states, which had more ground to make up, saw accelerated gains.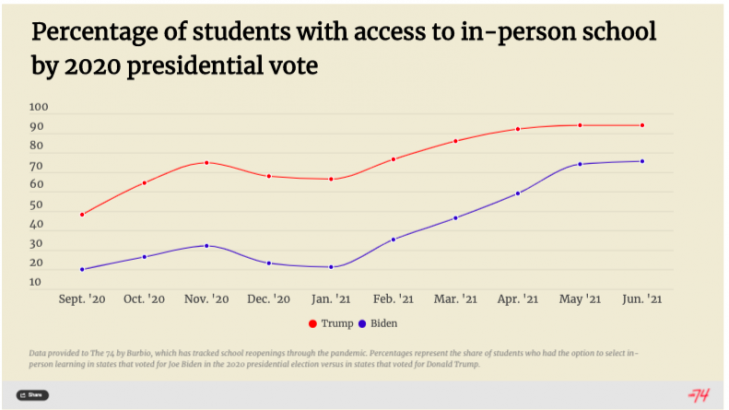 Valant attributes much of the break toward reopening starting in February to having a new president in the White House.
"The Biden administration signaled very early on that … it wanted to get students back into schools in person as quickly as it was safe to do so," he said. "It turned down the temperature a little bit on the politics of school reopening."
Growing availability of coronavirus vaccines also undoubtedly played into returning students to classrooms, the Brookings researcher noted. "I think [COVID-19 shots] put a lot of minds at ease."
Toward the end of winter and into the spring, Roche, who scrupulously reads updates from superintendents across the country, noticed a trend. Districts were announcing plans to return in person, spurred by mandates from state governors, education commissioners and directors of health.
"It was almost immediate," Roche remembers. New Mexico was a prime example, he said, switching from almost entirely virtual to almost entirely in person in a span of about two weeks in response to state officials changing their stance.
In many cases, however, the rhetoric could be hard to decode. Nearly every district nationwide maintained that it was committed to face-to-face learning as soon as it was safe to do so, said Roche, but the definitions of safety varied.
In Oregon, Marc Siegel, communications director for the Oregon Department of Education, said community transmission rates were the determining factor in school reopenings. "In areas with little or no spread, schools could operate very close to pre-[pandemic] conditions. In areas where that was not possible, we made sure the guidance covered best practices for distance learning," he wrote to The 74 in an email. Oregon, however, ranked among the lowest nationwide both in rates of in-person learning and per capita rates of COVID-19 infection.
Florida, on the other hand, took "bold steps" to reopen schools in the fall, spokeswoman Cheryl Etters told The 74. Schools enforced precautions to maintain student safety, she noted, and many offered virtual options. Yet some schools never enforced mask mandates, despite statewide infection rates more than twice those of Oregon.
Thanks to the superheated climate surrounding reopening, "districts, it could be argued, were making wrong decisions in both directions," observed Georgetown's Aldeman.
Bucking the trend, Rhode Island, a Biden-voting state with a Democratic governor, made a strong push to reopen schools.
"It was very clear from early on that the question was not if we reopened our schools but how," Rhode Island Department of Education spokeswoman Emily Crowell wrote to The 74, attributing much of that effort to guidance from state leadership, such as then-Gov. Gina Raimondo, who was an outspoken advocate for in-person learning from the outset of the academic year and now serves as Biden's commerce secretary.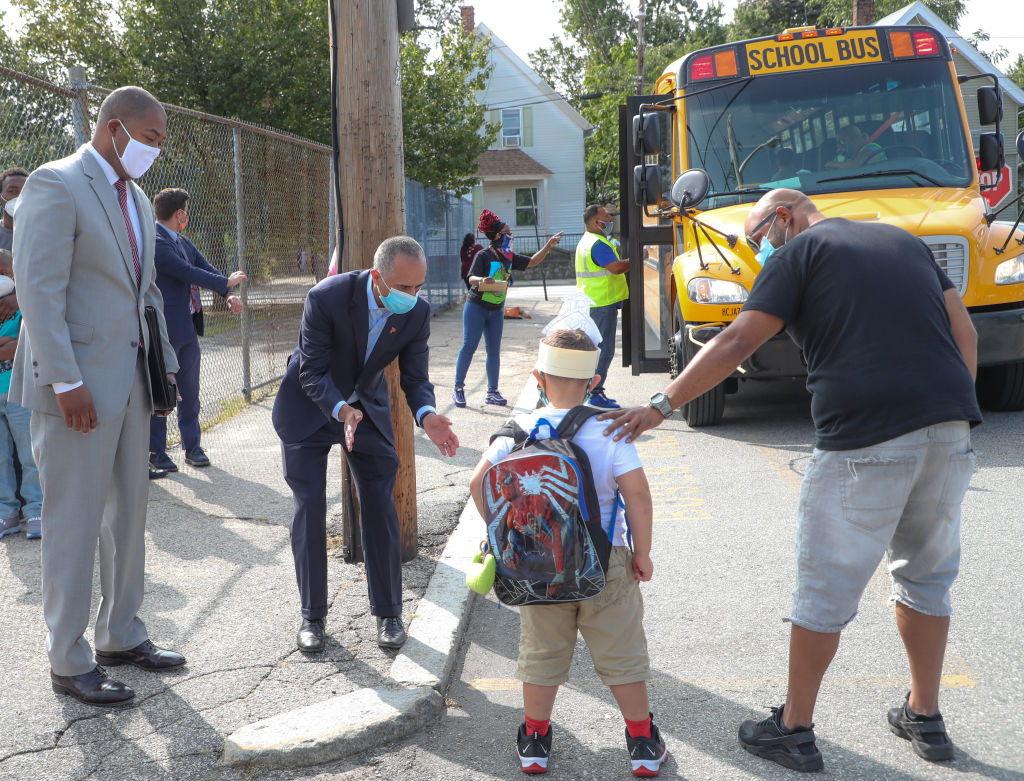 In Georgia, a Biden-voting state with Republican leadership that returned students to classrooms more quickly than many others, moves toward in-person learning reflected community priorities, said education department spokeswoman Meghan Frick.
"Our focus was not on politics but on listening to constituents — parents, educators, students, communities," she explained over email.
Ryan Brown, chief communications officer for the South Carolina Department of Education, was candid about the role politics played in his state's reopening plans.
"It's a very Republican state, that certainly played into it," Brown told The 74. But while the push for in-person learning was most prominent among conservative lawmakers, many Democratic officials also voiced support.
"Everyone saw the benefit [of in-person school]," he said. "The majority of students learn well when they are face-to-face with a high-quality teacher."
But in South Carolina, like practically every other state in the nation, reopening classrooms didn't guarantee that students actually returned. School leaders made calls and knocked on doors, Brown said, "almost begging [students] to come back."
According to the most recent federal data, which dates back to March, over 1 in 3 elementary students continued to learn remotely full time, with elevated rates for Black, Hispanic and Asian youth. The share of middle schoolers sticking in online options was even higher, at 40 percent overall. Many families, especially families of color, have expressed interest in continuing remote learning even into the 2021-2022 school year.
The nuance of family decision making is not reflected in the Burbio data, which communicates the percentage of students whose schools offer them the opportunity to opt into in-person models. The Burbio numbers also reflect certain assumptions, such as that hybrid learning models represent half as much classroom learning as traditional models, though some schemes offered more and others offered less. In addition, some districts cut their "traditional" learning schedule to just four days, but were still counted as fully in-person.
With millions of students nationwide having not stepped foot inside a classroom since the dawn of the pandemic, Aldeman, who has studied past learning disruptions and recovery from events like natural disasters, says the onus now falls on school districts to help get young people back to speed.
"A lot of kids are going to need some additional time than normal going forward," he said. It's about "identifying which students are struggling and targeting resources for that."
Get stories like these delivered straight to your inbox. Sign up for The 74 Newsletter