How Much More Money Are States Spending on School Security After the Parkland Shooting?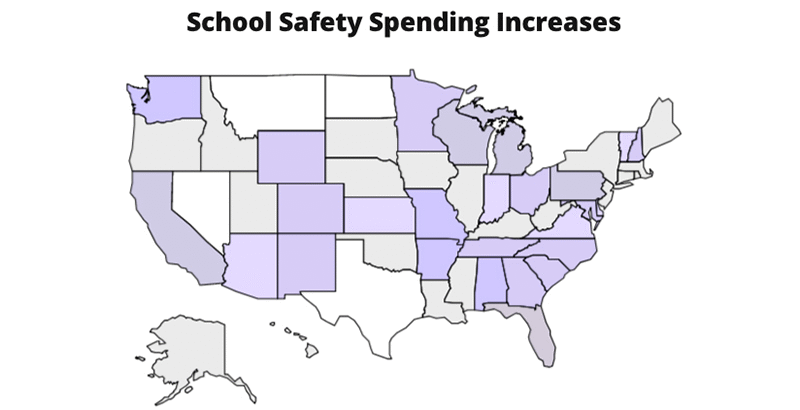 Following last winter's shooting at Marjory Stoneman Douglas High School in Parkland, Florida, the fallout was swift: The president quickly mused about arming teachers, students across the country walked out to call for greater gun control, and in the halls of state capitols across the country, lawmakers opened state pocketbooks.
Legislators in at least 26 states poured at least $950 million into school safety programs this year in the wake of the Parkland shooting and additional shootings in Maryland, Texas, and elsewhere.
The amounts ranged widely by state, from $300,000 in Missouri to $400 million in Florida. They include only what's being spent this year, though some states allocated a larger amount over a few years.
Most of the money was spent on security upgrades and school resource officers, but the tally also includes funding allocated for mental health programs, violence prevention, emergency planning, and anonymous phone and texting tip lines.
This overall calculation, based on a search of news articles and state budget documents, is a rough estimate that may have missed some grants and may include funding that can be used for higher education or other public buildings. Some states also would require matching grants from school districts.
The calculation does not include tabulations of pre-Parkland school safety appropriations or dollars allocated for other purposes that schools now may use for school safety. Alabama lawmakers, for instance, in April passed a law that allows technology funding to be used for school safety, and in Maine, a new law gives priority to safety upgrade projects funded through the state's school renovation fund.
Still more funding could be coming: Massachusetts lawmakers, after hurriedly passing a delayed budget in late July, didn't take up Republican Gov. Charlie Baker's proposal to add $72 million in new safety spending, though they could consider it later this year. And in New Jersey, Gov. Phil Murphy has yet to decide whether to present voters with a proposal to float a $1 billion bond, $450 million of which would go to security upgrades.
If both of those proposals are approved, the total spending nationwide would top $1.4 billion.
Four state legislatures didn't meet this year, including Texas, where Republican Gov. Greg Abbott in May released a set of safety recommendations that he estimated will cost $110 million, $30 million of which will require new funding.
The federal government poured money into school safety this year, too, and school districts have added their own dollars, with some even floating new bonds to do so.
Support The 74's year-end campaign. Make a tax-exempt donation now.