7 Updates on Santa Fe High School Rampage: Here's What We Know So Far About Mass Shooting That Left 10 Dead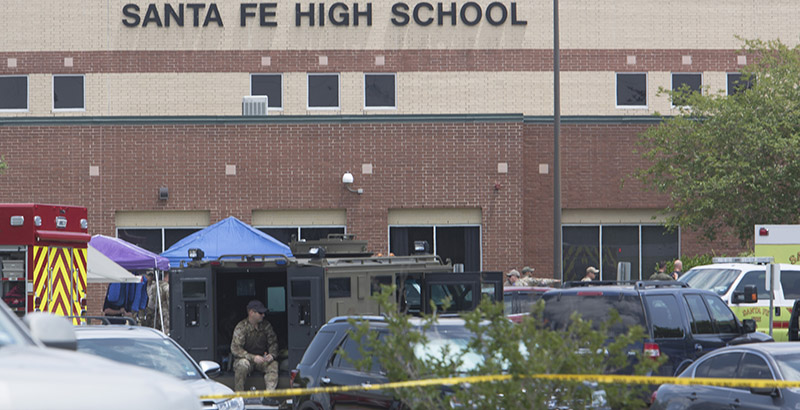 Updated May 20:
Eight students and two teachers were killed in Friday's massacre. At least 13 people were injured, including 2 law enforcement officers.
The suspect, 17-year old Dimitrios Pagourtzis, an honor-roll student and former football player, reportedly confessed to the rampage and told authorities that he spared students he liked so that "he could have his story told." The family of Shana Fisher, a 16-year old student who was among those killed Friday, told the Los Angeles Times that they believe their daughter was targeted because she repeatedly rejected the gunman's attempts to date her.
The gunman surrendered, apparently abandoning a plan to kill himself, about a half hour after entering an art classroom armed with a .38 caliber and Remington shotgun, said Galveston County Judge Mark Henry. While Pagourtzis faces charges of capital murder and aggravated assault on a peace officer, he cannot face the death penalty.
Nine students and one teacher were killed Friday when a gunman opened fire at about 7:45 a.m. in a first-period art class at Santa Fe High School near Galveston, Texas. At least 10 people sustained injuries, according to Texas Gov. Greg Abbott — including two officers.
Here's what we know so far:
1 Suspect is in custody, but motive is not yet known.
Media outlets such as NBC News reported Friday afternoon that the suspect in Friday's shooting is 17-year-old student Dimitrios Pagourtzis. Pagourtzis reportedly had at least three firearms on him: a shotgun, an assault-style rifle, and a pistol. The shotgun and revolver were legally owned by the suspect's father, Abbott said in an afternoon press conference.
Fellow student Dustin Severin, 17, told local NBC affiliate KPRC that he'd seen the suspect in a trench coat shortly before the attack. Pagourtzis's social media posts — circulated widely on Friday — show the teen recently wearing a T-shirt with the words "Born to Kill," along with photos of guns and a jacket with Nazi regalia. His Facebook page has since been deleted.
2 There is a possible accomplice.
While Pagourtzis is the primary suspect currently, authorities this morning also detained a second "person of interest" — an 18-year-old male — who they believe might have acted as an accomplice. No name has been released.
3Little is known (yet) about the identities of the victims.
Nine students and one teacher were reportedly killed, but no names were officially released as of Friday afternoon.
Some information was provided about the injured, however. A Santa Fe Independent School District (ISD) resource officer, John Barnes, was reportedly shot in the upper arm and is undergoing surgery, according to ABC13. And David Marshall, the chief nursing officer at the University of Texas Medical Branch, said in a press conference that two adults and one minor were receiving treatment at that facility. The minor is a 16-year-old male in stable condition with a gunshot wound to the leg.
4 Police found explosives at the school.
While combing the area in and around the school after the shooting, officials found explosive devices such as pressure cookers and pipe bombs, reports stated.
"There have been explosive devices found in the high school and surrounding areas adjacent to the high school," Santa Fe ISD said in a tweet. "Because of the threat of explosive items, community members should be on the look-out for suspicious packages and anything that looks out of place."
Friday afternoon, police were searching Pagourtzis's home — reportedly less than three miles from the school — for more explosives, according to CBS.
5 Nearly 3 months ago, officials placed the school on lockdown after reports of gunshots.
Shortly after shots began ringing out on Friday, students barricaded the classroom doors and hid — just as they'd done nearly three months ago.
On February 28, the school was on lockdown for two hours after police received reports of what sounded like gunshots outside the school. The lockdown was lifted when investigators failed to pinpoint an imminent threat.
6 There are "thoughts and prayers" — and some pushback.
As the country reels from this latest tragedy, many officials, including President Donald Trump, began offering condolences and prayers:
But many politicians — including Dallas mayor Mike Rawlings and Texas Gov. Abbott — are denouncing the "thoughts and prayers" approach.
No one seemed more frustrated Friday than students at Marjory Stoneman Douglas High School in Parkland, Florida, who lost 17 students and teachers in a February mass shooting. It was the last day of class for Stoneman Douglas seniors as they watched events unfold in Texas.
"Get ready for two weeks of media coverage of politicians acting like they give a shit," senior and gun reform advocate David Hogg tweeted.
7 The shooting occurred just a day after Education Secretary Betsy DeVos held a "closed" meeting with survivors of previous mass shootings.
The education secretary met Thursday with survivors of the Columbine, Virginia Tech, Sandy Hook, and Parkland shootings, along with their family members. The closed meeting hoped to "give us a clear-eyed look at what has gone wrong in the past, the lessons learned and areas where we continue to fall short as we work to keep our nation's students and teachers safe at school," DeVos said in a written statement.
After Friday's shooting, she tweeted, "We simply cannot allow this trend to continue."
Support The 74's year-end campaign. Make a tax-exempt donation now.