House Committee Approves $71 Billion Education Funding Bill in Meeting Dominated by Fate of Separated Migrant Children, Increases Money to School Safety Programs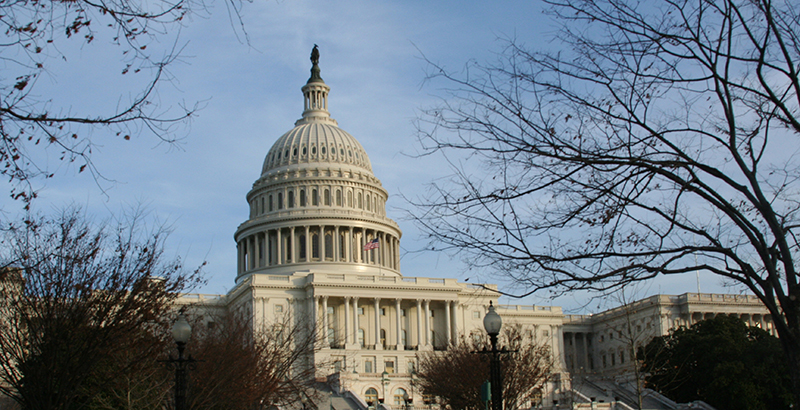 The House Appropriations Committee, after a day-long markup dominated by concerns for immigrant children separated from their parents, approved a $71 billion spending bill for the Education Department.
The most notable change adopted during the committee's consideration was boosting funding for the School Safety National Activities program. The committee's first draft of the bill would have funded the grants at $43 million; the committee upped funding to $90 million, the same as it received last year.
It was included in what's called a manager's amendment, offered by the bill's author at the start of the markup that usually, as in this case, includes changes previously agreed to by both parties. Democrats during subcommittee consideration had criticized the cut to the school safety programs, particularly in the wake of the February mass school shooting in Parkland, Florida, and ensuing student advocacy around school safety and gun control.
The bill avoids most of the controversial issues that had surrounded it last year, including the Trump administration's proposed school choice programs and huge cuts to programs for teacher training and afterschool programs. The path is also made easier by an existing deal that set out a higher total spending cap.
Overall, it would provide small boosts for Individuals with Disabilities Education Act grants and level funding for other big K-12 programs, including teacher training, Title I grants for low-income students, and afterschool programs. Lawmakers would give a big boost to career and technical education grants and charter schools.
Democrats at the markup, which ran past 11 p.m., offered some amendments related to education, largely around higher education. A proposal to increase the maximum Pell Grant for low-income college students, for instance, was rejected on party lines.
On the K-12 side, Rep. Barbara Lee, Democrat of California, introduced but ultimately withdrew an amendment that would block the Education Department from overturning an Obama-era guidance that urged schools to limit suspensions and expulsions and end racial disparities in discipline.
The guidance encourages districts to look at disparate impact — that is, policies that aren't written in a racially biased way but that result in different outcomes for students of different races. That principle underscores other civil rights protections in housing and other areas, Lee said.
"If the Trump administration chooses to rescind the guidance, we would open the door to a full-out assault on civil rights protections," Lee said.
Education Secretary Betsy DeVos has not yet changed the discipline guidance, even as the department has revoked others on racial disparities in special education placement and affirmative action. Conservatives say the discipline guidance is overly prescriptive and makes schools unsafe by keeping disruptive students in class.
Education Department funding is included in the same bill as the Department of Health and Human Services, which takes custody of unaccompanied minors who cross the border and those who were separated from their parents, a practice that began this spring as part of Trump's "zero tolerance" policy toward illegal immigration.
Democrats proposed a volley of amendments surrounding the children, who are cared for by the Office of Refugee Resettlement. Adopted amendments would institute financial penalties on the department for failing to create a plan for reunifying children with their parents, ban children from being medicated without being seen by a doctor, and prohibit religious tests for families who take in the children.
"The president of the United States instituted an unconscionable and reckless policy that is causing profound trauma and threatens to destroy lives," Rep. Nita Lowey, the ranking Democrat on the Appropriations Committee, said at the start of the hearing.
"Until we, and that means all of us, say enough is enough to the lies, to the bigotry, to using distraught children and anguished parents as political pawns, then the consequences of our inaction will be a stain on our nation forevermore," she added.
A little more than half of the 103 children under the age of 5 in the agency's custody had been reunited with their families as of Thursday morning, according to the Los Angeles Times. A federal judge had ordered the reunification of all children in that age group by Tuesday. The remaining were ineligible to be reunited for various reasons, including because parents had criminal histories or had already been deported, the government said.
Officials said they would search for other sponsors for children who could not be reunited with parents who had criminal records, and work with foreign consulates to return children to the parents who have already been deported, the Washington Post reported.
The spending bill's next stop will be the House floor, though timing is unclear, particularly as the chamber runs up to its month-long August recess. Leaders in both chambers have been bringing "mini-bus" bills to the floor, D.C. jargon for bills that combine perhaps two or three separate appropriations bills.
Senate Appropriations Committee leaders said before the July 4 holiday that they would like to bring the bill to the floor in the upper chamber, the first time that would happen in over a decade. Leaders have said they hope to tie it to the defense spending bill to attract broad bipartisan support.
Support The 74's year-end campaign. Make a tax-exempt donation now.