More Than 70 Top Education Leaders Sign Letter Demanding the Trump Administration Maintain Obama-Era Guidance on Student Discipline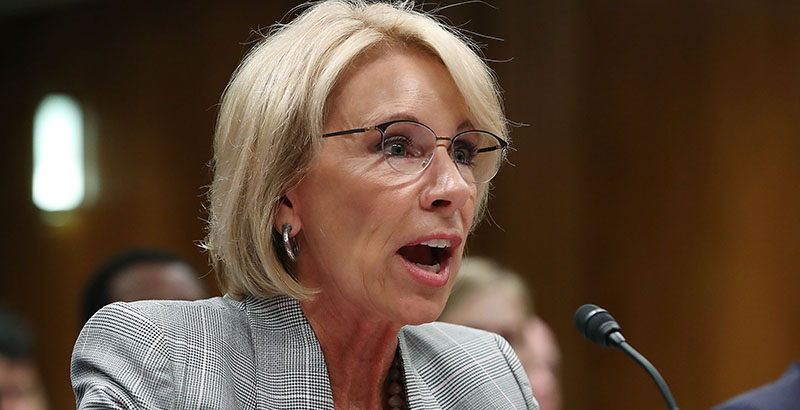 A coalition of more than 70 education leaders — from charter school operators to national teachers unions — are calling on the Trump administration to retain an Obama-era guidance document that urged school districts to reduce their reliance on suspensions and expulsions and to eliminate racial disparities in discipline.
In a letter sent Tuesday to Education Secretary Betsy DeVos and Attorney General Jeff Sessions, the education groups said they accept responsibility for rethinking traditional approaches to school discipline "because the consequences of inaction are dire." The federal government has a responsibility to uphold students' civil rights, according to the letter, which includes addressing disproportionality in student suspension rates.
"It is unacceptable that students of color, students with disabilities, and students who identify as LGBTQQ experience harsher discipline than their peers," wrote the education groups, which include ACE Charter Schools, the American Federation of Teachers, Educators for Excellence, and the Discipline Revolution Project, as well as several urban school district superintendents. "Exclusionary discipline, such as suspensions and expulsions, are linked to students failing in school, to students not finishing school … and often to a lifetime connected to a life-altering juvenile and adult justice system."
In a 2014 "Dear Colleague" letter, the Obama administration's Departments of Education and Justice told school leaders that disparate discipline rates, based on race or disability, could be the result of bias and therefore violate federal civil rights laws. The letter also urged districts to "rethink school discipline" and adopt less punitive approaches, like restorative justice, a change that was already underway in several districts across the country. Critics, however, say the guidance document overstepped the Obama administration's authority and that efforts to reduce suspensions prompt chaos and disorder in schools.
Now, DeVos may revoke that guidance document. Rescinding the Obama-era guidance is among topics being considered by the Federal Commission on School Safety, a group established by President Trump following the mass school shooting in Parkland, Florida, and chaired by the secretary.
Nationally, schools' reliance on suspensions and expulsions has dropped in recent years, but disparities remain for students of color and those with disabilities. For example, black boys make up 8 percent of public school students but are 25 percent of children suspended at least once, according to the Education Department's latest Civil Rights Data Collection, which presents statistics from the 2015-16 school year.
"The letter is partly about imploring the federal government to do their job in upholding students' civil rights, but it is also a public declaration about our values as an education community," Cami Anderson, founder of the Discipline Revolution Project, said in a media release. "We can and must do more to replace antiquated, harsh, ineffective, and biased discipline practices with student support systems that allow teachers to move away from these practices and toward alternative approaches to suspensions that help students thrive."
Get stories like these delivered straight to your inbox. Sign up for The 74 Newsletter