Growing Backlash to CDC School Guidelines as Los Angeles Teachers Demand Vaccines Before Reopening Classrooms and Florida's Governor Decries Guidance as a 'Disgrace'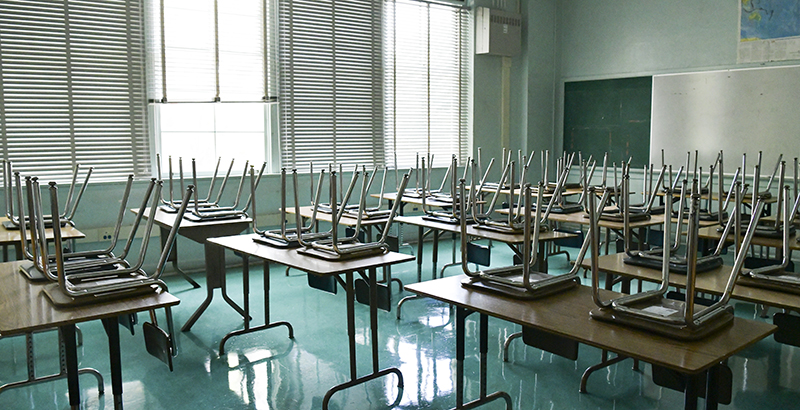 Shortly after the Centers for Disease Control unveiled new federal guidance surrounding reopening schools for in-person learning — guidance that prioritizes masking and social distancing as key strategies and outlines a new color-coded system for measuring surrounding community spread — the union representing more than 35,000 Los Angeles teachers pushed back against the suggestion that vaccinations for educators need not be a prerequisite for resuming classroom instruction.
"We applaud the CDC's efforts for a national strategy to return to in-person instruction, but the new guidelines released on February 12 do not do enough to address the specific challenges of large urban school districts like LAUSD," United Teachers Los Angeles said in a statement Friday. "And most troubling is that it does not require vaccinations for school staff, six-foot distancing in all schools, nor improved ventilation as a key mitigation measure.
"We reiterate that the path to a safe reopening must include: vaccines for all educators and school staff, multi-tiered mitigation strategies (such as COVID testing, physical distancing, use of masks, hand hygiene, and isolation/quarantine procedures) and lowered community transmission rates — LA County must be out of the purple tier."
California's "purple tier" refers to regions where the risk of transmission is "widespread." The CDC guidance would create new categories and color-coded benchmarks, with the top tier being red for areas where there are more than 100 new confirmed cases of COVID-19 per 100,000 residents during a 7-day period. (Some critics of the new guidelines have also warned of greater confusion among citizens who live in states with existing color-coded guidelines)
In its statement, UTLA challenged those "who are pushing to reopen in the purple tier and without lowered community transmission rates [to answer]: How many infections and deaths are considered 'safe?' While LA educators want nothing more than to be back in classrooms, the risk of community transmission of COVID-19 in Los Angeles County is still too high."
Just as the CDC guidance was being labeled too risky in California, it was being blasted as too conservative in Florida, where Gov. Ron DeSantis made it clear that the state's schools would remain open despite the federal government's new guidance and color-coded directives.
"What the CDC put out at five on a Friday afternoon — I wonder why they would do it then? — was quite frankly a disgrace," DeSantis said at a Monday press conference. "It would require, if you actually follow that, closing 90% of schools in the United States."
Florida schools, he said, "are open, we remain open, and we are not turning back."
Click on the below PDF to scan the full CDC guidance. Here's more of our recent coverage of the science and politics surrounding reopening classrooms:
Inside the CDC Guidance: New guidelines for reopening classrooms prioritizes masks, social distancing; vaccines not a precondition (Read the full story)
Campus Testing: Teachers unions say they need more COVID tests before reopening classrooms — but experts are warning about the limitations, expense and tradeoffs in focusing on swabs (Read the full story)
Student Vaccines: Superintendents call for "faster rollout" of vaccines but object to delaying school reopenings until children get shots (Read the full story)
Flashback — Election Year Politics: Research suggests it's not science but politics that are driving school reopening decisions to a "really dangerous degree" (Read the full story)
Go Deeper: Scan the full CDC guidance below: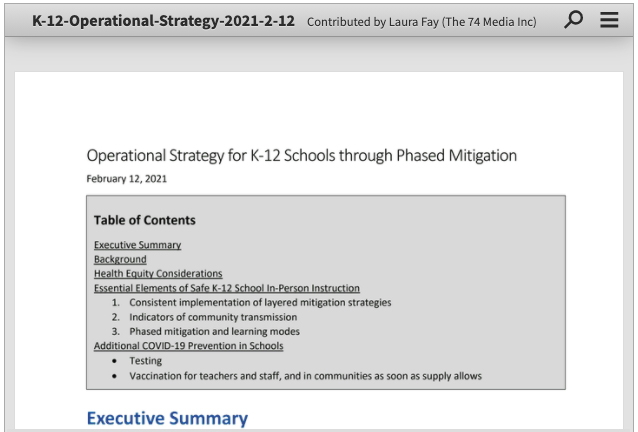 Get stories like these delivered straight to your inbox. Sign up for The 74 Newsletter