Former Puerto Rico Education Secretary Faces New Charges in Fraud Case, 'Special Assistant' Takes Plea Deal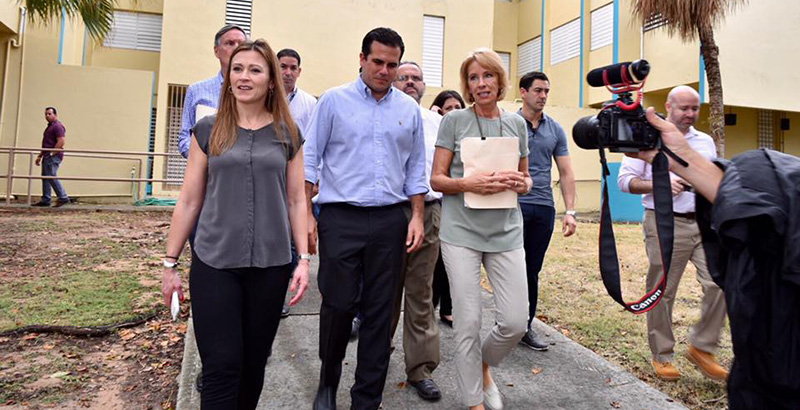 Updated August 21
Puerto Rico's embattled former education secretary, Julia Keleher, has been slapped with new federal charges including wire fraud, identity theft and bribery in a high-profile government corruption case that stems from her tenure at the helm of the island's public school system.
The new charges come three months after Keleher's former "special assistant" accepted a plea deal in the case.
The new charges offer greater insight into a case that began in July 2019, when Keleher was arrested on allegations that she participated in a conspiracy to steer millions of dollars in government contracts to people with whom she had personal ties. The new superseding indictment, filed on Aug. 10, alleges that Keleher disclosed confidential documents — including names and other personnel information from more than 6,000 Puerto Rico school employees — to help an outside company secure an education department contract related to curricular and administrative restructuring. The indictment identifies the outside firm as "Company A," whose president is Keleher's "close friend."
Separately, the new allegations add greater detail to a "sham selection process scheme" to steer an Education Department contract to Colón & Ponce, a company run by the sister of Keleher's ex-assistant. Glenda and Mayra Ponce — the assistant and her sister — reached deals with prosecutors in May and pleaded guilty to wire fraud conspiracy. In exchange, prosecutors will recommend to the court that other charges against them be dropped, according to court documents.
Keleher was Puerto Rico's education secretary from January 2017 until her resignation in April 2019. Less than a year into the job, Puerto Rico's schools were devastated by Hurricane Maria, and Keleher seized on the tragedy to close hundreds of schools and usher in new education reforms, including charter schools and private school vouchers. Those reforms — and her unusually high salary of $250,000 a year — were the subject of fierce condemnation.
In total, the first indictment accused Keleher and five others — including the Ponce sisters and the former head of Puerto Rico's health insurance administration — of schemes to direct more than $15 million in contracts through corrupted bidding, rather than fair and transparent processes. 
In a separate indictment, from January, federal prosecutors accused Keleher of offering up public school land in exchange for help buying a luxury apartment in San Juan.
Keleher has pleaded not guilty to the charges. Maria Dominguez, Keleher's attorney, declined to comment, citing a gag order that prevents her from discussing the case. An attorney for Mayra Ponce didn't respond to a request for comment. Attorney Juan Matos de Juan, who represents Glenda Ponce, declined to comment on the specifics of his client's plea deal, citing attorney-client privilege.
"I can tell you that whatever is [in] the plea agreement is true," he said. He denied that Glenda Ponce's plea prompted additional charges against Keleher. His client is "an extremely small fish in that lake," he said, and the allegations against her are "a totally different level" than those that Keleher faces.
As Keleher's "special assistant" at the department, Glenda Ponce is accused of collaborating with Keleher to secure a government contract for Ponce's sister through a corrupted bidding process, according to the indictment. Then, according to the latest indictment, Keleher "did corruptly solicit and demand" Colón & Ponce to subcontract education department work to "Individual C," who was the campaign manager for a 2016 gubernatorial candidate. In exchange, Keleher increased the Colón & Ponce contract by $50,000, according to court records.
The latest indictment also names a new defendant, accountant Aníbal Jover, the former president of Puerto Rico's Association of Certified Public Accountants, who faces wire fraud charges related to allegedly corrupted contracting between the island's health insurance administration and a managing partner at the accounting firm BDO.
Get stories like these delivered straight to your inbox. Sign up for The 74 Newsletter