FCC Chair, Kansas Governor and Khan Academy Founder Wrestle With Federal Role in Closing the Homework Gap During Coronavirus Crisis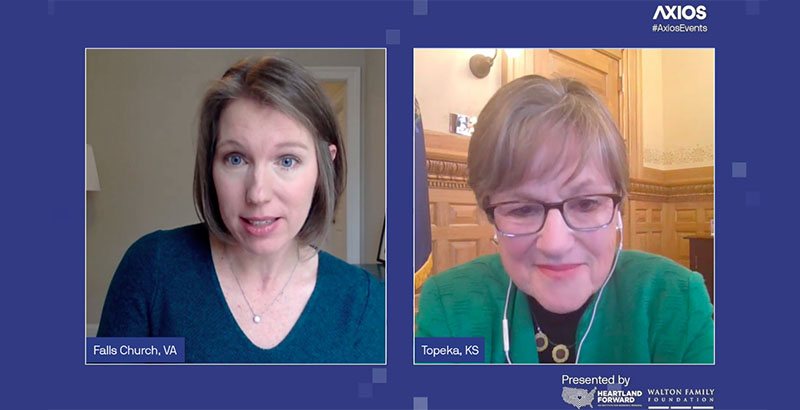 The homework gap — the lack of connectivity preventing some students from finishing their assignments online — has never been a more pressing disparity than it is now, as some 55 million students learn from home.
The news site Axios explored how COVID-19 has widened that aspect of the digital divide during a series of three quick-fire, virtual interviews Thursday with FCC Chairman Ajit Pai, Kansas Gov. Laura Kelly and Khan Academy founder and CEO Sal Khan.
"There's no way that [online] education is the same as being physically located in a building," said Axios co-founder Jim VandeHei during the livestreamed event. "Then you think about those kids who don't have [the] technology … it might be a lost year of education. I think that's sobering … There's still a lot of communities out there in rural America and inner cities that don't have that type of connectivity."
Some 15 percent of American homes with school-age kids don't have a high-speed internet connection, according to the Pew Research Center, and low-income, black and Hispanic children are disproportionately affected. Kids living in low-income households are about five times as likely to lack a high-speed internet connection as their counterparts in middle-income homes.
The interviews were conducted by Kim Hart, who covers cities and tech for Axios, and the event was sponsored by the Walton Family Foundation. Here are some highlights from the three conversations.
Federal Communications Commission Chairman Ajit Pai
Ajit Pai and his FCC colleagues have faced mounting pressure from members of Congress and education leaders — including former U.S. secretary of education Arne Duncan — to remove the barriers still preventing some low-income families from accessing the internet.
"More than a month into this crisis, we have seen no movement from the administration on these relatively simple changes," Duncan wrote in an April 21 op-ed in The Washington Post. "But there is still a chance for Pai and this administration to show that when they say they want to keep Americans connected, they truly mean all Americans."
While the commission has taken some steps, including encouraging broadband providers to sign the Keep Americans Connected Pledge, which asks, among other things, that companies waive late fees incurred due to economic circumstances related to the coronavirus, advocates are asking that the FCC take further action now.
Pai has yet to do two important things, according to education advocates and school leaders. He could update the Keep Americans Connected Pledge so that internet providers commit to waiving families' prior debts, which are currently stopping some of the country's poorest students from accessing free Wi-Fi programs. An online petition addressed to Pai demanding as much has racked up 13,000 signatures.
The chairman could also let schools and libraries use the billions of dollars already set aside through the FCC's E-rate program to buy Wi-Fi hotspots and devices for families that don't have internet.
When asked by Hart to grade the FCC on how it's doing in terms of closing the digital divide, he defended the commission, saying that it has "made substantial progress" on that issue over the past three years. He later cited a step that he took early in the pandemic: relaxing the "gift rules," which prohibited service providers from offering — and school districts from accepting— free Wi-Fi and devices.
Pai made no mention of internet providers waiving low-income families' prior debts, and he said that FCC regulations prohibit him from opening up the E-Rate money, though Duncan and other leaders maintain that doing so falls within the agency's purview.
While Pai acknowledged the importance of bridging the digital divide, he spent most of his time touting longer-term internet access programs the FCC was working on prior to the pandemic's arrival, like the Rural Digital Opportunity Fund, a $20 billion investment to expand broadband in rural communities, which has yet to kick off.
"While a number of preexisting broadband programs, such as the Rural Digital Opportunity Fund, will help close the broadband gap in the long term, I encourage you to take action that can enable expanded coverage now," Senator Mark Warner urged Pai in a letter he sent last week.
Kansas Gov. Laura Kelly
Kelly has spent most of her career making education a top priority. She spent 14 years as a state senator pushing to restore funding for public education throughout her state, and under her tenure as governor, the Kansas Supreme Court ruled that school funding had finally met constitutionally required levels.
The Kansas Association of School Boards recently asked Pai, himself a Kansas native, to open up E-rate funds for low-income students at home. During her interview with Axios, Kelly didn't press on that request, instead bringing up a broadband expansion strategy that her administration had been developing before the coronavirus struck, which the feds had been helping to fund.
"We used whatever we could," she said of the federal contribution. "That's something we will use in our broadband strategy going forward. In the meantime, we've had some great partners step up to help."
Kelly was the first governor in the country to close schools through the end of the school year last month, a decision that at the time drew some controversy. But that early call won her time, she said, which she used to get input from educators and create a sense of solidarity among her leadership team. At the time, schools were halfway through spring break.
After extending vacation for another week, Kelly said, she convened 40 teachers virtually, along with administrators and counselors, to create a game plan. The choice to shutter school buildings for the year also eased families' minds about what was to come, she says. "We wanted to give our parents, children and teachers certainty about what was going to happen."
When it came to planning the support that families would need while kids were away from school, Kelly said she and her team brainstormed holistically. They took action to help families not only with their kids' academics but also with basic needs like child care — particularly for frontline workers — and food. The state got a waiver from the Department of Agriculture, allowing it to extend the school nutrition program to include feeding children from 1 to 18, regardless of their free or reduced-price lunch status.
Like other states, Kansas faces looming budget shortages; revenue estimates show that it's looking at a $1 billion hole over the next two fiscal years, Kelly said. While Kelly told Hart that she hasn't ruled out making cuts to state programs if necessary, she's hoping that the federal government will step in.
"We know it's likely [they'll] provide a stimulus package for state and local governments, and we're waiting to see what that looks like, and how we can use it to fill some of the budget shortfalls we're experiencing," she said. "I will work like the devil to continue to fund our schools. I consider education an essential service … I will do everything I can to make sure they have adequate resources to continue to serve our kids."
Kelly told Axios it's "way too early to call" if Kansas schools will reopen this fall. That's partly because she's already anticipating the second wave of coronavirus, which could arrive around that time.
"We'll do dual planning," she said. "Planning to open, and planning to have [schools] shut."
Khan Academy founder and CEO Sal Khan
Sal Khan founded Khan Academy in 2008 after the lessons that he created to tutor his cousins started to gain attention. The nonprofit offers free online lessons and quizzes, and it has historically focused on math, an area where American students are notorious underperformers.
Since the pandemic, Khan Academy has seen users increase threefold, and Khan said he has made more resources available to help them, including shutdown-specific schedules for students in different age groups.
"We set it up, so what could a day look like for students," Khan said. "And not just the academic part of it, but also how do we make sure they get enough physical exercise, how do we make sure they have enough time for play?"
The schedules were so well received that parents and teachers started asking for more, and Khan released free week-by-week math learning plans for third grade through Algebra II.
Although Khan reiterated the importance of connectivity in his Axios interview — "In order for Khan Academy to do its work, you do need online access. That's step one" — like Kelly, he didn't focus on the federal government's responsibility to deliver it. Instead, he praised the districts and telecom companies that have distributed laptops and expanded broadband access in support of students.
Khan highlighted a study done recently by one of his partners, the Northwest Evaluation Association (NWEA), which found major impacts on students from school closures during the coronavirus, especially in math. The research indicates that when students head back to school next fall, overall they are likely to retain about 70 percent of this year's gains in reading, compared with a typical school year, and less than 50 percent in math.
Khan says that parents who are feeling overwhelmed — as many have reported they are — should aim for half an hour a day of the basics with their kids.
"If, at a minimum, you can focus on the basics—the math, the reading, the writing — that's a start," he said. "And then you can layer more on top of that."
Disclosure: The Walton Family Foundation provides financial support to The 74.
Support The 74's year-end campaign. Make a tax-exempt donation now.