How Khan Academy Used a Successful Experiment With California's Long Beach Unified to Launch District Partnerships Across the Country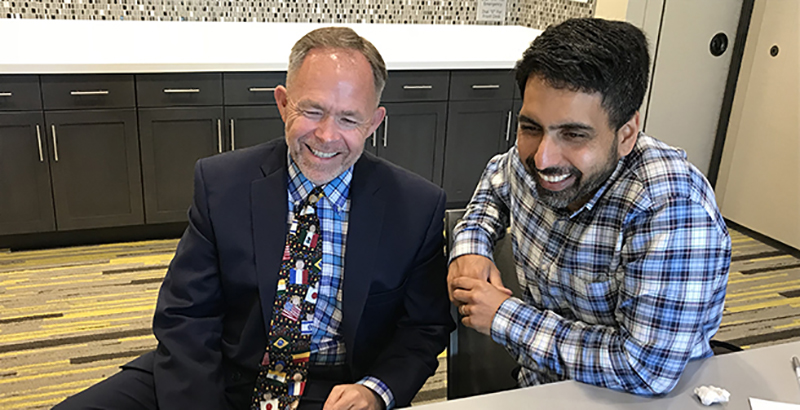 How has California's third-largest school district, serving mostly low-income Latinos and blacks, been propelling its students to college by raising their SAT scores and boosting their state test scores?
Chris Steinhauser, superintendent of Long Beach Unified School District for the past 18 years, will tell you that forging the first formal partnership with Khan Academy — a leading provider of free online instructional videos — has been key.
In 2016, Long Beach USD first offered Khan's SAT preparation to more than 300 seniors with low scores — students whose families couldn't afford the expensive college-test preparation offered by private tutoring companies. After using Khan's interactive online tool, nearly 40 percent of them — mostly students of color — reached the minimum score that made them eligible to apply for state colleges and four-year universities. Between the 2014-15 and 2018-19 school years, the number of Long Beach USD students graduating with a college-eligible index increased 20 percentage points, according to data the district reported in May of last year.
"It is truly a game-changer for kids and families in closing the achievement gap," Steinhauser said in an interview back in 2018 when he sat down with Khan Academy founder Sal Khan to talk about their budding partnership.
Beyond the early SAT prep for all seniors, the wider pilot program that launched in 2017-18 incorporated Khan Academy's videos into math and other subject instruction for younger students. About 90 teachers volunteered to integrate Khan videos into their lessons for at least 30 minutes per week. More than half of them were math teachers in 20 of the district's middle schools, who together taught more than 5,300 students. By the end of the 2017-18 school year, one-third of the district's more than 70,000 students were using the videos.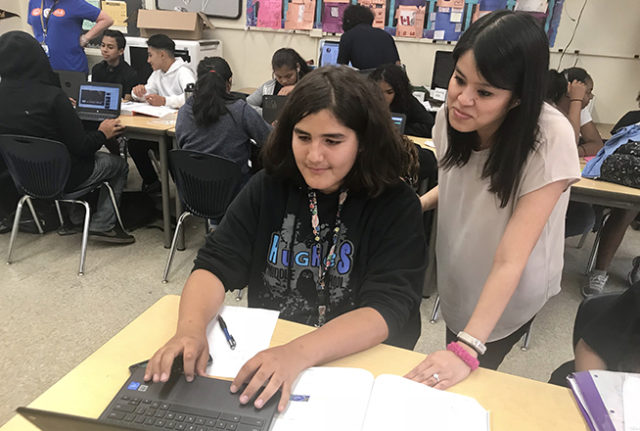 A research analysis of the pilot program released by Khan in September in collaboration with the district revealed that Long Beach teachers using their videos and interactive tools for one class period per week for at least 30 minutes was associated with students achieving a 22-point increase on the state math test — the 2018 Smarter Balanced Assessment (CAASPP) — compared with the previous year.
The analysis, for which the district provided non-identifying student-level data, does not conclude that the use of the program alone caused the gains in math, acknowledging that other factors may have contributed. In fact, a Chalkbeat article points out that previous studies on Khan have not been able to prove a direct correlation between student gains and the use of Khan Academy tools.
Steinhauser said that students whose teachers are using Khan as a regular resource in their classrooms are outscoring their counterparts who are not. "In the same school, in the same subject, same kind of kids, teachers using it get much higher scores."
Steinhauser said in the 2018 interview that while the use of Khan online videos was free, teacher training was paid for out of the district's professional development budget. "We spent a lot of money on buying devices and in professional development. That was intentional, but the payoff is our kids are getting into college."
In a video released in 2019 along with the research analysis, Steinhauser says that 93 percent of the district's sixth- to 12th-graders were using Khan Academy last year, and Assistant Superintendent Christopher Lund said at the beginning of the 2019-20 school year that the partnership had expanded to at least five Long Beach USD elementary schools.
The district is now paying Khan for some services, while the use of instructional online videos, such as the ones for Advanced Placement courses, and the use of data dashboards for teachers are free.
Using Long Beach Unified as point of reference, Khan launched a broad initiative in the fall, Khan Academy Districts, hoping to reach more classrooms with its services and supports on a paying basis. It followed that up with a personalized learning tool that a handful of other districts are now paying to use. Together, the two new Khan programs are in 11 school districts, stretching from California to Florida, including two of the nation's largest, Houston and Clark County, Nevada, according to the company.
One of those new partnership districts, California's Compton Unified, embarked on a relationship with Khan after watching what was happening in Long Beach.
"It was definitely a little neighborly competition to say, 'Hey, if Long Beach is doing this, why isn't Khan over here working with us, too?'" Greg Puccia, a Compton school official who oversees curriculum, told Chalkbeat in September.
Compton Unified is paying Khan Academy $44,000 this school year to institute a program modeled after the one in Long Beach, the news site reported.
The Long Beach experiment
Long Beach Unified, south of Los Angeles, serves 72,000 students in its 85 schools. Nearly 60 percent of them are Latino, 65 percent are from low-income families, and 15 percent are English learners.
Steinhauser, who was both a student and a parent in the district, personally called 340 seniors from low-income families with the lowest SAT scores in 2016 and encouraged them to use the free Khan videos to prepare for the test and improve their scores the next time around.
After using the video tutoring, 130 of those students — 96 percent of whom were students of color — were able to qualify for the California State University system in the 2016-17 school year. Overall, the district saw a jump from 38 percent to 58 percent in the number of Cal State-eligible seniors from the 2014-15 school year to its 2018-19 senior class.
The 23 CSU campuses use an eligibility index for admissions, which calculates high school GPA and SAT or ACT test scores.
"It's a really great equity issue," Steinhauser said. "We saw the power of it, so the next step was to put it in every classroom so we could accelerate the work and the outcomes."
During the pilot program, teachers were not required to use the videos, but he said that they were encouraged to formally incorporate them into their lessons. Teachers — along with district staff who are responsible for curriculum, technology and instruction — received formal training in the fall of 2018 by Khan that included on-site sessions, webinars and support materials. Khan offered teachers professional development with ongoing virtual support throughout the year.
Khan also created the learning dashboard, an analytic tool that keeps track of students' progress through an individual online account provided by Khan for each student so the teacher can identify where a particular student is failing to grasp concepts and recommend specific practice assignments to reinforce skills.
During the 2017-18 school year, the number of teachers actively using the videos in regular classroom instruction grew exponentially, from 120 to almost 500 — nearly 16 percent of the district's 3,200 teachers.
In addition, about 7,000 students in the district's K-8 afterschool program used Khan videos when getting homework assistance or tutoring on a wide variety of subjects during the 2017-18 pilot year.
In the summer of 2018, the videos were added to the summer school program, and in the fall of that year, the pilot expanded to include all fourth- and fifth-grade classrooms. Even parents have gotten training so they can use the videos to help their children at home.
For Khan's founder, the Long Beach partnership provided a chance to show how fast students could increase learning when teachers used the videos as part of their regular classroom instruction. Sal Khan described Long Beach USD as being unique in implementing the program "with high fidelity and in a rigorous way."
During the 2018 interview, he praised Steinhauser, who announced in December that he would retire at the end of this school year after leading the district that has become nationally recognized as exemplary and innovative. EdSource noted that Steinhauser is one of the nation's longest-serving urban superintendents, having spent nearly two decades in a job whose average length of tenure is about six years.
"Here's a really innovative superintendent and exactly the type of district that if things can work really well here — it's large, it's diverse — it can work anywhere else in the country," Khan said.
'Virtual is nice' — but real classrooms even more powerful
Khan announced its new paid initiative Khan Academy Districts, which, in addition to Long Beach and Compton, includes Madera Unified School District in California, Seminole County Public Schools in Florida, Houston Independent School District and Detroit Public Schools for the 2019-20 school year.
Later in 2019, it launched MAP Accelerator, a new personalized learning tool that integrates MAP Growth assessments that help teachers identify student learning needs and deliver differentiated instruction. According to Khan, five districts launched MAP Accelerator pilots that are now reaching 180,000 students.
They are Clark County School District in Las Vegas, Nevada; Jefferson County School District in Louisville, Kentucky; and three others in California: Glendale Unified School District in Glendale, Pajaro Valley Unified School District in Watsonville and Madera, which is using both offerings from Khan.
As for the free online tutorials covering a range of K-12 subjects that first defined the Mountain View, California-based nonprofit, Khan says they are used by more than 18 million learners every month, in more than 190 countries, and have been translated into 18 languages. Just last week, Khan reported that its free SAT preparation hit a milestone of 10 million registered users.
It's a long way from the virtual tutoring sessions that founder Sal Khan created in his closet in 2008 to help his cousin.
In July 2018, Khan launched a free educational app for toddlers ages 2 to 5 with reading, counting and storytelling activities. The same year, Puerto Rico's College Board began working with Khan on Spanish practice for the Puerto Rico College Admission Test.
"Virtual is nice," Khan said, "but when it's coupled with incredible teachers and administrators and done in the right way, that is when you really get the power."
Khan in the classroom
Long Beach teachers in grades 6 and 7 used the videos in their math instruction. In high school, the videos were used in Algebra I and three AP courses — U.S. History, World History and Statistics — subjects in which students needed to improve their passing rate.
Mary Hoang, a math teacher at Charles Evans Hughes Middle School, used Khan videos throughout most of the 2017-18 school year.
Hoang taught her lesson, gave a quiz, and then students, who all have their own Chromebooks, could watch a Khan video on the lesson, which could take about 20 minutes out of the 50-minute class. Then students who scored low on the first quiz would take it again, repeating the process until their scores improved, she explained.
"Some of my students are already recognizing they are getting better at math," Hoang said during a class demo in 2018. "Other students are already going beyond it, coming to me and saying they found algebra and geometry videos they are watching. I see they're exploring on their own videos of subjects they will be taking in high school."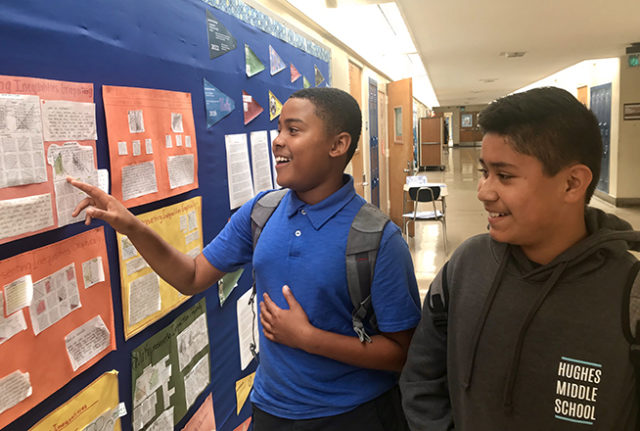 Preston Curtis, one of Hoang's students, said, "Before using Khan, I used other websites where I got stuck and confused. With Khan, it makes sense to me. It makes it easier for our teacher and for us."
His classmate Brandon Armenta said, "I used to get a lot of B's. By using Khan, I get many A's in math and history."
Hoang also assigned the videos as homework and to prepare students for the state tests given in May. She said teachers get extra support online or via email anytime they need it. Steinhauser said Khan has never turned down any district request: "I can't say that's true with all our partners."
Hoang said she started using Khan a few years earlier at home for her own personal use and "loved it."
"When the district said we were going to be trained to use it [in the classroom], I thought for sure I'm signing up for that training," said Hoang, who had been teaching math for over 13 years, nine of them at Long Beach Unified. "As an educator, I think it is amazing."
The technological part of the pilot was "a very easy rollout," Steinhauser said.
"Almost all schools have one device per student, and we are also working with nonprofit organizations in the city to make sure all students can have access to a device and internet at public spaces," he said.
Steinhauser said the district also promoted internal competition among students and schools using Khan — for example, to see who could get higher scores in math assessments.
"We get monthly reports; we hold everyone accountable in a healthy way, telling schools, 'Why are other schools getting such and such results?' So we encourage them to have a healthy competition," Steinhauser said. "There's even a competition among students — they love it."
Hoang said she encourages parents to use Khan at home as a resource to help support their children, and she has received positive parent input. "They know there's a link between them [their kids] using Khan and their improvement with their test scores," she said.
"Their feedback has been 100 percent positive," Steinhauser said. "They see it as a very powerful tool."
Get stories like these delivered straight to your inbox. Sign up for The 74 Newsletter