EDlection2018: Democrat Laura Kelly Projected to Win Kansas Governor Race, With Promise to Fully Fund Schools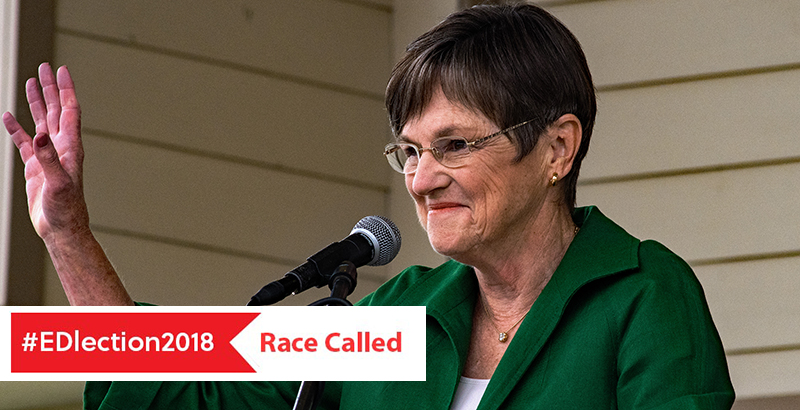 Kansas Democratic state Sen. Laura Kelly was projected as the winner of Kansas's gubernatorial race at 10 p.m., with 68 percent of precincts reporting. Kelly had secured 50 percent of the votes, NBC reported.
Kelly touted herself as the "education governor" and centered her campaign on increasing access to early education, fully funding K-12 schools in accordance with a state Supreme Court mandate, and improving access to higher education and career training.
Kansas schools were financially devastated after former Republican Gov. Sam Brownback passed a series of drastic tax cuts starting in 2012, the largest in state history. Brownback promised the cuts would lead to financial growth, but they had the opposite effect. Districts had to lay off teachers, cut programs and shorten the school week.
The state legislature repealed the cuts in 2017, and Kansas schools are just now recovering. Some districts were able to give teachers raises and add new positions after the legislature passed $500 million in new funding for education over the next five years.
Some worried that Kelly's opponent, Republican Secretary of State Kris Kobach, would impose new tax cuts, bringing back to the economic challenges of the Brownback era. Kobach had said he supported Brownback's tax cuts but would have implemented them differently.
Kelly will now have to oversee compliance with an ongoing lawsuit to fully fund Kansas's schools. The state Supreme Court ruled last year that the legislature's funding plan was almost sufficient to satisfy the court's mandate, but that it still needs to provide enough funding to account for inflation. The legislature has another year to comply.
During the campaign, Kelly said she supports the Supreme Court's decision and will work to make sure schools are fully funded. In contrast, Kobach had said the court was out of line in dictating to the legislature how to fund education.
Big Ed crowd at democratic watch party in Arizona erupt in applause as Laura Kelly is announced as winner of Kansas' gubernatorial race. #EdWeekWatchParty

— Daarel (@Daarel) November 7, 2018
If schools are not fully funded, the court could, in theory, shut them down, though some are skeptical that would actually happen.
EDlection2018: This is one of several dozen races we've analyzed for the 2018 midterms that could go on to influence state or federal education policy. Get the latest headlines delivered straight to your inbox; sign up for The 74 Newsletter.
Get stories like these delivered straight to your inbox. Sign up for The 74 Newsletter