Dr. Fauci Sees Schools Resuming Full-Time, In-Person Instruction By Fall: 'School Should Be Open Five Days, Full Blast, Just the Way It Was Before'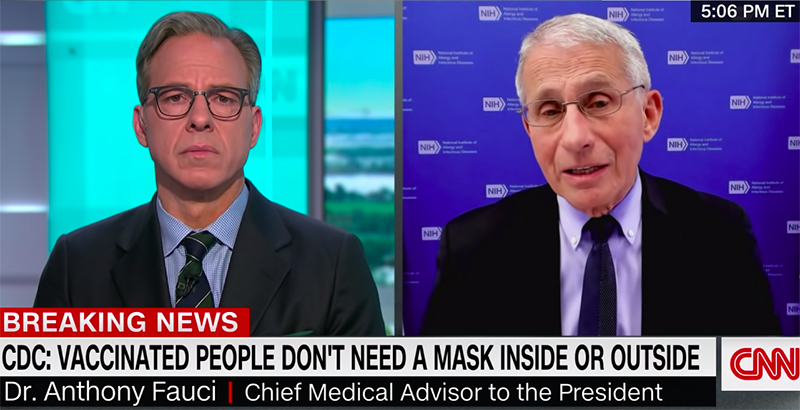 Get essential education news and commentary delivered straight to your inbox. Sign up here for The 74's daily newsletter.
In the wake of new mask guidance from the CDC, Dr. Anthony Fauci appeared on CNN to talk about the emerging science surrounding COVID-19 vaccinations and what Americans can expect as society attempts a partial return to normal.
CNN's Jake Tapper concluded his interview Thursday with specific questions about the nation's students and schools: "Both CDC Director Walensky and the president of the American Federation of Teachers are now saying that schools in the fall should be 100 percent open and in-person, five days a week. Do you agree — and if that's the plan should it be formalized so schools and parents should start preparing?"
"Yeah I agree with that," Fauci replied. "I believe the schools should be open five days, full blast, just the way it was before — that we really have to do that by the time we get to the fall."
Tapper also asked about specific safety policies and procedures for reopened schools, including whether vaccinated students should be allowed to remove their masks while in class.
Fauci said he would defer to the CDC on specific school safety guidance, but that that "would certainly be an option, if the children are vaccinated, not to have a mask."
Fauci further clarified those mask comments Friday, noting that children who are not vaccinated would need to continue wearing masks. Given that vaccines are currently approved only for students 12 and up, this means all elementary school students should likely begin the next school year with masks.
As we've previously reported, widespread rollout of vaccines for children younger than 12 is not expected to happen until 2022. Some of our other recent coverage of schools, vaccinations and student safety:
—Accelerating Vaccinations: As FDA approves shots for youth 12 and up, school districts get creative promoting vaccine to teens (Read the full story)
—Mask Policies: One Texas town, two school districts, clashing mask policies: How science and politics collided in New Braunfels' classrooms (Read the full story)
—Lawsuits: Parents sue to halt school face mask mandates as districts impose health rules to slow pandemic (Read the full story)
—Health Studies: Inside the Massachusetts study that helped change the CDC's stance on classroom distancing to 3 feet (Read the full story)
Get stories like these delivered straight to your inbox. Sign up for The 74 Newsletter