Inside the Massachusetts Study that Helped Change the CDC's Stance on Social Distancing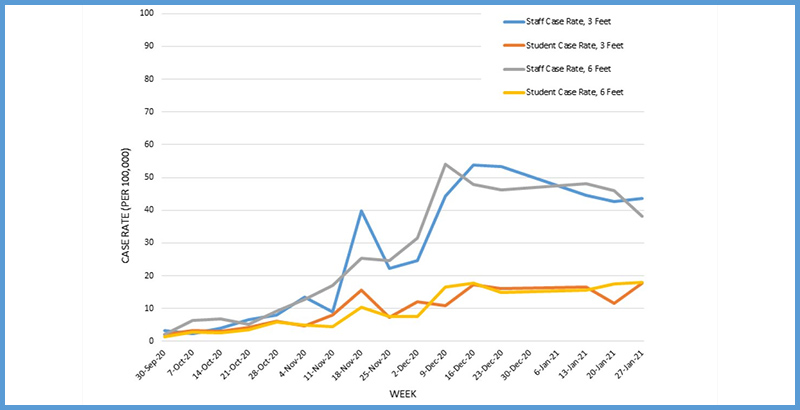 Friday morning's much-anticipated shift in the federal government's approach to social distancing in schools comes in response to a spate of new research, much of it showing that keeping students six feet apart is no more effective at reducing the spread of COVID-19 than maintaining a distance of three feet. In a statement accompanying the new advisory, Centers for Disease Control and Prevention Director Rochelle Walensky said that the agency "is committed to leading with science and updating our guidance as new evidence emerges."
Some have argued since the February release of the CDC's original reopening guidelines that the six-foot rule was based on old and unsupported research claims, and would pose a major roadblock to in-person instruction given space constraints in schools. But it is likely that no empirical argument was more influential in changing the CDC's position than a paper accepted for publication in the journal Clinical Infectious Diseases last week.
Examining coronavirus spread in over 250 Massachusetts school districts over 16 weeks during the fall and winter, the study found no significant difference in COVID-19 cases between districts that required three feet of distancing versus six feet. Not only were case rates among students and staff members similar in both kinds of districts, they were also lower than in the surrounding communities.
Co-author Richard Nelson, a health economist at the University of Utah School of Medicine, said in an email that the newly updated recommendations were "a good example of the scientific and policymaking communities being partners in forging the best path through this unique public health crisis."
"It is great that our study could provide some new insights into how specific amounts of physical distancing might impact infection rates in school settings," Nelson wrote. "But it is also heartening that policymakers are willing to modify guidance when new evidence comes to light."
The study — written by a team of medical doctors, along with additional researchers including Nelson and Brown University economist Emily Oster — gathered a huge swath of data to reach its conclusions: The districts included in the study employ nearly 100,000 staff and serve over a half-million students, and the period observed encompassed 6.4 million student weeks.
Massachusetts, where the study was conducted, not only imposes a universal mask mandate but has also implemented extensive COVID mitigation measures in schools, including hand washing and ventilation protocols.
Within those conditions, the study finds no evidence that maintaining six feet between students offers meaningful advantages with respect to coronavirus spread. While case rates rose in both kinds of districts in the late fall, when a months-long surge in the virus saw a huge spike in both hospitalizations and deaths across the country, the increase was not higher in districts that practiced only three feet of distancing.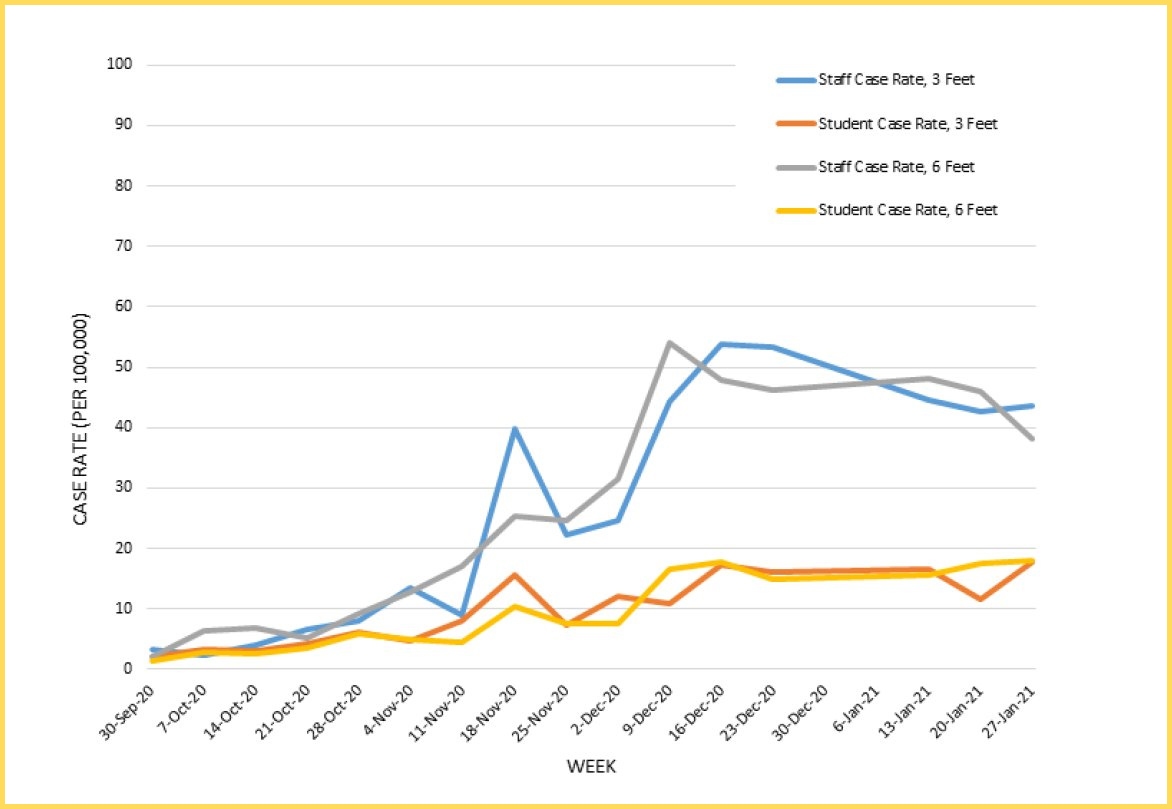 That finding, the authors wrote, "suggests that the lower physical distancing recommendation can be adopted in school settings without negatively impacting safety."
Almost instantly, news of the experiment was spread in media and policy commentary. In an appearance on CNN last weekend, Anthony Fauci, head of the U.S. National Institute of Allergy and Infectious Diseases, agreed with host Jake Tapper that the balance of evidence increasingly pointed toward a smaller distancing standard in classrooms and hinted that new recommendations would be coming shortly.
"The CDC is very well aware that data are accumulating making it look more like three feet are okay under certain circumstances," Fauci said. They're analyzing that, and I can assure you, within a reasonable period of time…they will be giving guidelines according to the data that they have."
Several stories in the New York Times made reference to the study in exploring the rapidly shifting debate over reopening this week, and three of its co-authors wrote a Washington Post op-ed arguing for policymakers to "leverage the science" in devising new policies to speed the return of students to in-person classes.
Elissa Schechter-Perkins, a study co-author and professor of emergency medicine at the Boston University School of Medicine, told The 74 that the new guidelines were "an important step from a feasibility perspective, because most schools nationwide don't have the physical space to permit six feet of distance."
"It has become increasingly clear over the last year that the harms to keeping students out of in-person learning are tremendous," she said in an email. "Now that there is substantial evidence pointing to the fact that three feet of distance doesn't cause higher rates of COVID-19, it will be possible to bring more students back to full in-person schooling, even with the current school infrastructure."
Get stories like these delivered straight to your inbox. Sign up for The 74 Newsletter