EduClips: Study Casts Doubt About Whether NYC School Segregation Is Chiefly a Housing Problem; AZ Teacher Strike Continues Thursday — and More Must-Reads From America's 15 Biggest School Districts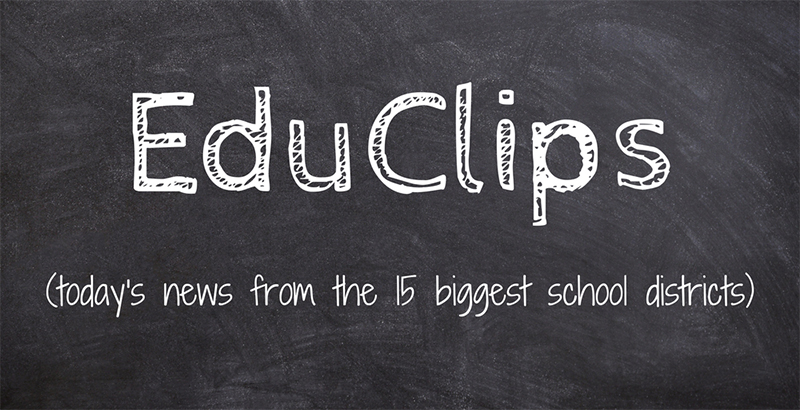 EduClips is a roundup of the day's top education headlines from America's largest school districts, where more than 4 million students across eight states attend class every day. Read previous EduClips installments here. Get the day's top school and policy news delivered straight to your inbox by signing up for the TopSheet Education Newsletter.
Top Story
TEACHER PAY — The latest wave of foreign workers sweeping into American jobs brought Donato Soberano from the Philippines to Arizona two years ago. He had to pay thousands of dollars to a job broker and lived for a time in an apartment with five other Filipino workers. The lure is the pay — 10 times more than what he made doing the same work back home.
But Mr. Soberano is not a hospitality worker or a home health aide. He is in another line of work that increasingly pays too little to attract enough Americans: Mr. Soberano is a public school teacher.
As walkouts by teachers protesting low pay and education funding shortfalls spread across the country, the small but growing movement to recruit teachers from overseas is another sign of the difficulty some districts are having providing the basics to public school students. (Read at The New York Times)
National News
AZ TEACHERS' STRIKE — Arizona teachers will walk out again Thursday as budget votes drag on (Read at The Arizona Republic)
DESEGREGATION — There Are Wild Swings in School Desegregation Data. The Feds Can't Explain Why (Read at Education Week)
TEACHER PAY — Unionized or Not, Teachers Struggle to Make Ends Meet, NPR/Ipsos Poll Finds (Read at NPR)
SCHOOL SAFETY — Students Hold School Walkout to Support Gun Rights, Though Turnout Was Dwarfed by Recent Post-Parkland Protests (Read at The74Million.org)
District and State News
NEW YORK — Why Are New York's Schools Segregated? It's Not as Simple as Housing (Read at The New York Times)
ILLINOIS — Illinois Senate passes mandatory LGBT history curriculum for schools (Read at Illinois News Network)
NEVADA — Florida educator named next Clark County schools superintendent (Read at the Las Vegas Review-Journal)
PENNSYLVANIA — Two black men arrested at Starbucks settle with Philadelphia for $1 each; City to fund high school program for young entrepreneurs (Read at The Washington Post)
CALIFORNIA — New L.A. schools chief Beutner pledges to listen, learn and take action (Read at the Los Angeles Times)
NEW YORK — How school choice differs for black and white families in New York City and other takeaways from a new report (Read at Chalkbeat)
CALIFORNIA — Educators face new challenges in 'superdiverse' classrooms where multiple languages are spoken (Read at EdSource)
Think Pieces
DEMOCRATS — How Far Left Will Democrats Go on Education? (Read at The New Republic)
ABSENTEEISM — Can a Few Simple Letters Home Reduce Chronic Absenteeism? New Research Shows They Can (Read at The74Million.org)
NEIGHBORHOODS — Can a school save a neighborhood? (Read at The Hechinger Report)
NEW YORK CITY — For the Smartest Students, a Tale of Two Cities: What Enrollment Numbers Reveal About How NYC's Top Boys & Girls Are Sorting Themselves Into Different Schools (Read at The74Million.org)
TEACHER PAY — Are teachers losing their grip on the middle class? (Read at The Hechinger Report)
Quote of the Day
"In these times, you have to be innovative and creative in recruiting. We embrace diversity and really gain a lot from the cultural exchange experience. Our students do as well." ­—Patricia Davis-Tussey, head of human resources for Arizona's Pendergast Elementary School District, which has recruited more than 50 teachers from the Philippines since 2015. It is part of a small but growing movement nationally to recruit teachers from overseas to deal with funding shortfalls. (Read at The New York Times)
Want the day's top school and policy news delivered straight to your inbox — for free? Sign up for the TopSheet Daybreak Education Newsletter.
Get stories like these delivered straight to your inbox. Sign up for The 74 Newsletter