EduClips: School Infrastructure: A Missed Opportunity for SOTU?; NYC's Achievement Gaps in 4 Charts — and More Must-Reads From America's 15 Biggest School Districts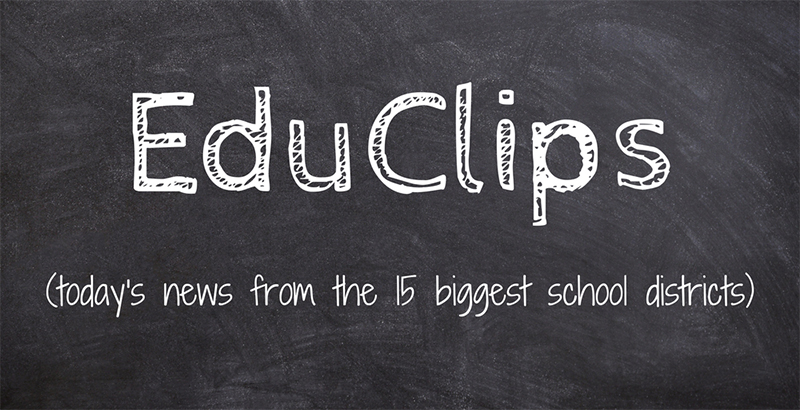 EduClips is a roundup of the day's top education headlines from America's largest school districts, where more than 4 million students across eight states attend class every day. Read previous EduClips installments here. Get the day's top school and policy news delivered straight to your inbox by signing up for the TopSheet Education Newsletter.
Top Story
SCHOOL INFRASTRUCTURE — Despite calls to include school infrastructure in his first State of the Union, the President did not mention America's aging schools in his speech Tuesday. For many, that was a missed opportunity. Nationally, the average school building age was 44 years old when data was last collected, in 2012–13. Kosta Diamantis, president of the National Council on School Facilities, sent a letter to Trump urging him to name school infrastructure funding as a priority in the speech, noting that last year America's schools got a grade of D+ from the American Society of Civil Engineers. (Read at The74million.org)
National News
CHARTER SCHOOLS — Growth of Charter Schools Is Slowing Down. Here's What's Behind the Trend (Read at Education Week)
STATE OF THE UNION — Trump Delves Into DACA Deal During State of the Union Address; All But Forgets to Mention K-12 Education (Read at The74million.org)
GRADUATION SCANDAL — Investigation finds D.C. schools fostered a culture of passing students (Read at The Washington Post)
DATA PRIVACY — House Education Panel Debates Student Data Privacy (Read at Politics K-12)
RURAL SCHOOLS — Rural schools find an online resource to fill gaps in mental health services for students (Read at Hechinger Report)
KOCH NETWORK — The Daily 202: Koch network laying groundwork to fundamentally transform America's education system (Read at The Washington Post)
District and State News
ILLINOIS — Amid school-funding issues throughout state, Illinois education agency to hire storytellers (Read at The Southern Illinoisan)
NEW YORK — These four graphs illustrate New York City's stark achievement gaps by race and income (Read at Chalkbeat)
FLORIDA — Miami-Dade Schools' grad rate continues to rise, sets new high (Read at Miami's Community Newspapers)
CALIFORNIA — What California Schools Learned From Recent Disasters (Read at San Francisco Public Press)
NEVADA — Clark County schools operating with shortage of psychologists (Read at the Las Vegas Review-Journal)
NEW YORK — Union wins victory in legal fight over KIPP charter school in South Bronx (Read at Chalkbeat)
PENNSYLVANIA — Audit: Many Pa. school bus drivers aren't meeting basic qualifications (Read at WHYY)
TEXAS — Texas board considers Mexican-American studies course, after two failed attempts at a textbook (Read at The Texas Tribune)
PUERTO RICO — Puerto Rico Proposes Hundreds of School Closures, With Many Students Looking to U.S. Mainland (Read at Newsweek)
TEXAS — Opinion: Finally special education reform is on the way (Read at the Fort Worth Star-Telegram)
FLORIDA — Florida House Democrats Vow to Oppose GOP Education Priority, Fight Anti-Union Language (Read at WLRN)
HAWAII — Charter Schools and Special Ed Will Be in the Legislative Spotlight (Read at the Honolulu Civil Beat)
Think Pieces
CHARTER SCHOOLS — Proposal: The Future of the Charter School Movement Requires a New Political Strategy (Read at The74million.org)
STATE POLITICS — This year, state leaders need to make K-12 education a priority (Read at The Hill)
HAPPINESS — Yale's Most Popular Class Ever: Happiness (Read at The New York Times)
Quote of the Day
"The federal government has kept its eyes closed for well too long." —Kosta Diamantis, president of the National Council on School Facilities, on the need to repair America's aging school infrastructure. (Read at The74million.org)
Want the day's top school and policy news delivered straight to your inbox — for free? Sign up for the TopSheet Daybreak Education Newsletter.
Get stories like these delivered straight to your inbox. Sign up for The 74 Newsletter