America's Aging Schools: Was School Infrastructure a Missed Opportunity for President's State of the Union Speech?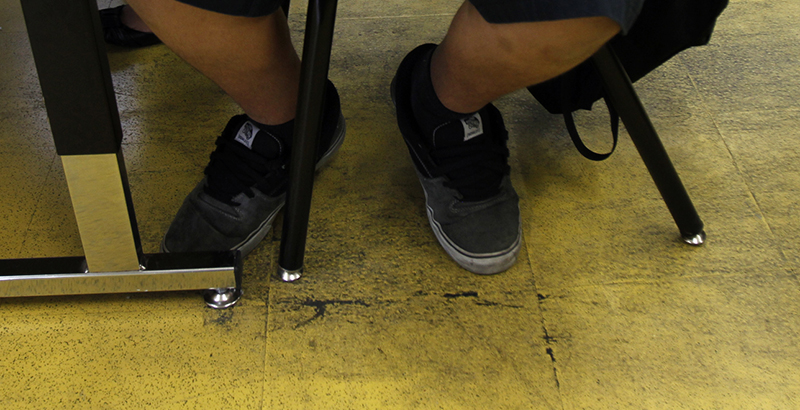 In Hawaii, 1 in 5 schools is more than 100 years old, and the average age of a school building is 61.
Hawaii's public schools need $293 million to catch up on overdue repairs and maintenance, a 5 percent increase over the year before, Hawaii News Now reported late last year.
But Hawaii is not alone. Nationally, the average school building age was 44 years old when the data was last collected, in 2012–13.
Signs of decay can be found all over the country. A Roanoke, Virginia, teacher arranges the desks in her classroom so they don't get wet from a leaky ceiling, and students regularly mop up the dripping water. In Philadelphia, a child was seen eating lead paint chips at school last year, one of three in the city still tainted with the substance. And earlier this winter, schools had to close because dated heating systems could not keep buildings warm enough.
Despite bipartisan congressional letters urging Trump to support an infrastructure bill that allocates funds for education, a leaked White House infrastructure plan released by Axios includes no provision for school facilities. And despite calling on "both parties to come together to give us the safe, fast, reliable, and modern infrastructure our economy needs and our people deserve," Trump did not mention school buildings in his State of the Union speech Tuesday night.
Kosta Diamantis, president of the National Council on School Facilities, sent a letter to Trump urging him to name school infrastructure funding as a priority in his State of the Union speech. Diamantis noted that last year America's schools got a grade of D+ from the American Society of Civil Engineers.
"The federal government has kept its eyes closed for well too long," he told The 74.
Nationally, an estimated $145 billion per year is needed for maintenance, repairs, and new construction in America's public school districts, according to a 2016 report by the Center for Green Schools, the National Council on School Facilities, and the 21st Century School Fund. Actual spending on infrastructure is about $46 billion under that, however, according to the report, which relied on data from the National Center for Education Statistics.
One problem is that spending on school infrastructure never bounced back after the Great Recession, said Mary Filardo, executive director of the 21st Century School Fund, which advocates for improving school facilities.
Add that to the natural wear and tear on school buildings, plus the increasing needs of students and teachers for high-technology gear — electrical outlets, for instance, were far less of a concern when many schools were built half a century ago — and it seems almost inevitable that America's schools would fall into disrepair.
States and municipalities do what they can to support their school districts with the resources they have, but that often falls short, said Diamantis, who also serves as the director of school construction grants and review for the Connecticut Department of Education.
"The federal government needs to belly up to the bar and start contributing to an important asset [school facilities] that is equally as important as highways and bridges," he said.
Infrastructure legislation that includes $100 billion in spending for school infrastructure has been introduced in both the House of Representatives and the Senate. Democrats are leading the charge, but Republican Senator Lisa Murkowski of Alaska has also publicly supported the plans. In the House, a bipartisan committee is working on the issue.
Both Diamantis and Filardo also said they believe federal money should be distributed to states, which could then allocate it to districts according to need.
Research indicates that a student's physical environment — noise, air quality, light, and other structural factors — correlates to student achievement, and schools that serve predominantly students of color and those from low-income backgrounds are more likely to have structural deficiencies, said Sapna Cheryan, a researcher at the University of Washington.
Filardo of 21st Century Schools said she's hopeful the money will come — if not with this Congress, then with the next one.
"We think it's basically the right thing to do," she said. "When the stock market's up, and employment is strong, if you can't take care of your schools and your kids, what kind of country are you, really?"
Support The 74's year-end campaign. Make a tax-exempt donation now.