EduClips: One Year Later, Students in Puerto Rico Feel Effects of Hurricane-Related School Closures; Report: CA Underfunded Schools by $22 Billion — and More Must-Reads From America's 15 Biggest School Districts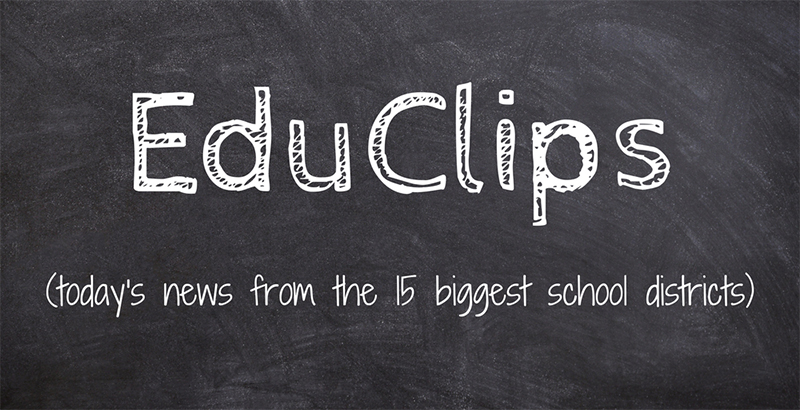 EduClips is a roundup of the day's top education headlines from America's largest school districts, where more than 4 million students across eight states attend class every day. Read previous EduClips installments here. Get the day's top school and policy news delivered straight to your inbox by signing up for the TopSheet Education Newsletter.
Top Story
#EDLECTION2018 — It was only a few years ago that Kansas schools were shortening their academic calendars, cutting sports programs, and eliminating teaching positions to cope with the infamous tax plan of then-Gov. Sam Brownback.
Brownback, who held office from 2011 to 2018, ushered in the largest income tax cuts in state history with the hope of boosting the economy. Instead, economic growth slowed and falling state revenue decimated schools and other state services.
Schools are now recuperating, thanks to a 2017 rollback of Brownback's tax program and a state Supreme Court ruling that ordered the legislature to increase spending on education. But the question of whether Kansas can or will continue to better fund its schools looms over the upcoming gubernatorial election between state Sen. Laura Kelly, a Democrat, and Secretary of State Kris Kobach, a Republican. (Read at The74Million.org)
National News
KAVANAUGH — For some teachers, Kavanaugh's nomination is a civics lesson for the #MeToo era (Read at the Los Angeles Times)
WASHINGTON STATE — School Aid Skirmishes Still Flare in Washington State (Read at Education Week)
District and State News
PUERTO RICO — A Year After Hurricane Maria, School Closures Make Trauma Worse for Puerto Rico's Children (Read at HuffPost)
CALIFORNIA — California has underfunded schools by $22 billion, report says (Read at the San Diego Union-Tribune)
NEW YORK — Investigation: Hefty Fines, Long Suspensions, but Rarely Losing Your State License: Documents Show What Happens to NYC Teachers After They're Disciplined (Read at The74Million.org)
TEXAS — There is a national push for Latino studies. Fort Worth schools are leading the way (Read at the Star-Telegram)
CALIFORNIA — California district latest to modernize 'sexist' dress code (Read at ABC News)
FLORIDA — More money for public schools? (Read at the Miami Times)
TEXAS — Texas Education Agency on the Money (Read at the Austin Chronicle)
NEW YORK — EXCLUSIVE: Schools officials overhaul bus worker checks after Daily News exposes loopholes (Read at the New York Daily News)
NEVADA — Second suit targets Clark County trustee's husband, a teacher (Read at the Las Vegas Review-Journal)
FLORIDA — 2 adults, 3 children experience carbon monoxide poisoning symptoms at Carol City Elementary (Read at Local 10 News)
NEVADA — Looking for solutions to Las Vegas school gun problems (Read at KTNV)
Think Pieces
CHARTER-LIKE SCHOOLS — Osborne & Langhorne: Where Politics Make Charters Difficult, 9 Tips for How Urban Districts Can Create Charter-like Schools — and Improve Their Success (Read at The74Million.org)
HIGH SCHOOL — What's next for the Laurene Powell Jobs–funded effort to rethink American high schools (Read at Chalkbeat)
CENSUS — OPINION: When a low census count hurts children's well-being (Read at The Hechinger Report)
Quote of the Day
"This was definitely a robust discussion. We didn't talk about anything else for the first half-hour of class." —Brandon Cabezas, AP Government teacher at Ramon C. Cortines School of Visual and Performing Arts in downtown Los Angeles, on discussing the nomination of prospective Supreme Court justice Brett Kavanaugh in the #MeToo era. (Read at the Los Angeles Times)
Want the day's top school and policy news delivered straight to your inbox — for free? Sign up for the TopSheet Daybreak Education Newsletter.
Get stories like these delivered straight to your inbox. Sign up for The 74 Newsletter