Election Preview: Kansas's Supreme Court Wants the State's Schools Fully Funded, but the Two Candidates Vying for Governor Have Very Different Ideas About That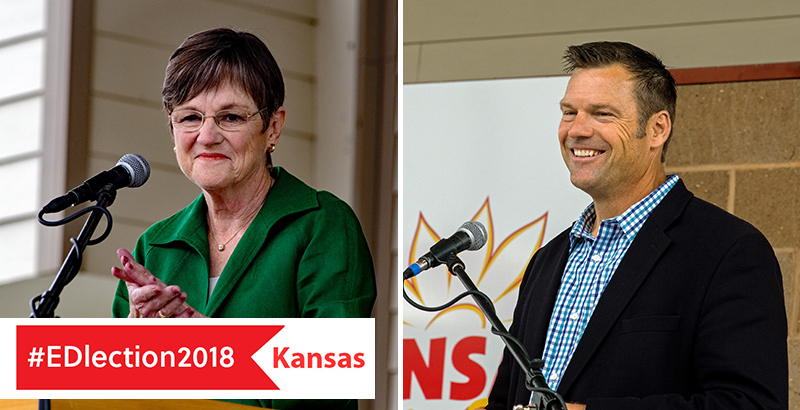 EDlection 2018: From coast to coast, The 74 is profiling a new campaign with major implications for education policy each and every week. See our complete archive of profiles, previews, and interviews at The74Million.org/Election and get the latest snapshots sent straight to your inbox by signing up for The 74 Newsletter. (Also watch for our Election Night live blog Nov. 6!)
It was only a few years ago that Kansas schools were shortening their academic calendars, cutting sports programs, and eliminating teaching positions to cope with the infamous tax plan of then-Gov. Sam Brownback.
Brownback, who held office from 2011 to 2018, ushered in the largest income tax cuts in state history with the hope of boosting the economy. Instead, economic growth slowed and falling state revenue decimated schools and other state services.
Schools are now recuperating, thanks to a 2017 rollback of Brownback's tax program and a state Supreme Court ruling that ordered the legislature to increase spending on education. But the question of whether Kansas can or will continue to better fund its schools looms over the upcoming gubernatorial election between state Sen. Laura Kelly, a Democrat, and Secretary of State Kris Kobach, a Republican.
Kelly, 68, calls herself "the education governor" and has made schools a leading issue in her campaign, with a 20-paragraph platform supporting early childhood education, increased funding for schools, vocational training, higher education, and student mental health. She has served in the state Senate since 2005 and been endorsed by the state's teachers union and former Republican governor Bill Graves and former Republican U.S. Senator from Kansas Nancy Kassebaum.
Kobach, 52, had vowed to not increase state spending or taxes. He has aligned himself closely with President Donald Trump and earned his endorsement a day before the Aug. 7 primary. Kobach is nationally known for his work on Trump's short-lived voter fraud commission, which found no evidence of fraud, and for his anti-immigration work. A grand jury is also investigating whether he obstructed voter registration. His education platform supports putting more currently budgeted state money toward classroom instruction and support for trade schools.
A third candidate, Greg Orman, 49, is lagging in the polls but is "going to muck this up one way or another," said Rick Ginsberg, dean of education at the University of Kansas. Orman supports fully funding schools, in accordance with the court order, and aligns most closely with Kelly's education platform. This could split the vote and tilt the election in Kobach's favor.
Republicans hold the trifecta of government power — controlling the House, Senate, and governorship — but even in a state that voted for Trump, the race is close. A recent poll by the Kansas National Education Association found Kelly and Kobach essentially tied two months before the election, with 38 percent of voters favoring Kelly and 39 favoring Kobach. Nine percent favored Orman.
The governorship has passed between Democrats and Republicans over the years, though the legislature has been mostly under Republican control. The Republican Party in Kansas is divided between conservatives and moderates, especially since the economic downturn that left Brownback as one of the least popular governors in America. In response, the 2016 state election saw a wave of more moderate Republicans sweeping the legislature. In 2017, the legislature voted to roll back Brownback's tax plan and, overruling his veto, raised taxes across the state.
But how voters will respond to the candidates' positions on taxes remains to be seen. Brownback's lieutenant governor, Jeff Colyer, who took over in January when Brownback accepted a post in the Trump administration, lost to Kobach by fewer than 400 votes in the Republican primary.
Kobach hasn't been afraid of supporting Brownback's unpopular tax cuts, but he says he would have implemented them differently by also reducing state spending. "While I support the tax cuts that were in place, I don't support the way they were done," Kobach said at a news conference in April.
But others aren't so sure that his plan wouldn't devastate the economy. "The fear that I'm hearing to his candidacy is that he has talked about returning to the tax cuts that really hurt the economy under Brownback," Ginsberg said. "The state got through the recession relatively OK … but Brownback pushed through large tax cuts, and the worst fears people had about them came true."
Kobach's pledge on taxes and spending contradicts the court on school funding. The Kansas Supreme Court has a long history of telling the state that school funding is inadequate; this summer, it ruled that while the legislature has made progress in increasing funding, it still needs to account for inflation, and gave lawmakers another year to comply.
Kobach — along with other conservatives — has said the court overstepped its authority. "The next governor is going to have to face this issue," Kobach told the Kansas City Star. "And the bottom line is, the constitution of Kansas gives to the elected representatives of the people the sole decision-making about how much money to spend and how much taxes to levy upon the people of Kansas."
Kelly disagrees. "I'm grateful for the court's work, and I respect its decision," she wrote in a statement. "We will work together in the coming year to fully fund our schools and give all children the opportunities they deserve."
This will be the central education issue facing the next governor, said Mark Tallman, associate executive director of the Kansas Association of School Boards. If the legislature doesn't comply, the court could shut down the schools.
"That's been suggested as the proverbial nuclear option," Tallman said. "Some legislators are saying, 'Let's dare the court to do that.' We would be in the absolutely unknown territory of a constitutional crisis if that were the case."
Kansas schools have been able to add new staff positions and give teachers raises this year — some the largest in decades — from $500 million in new funding allocated by the legislature for the next five years.
The state's Department of Education also started a school improvement program, dubbed Kansans CAN, after hearing from parents, teachers, and community members that they wanted students to learn more than just academic skills. Pilot districts have already begun redesigning their schools to better support social-emotional learning, kindergarten readiness, graduation rates, career-based study, and higher education.
"From the education community, there's certainly a concern that Secretary Kobach's policies would really change this direction we're in now," Tallman said.
Kobach did not respond to multiple requests for comment. Kelly's team offered to provide a statement but did not send one as of the publication date.
Get stories like these delivered straight to your inbox. Sign up for The 74 Newsletter