EduClips: Nevada Parents Sue State, Dallas to Require Cameras in Special Ed Classes, L.A. School Board Race Heads to Runoff & More News You Missed From America's 15 Top Districts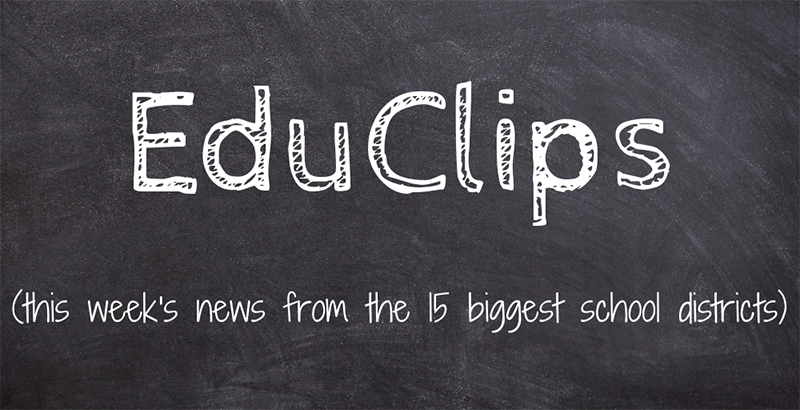 EduClips is a roundup of the week's top education headlines from America's 15 largest school districts, where more than 4 million students across 10 states attend class every day. Read previous EduClips installments here.
CALIFORNIA — After Record Spending and an Ongoing Union vs. Charter Power Struggle, At Least 2 Los Angeles School Board Races Appear Headed to a Runoff: Following Tuesday's primary election to elect four school board members in the nation's second-largest school district, races in two competitive districts are likely headed to a runoff in November. As Taylor Swaak reports, teachers union picks were ahead in the vote tallies in both those contests as of Wednesday. United Teachers Los Angeles ally Jackie Goldberg is positioned to keep her District 5 seat, though not all the votes are counted yet. Campaign spending, in a show of union-versus-charter advocate might, was at a record-high $8.4 million leading up to the election, with charter advocates spending the vast majority. Ongoing fights over charter schools, nearly depleted savings and stark achievement gaps are a few of the issues the board will face in the next few years. (Read at The 74)
TEXAS — Dallas Poised to Become First Big-City District to Require Video Cameras in All Special Education Classrooms: Dallas Independent School District trustees voted this week to require video recording in all special education classrooms. A recent survey found that parents overwhelmingly supported the measure, which is intended to help school officials investigate situations where students who cannot speak are restrained or harmed. State law already requires districts to install cameras in special education classrooms when parents request them. Most special education teachers and Superintendent Michael Hinojosa opposed the measure, which the board passed 7-2. (Read at The Dallas Morning News)
NEVADA — Parents Sue State, Alleging Failure to Adequately Fund Education: A group of Nevada parents is suing the state for "for failing to adequately fund education, claiming it has harmed its schoolchildren by not providing sufficient resources for their success," Aleksandra Appleton reports in the Las Vegas Review Journal. The advocacy group, Educate Nevada Now, comprises nine parents whose children attend districts throughout the state. They name the state education department, state superintendent and state board of education as defendants. Amanda Morgan, the group's legal director, said they are hoping the court will send the defendants this message: "What you're doing right now doesn't meet your constitutional obligation. Go fix it." (Read at the Las Vegas Review Journal)
NEW YORK — 'Fire Carranza!': Why Asian Americans Are Targeting NYC Schools Chief: New York City Schools Chancellor Richard A. Carranza says his vision for integration in the nation's largest school system will benefit "all cultures and all ethnic groups." But frustrated Asian-American families in America's largest district say they feel left out of plans and have protested his appearances in recent months, with some chanting "Fire Carranza!" at a January meeting in Queens. Allegations of prejudice are fueled by a series of issues, including Asian-American parents and politicians not being consulted about plans to get rid of the admissions exam for the eight specialized high schools where Asians currently make up a majority of students. Carranza told The New York Times "he regrets not reaching out to Asian Americans sooner" but will "continue to push for the elimination of the entrance exam," Eliza Shapiro reports. (Read at The New York Times)
FLORIDA — School Safety Bill Passes Florida House With New Requirements Related to Arresting Kids: In response to the arrest of a 6-year-old girl that sparked widespread outrage last month, Florida lawmakers added a requirement for police departments to have a policy in place regarding the arrest of children under 10. The student who was arrested in the viral video, Kaia Rolle, was watching in the gallery with her grandmother when state House minority leader Rep. Kionne McGhee of Miami talked about the amendment on the House floor. The amendment does not ban such arrests but would make sure police have a policy in place to prevent arrests like Kaia's — she was arrested because she kicked and punched school employees during a tantrum, but she had calmed down by the time police arrived. "It's rare for amendments by Democrats to be accepted onto Republican bills at such a late stage of the process," but lawmakers in the House passed the amendment and the bill unanimously, reported Emily L. Mahoney in The Tampa Bay Times. It's unclear whether the Senate will take up the amendment. (Read at The Tampa Bay Times)
Noteworthy Essays and Analysis
HIGHER ED AFFORDABILITY: Mitch Daniels, the College President Who Simply Won't Raise Tuition (Read at The Atlantic)
CURRICULUM: Don't Blame Teachers for Selling Their Lesson Plans. Blame the System That Makes It Necessary (Read at Education Week)
CORONAVIRUS: Tyner: What Happens If Coronavirus Shuts Down U.S. Schools? 5 Lessons in Emergency Distance Learning From China (Read at The 74)
RESEARCH: Are America's Rising High School Graduation Rates Real — or Just an Accountability-Fueled Mirage? (Read at Brookings Institution)
What Else We're Reading
SPECIAL EDUCATION: Dyslexia Is Not a Bad Word, Advocates Say. Schools Should Use It (Read at Education Week)
STUDENT HEALTH: Responding to Coronavirus: A Downloadable Guide for Schools (Read at Education Week)
EARLY ED: Inside a Preschool That Treats the Youngest Victims of the Opioid Crisis (Read at EdSurge)
EQUITY: Prep for Prep and the Fault Lines in New York's Schools (Read at The New Yorker)
Support The 74's year-end campaign. Make a tax-exempt donation now.