Meet the Etsy of Education: Online Marketplace Lets Teachers Buy — and Sell — Millions of Classroom Materials and Lessons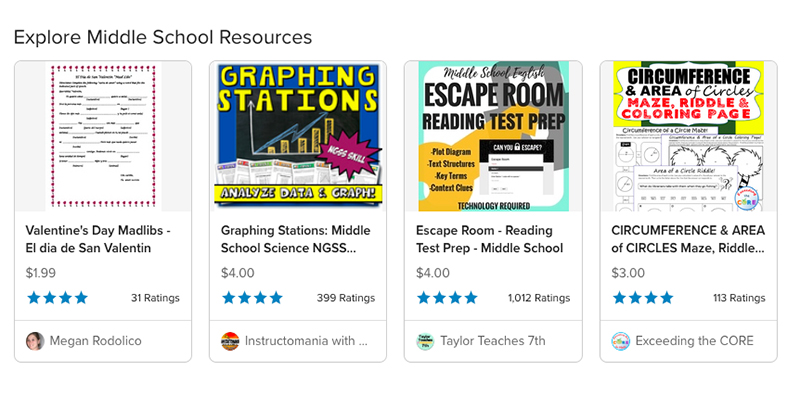 Teachers Pay Teachers represents a growing online marketplace — once dubbed the Etsy of Education — that now has seen 6 million teachers in the past year buy or sell classroom resources. It's part of an effort to help teachers help one another in creating fresh approaches to instruction while getting paid for their work.
And school districts are getting on board.
"As a first-year teacher, you aren't handed very much to work with, and you are expected to learn the ropes of being a great teacher while at the same time creating much of the material you use in your class," says Kristin Hodgson, vice president of brand marketing and communications. "Many, many great teachers came before [founder Paul Edelman], and the things he was creating had already been created. He thought, 'What if I could get access to amazing resources from other teachers around the world?'"
Edelman, a former New York City public school teacher and now a Teachers Pay Teachers board member, created the site in 2006. Since then, there have been more than 1 billion downloads, and 4 million resources are available today.
Some educators sign up as authors/sellers, while others browse the site for materials that could work in their classrooms. "The teacher-buyer is getting what they need and solving the problems around time and access, and the teacher-author is getting compensated for their work," Hodgson says. The average resource costs less than $5, and the average transaction totals about $15.
The resources span K-12 and include everything from math curriculum to art lessons, reading materials and science labs. "Because we represent the collective wisdom of teachers, it is a swath of what has been tested and used across the community," Hodgson says.
Teachers Pay Teachers doesn't vet or review the teacher-authors — of the roughly 150,000 of them, several thousand do the majority of the selling, creating community followings — but users can rate each seller on the site.
Internal research has found that 98 percent of buyers use the lessons from the site to differentiate instruction in their classrooms at least once a month, and 67 percent do it at least weekly.
"I find that many of my teachers just want additional lessons to either help students that are struggling with the concept or to enrich and push students who have mastered the concept and can work with the skill at a higher level," says April Becherer, principal at Parkview Elementary in Illinois.
Some lessons contain videos that model how to properly present the lesson or guide implementation of the resource, and once a purchase is made, the teacher has the right to future updates when the author adds, modifies or extends the material. "This is something that is useful," says Becherer, "as education continually evolves and changes."
As the site has grown, Hodgson says, its 130 employees have, among other things, created a crowdsourcing option to help specific teachers ask others to chip in for the resources they need. In the early launch stages in summer 2019, the pilot program saw 10,000 teachers quickly raise $100,000 toward resources. "The initial signals show that by unlocking more access for teachers and getting them more funds, we are going to allow them to get more of what they need to reach their students," Hodgson says. "That is the priority we are focused on."
Get stories like these delivered straight to your inbox. Sign up for The 74 Newsletter