After Record Spending and an Ongoing Union vs. Charter Power Struggle, At Least 2 Los Angeles School Board Races Appear Headed to a Runoff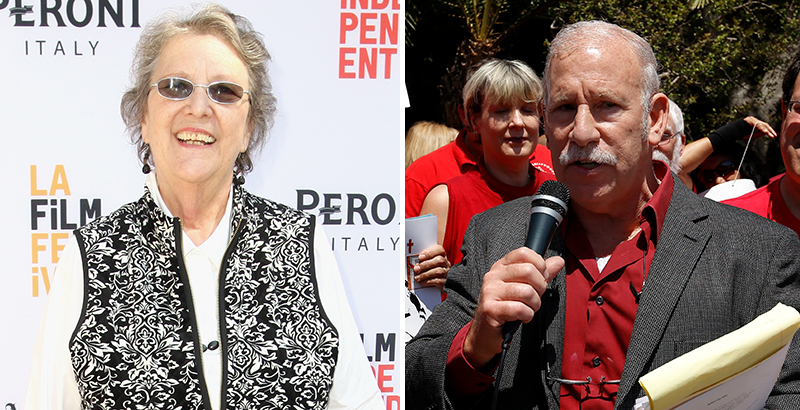 Updated March 6
At least two competitive L.A. Unified school board races are likely headed to a November runoff following the most heated and costly primary season on record and a campaign that once again became a proxy fight over the future of charter schools.
As of early Friday, no one candidate in District 3 or 7 had reached the more than 50 percent voter threshold needed to avoid a runoff, though teachers-union-backed incumbent Scott Schmerelson and labor organizer Patricia Castellanos were leading in those respective districts. George McKenna's District 1 seat was unchallenged, and Jackie Goldberg, the District 5 incumbent and teachers union ally who swept last year's special election, was poised to win outright.
Candidate tallies remained fairly unchanged in bothWednesday and Thursday updates, despite the county clerk's office counting about 40,400 additional ballots across the four races in those two days. County officials as of early Friday afternoon weren't able to provide an estimate for how many remained uncounted for the board races specifically; the number of outstanding ballots across all races jumped to 802,380 Thursday night as the county began processing vote-by-mail ballots dropped off on Election Day.
Whether the future board will lean more toward supporting charter school growth or reining it in was a central focus of the primary — with the potential stakes even higher now that recent changes to state law have given local school boards more authority to deny petitions for new charters. The expansion of charters, which are publicly funded, independently run and often not unionized, fueled last year's teacher strike in L.A. and continues to engulf local politics, often pitting school choice proponents against those who say charters siphon students and needed funds away from traditional public schools.
Board members not up for re-election this year were all previously endorsed by the California Charter Schools Association Advocates, though that hasn't always married them to strictly pro-charter agendas. Union-backed candidates need to win all four races in this election to form a majority on the board.
What could be a reckoning of sorts for school choice in L.A. also comes as the district projects nearly depleted savings by 2021-22 and continues to grapple with how to close wide achievement gaps for black, Latino, low-income and other underserved students. The district assumed complete oversight responsibility of its special education system in January for the first time in more than 20 years as well. Whoever is on the board is charged with overseeing a roughly $8 billion budget and setting district policy and agendas.
The high-stakes nature of this year's primary translated to a record $8.45 million in outside donor spending in the nation's second-largest school district, according to the latest available city ethics commission data. It also produced more negative advertising than seen before, with pro-charter-run campaigns that largely targeted union-backed incumbents Schmerelson and Goldberg. Charter supporters, namely the California Charter Schools Association Advocates and local businessman Bill Bloomfield, outspent United Teachers Los Angeles and the local education workers union 4-1 leading up to Tuesday's primary.
Candidates backed by UTLA, however, appeared to have an early advantage as results trickled in Tuesday into Wednesday.
In District 5, Goldberg, who's been critical of charters and won last year's runoff election by a landslide, appeared poised to win with 56.43 percent of the vote, after weathering nearly $745,000 in negative campaign advertising paid for by Bloomfield. Christina Martinez Duran, an educational consultant who considers herself a better fit to represent the predominantly Latino district, trailed by about 13 percentage points.


Districts 3 and 7 seemed unlikely to yield winners. In District 3, incumbent and UTLA pick Schmerelson held 42.02 percent of the vote — shy of the majority threshold needed to avoid a runoff. Schmerelson was the target of negative CCSAA-backed advertising and was separately called out in recent weeks by Speak UP, a parent organization that supports charters and other forms of school choice. The group drew attention to his previous holding and inaccurate reporting of investments in corporate tobacco giant Altria, which has a 35 percent stake in Juul Labs, the controversial vaping product manufacturer that the school district is currently suing. Schmerelson, who voted in favor of the lawsuit, said his stockbroker made that investment without his knowledge and that he's since sold it.
Schmerelson's potential contender isn't locked in yet. Marilyn Koziatek, a staffer at Granada Hills Charter High School and the only candidate the California Charter Schools Association Advocates formally endorsed this cycle, has 31.70 percent of the vote. CCSAA had funneled nearly $2.7 million into supporting her campaign and opposing Schmerelson's as of Feb. 26. Nonprofit founder Elizabeth Bartels-Badger wasn't too far behind, at 26.28 percent.
In a call Wednesday night, Schmerelson's campaign manager Brent Smiley said they had anticipated a runoff situation. "With three people in the race, it almost always goes to a runoff," he said. "We're thrilled that Scott is in first by a good, strong margin and have every expectation" of winning in November if a runoff materializes.


A runoff looked similarly certain in District 7. Five candidates are vying to replace Richard Vladovic, the current board president who's termed out this year. UTLA-backed Patricia Castellanos was leading with 26.50 percent of the vote, positioning her to secure the first runoff slot. The second-highest vote getter was Tanya Ortiz Franklin, who works with Partnership for LA Schools, with 23.57 percent.
While spending for elections has seemingly become a show of might between charter and union allies, candidates like Ortiz Franklin emphasized to LAist recently that the school board's role and how it operates is more nuanced.
"A school board member," Ortiz Franklin said, "really needs to serve all of their students, all of their schools, all of their communities, regardless of model [charter or district-run school], well. … The overwhelming majority [of students] are and will continue to be in our traditional schools."
No candidate in a competitive race had declared victory as of Friday morning PT.
Voter turnout was well above the 10.7 percent turnout for last March's primary election for District 5, likely due in part to the Democratic presidential primary driving more voters to the polls. Average turnout across the four board races as of Thursday evening was about 20.5 percent of eligible voters, using voter registration data from Political Data.
The largest turnout was seen in Districts 3 and 5, where roughly 22.9 and 23.5 percent of about eligible voters cast ballots as of late Thursday tallies.
Schmerelson's campaign manager on Wednesday predicted that a substantial number of outstanding votes were still coming in. "Just in talking to different campaigns that are going on, the feeling was that with an active Democratic primary, we should see" increased turnout. He added, though: "We just don't know. … with the really long lines, I would imagine that there were many who decided not to vote in the end."
The county is still counting same-day registration ballots along with provisional and vote-by-mail ballots received on Election Day. This includes vote-by-mail ballots postmarked on Election Day that arrive by Friday, a spokesman said.
Another update was scheduled for Friday afternoon PT.
Get stories like these delivered straight to your inbox. Sign up for The 74 Newsletter