EduClips: Lawsuit: NYC's Orthodox Jewish School Law Is Unconstitutional; LAUSD Board Member Pleads Guilty to Campaign Money Laundering — and More Must-Reads From America's 15 Biggest School Districts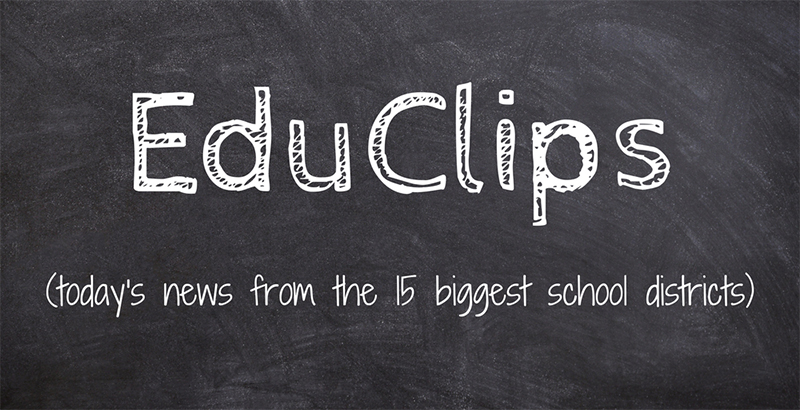 EduClips is a roundup of the day's top education headlines from America's largest school districts, where more than 4 million students across eight states attend class every day. Read previous EduClips installments here. Get the day's top school and policy news delivered straight to your inbox by signing up for the TopSheet Education Newsletter.
Top Story
BUSINESS SURVEY — Cities and towns looking to grow their economies are likely misdirecting their efforts if their priorities are not centered on education, a new national survey of business leaders suggests.
In canvassing 234 local business leaders on the state of their public schools and how they could be improved, Business Forward found that a majority believe that American K-12 schools are "on the wrong track" — and 1 in 4 are concerned that poorly performing schools will negatively impact their businesses.
"When considering relocating, good schools are a primary consideration for both companies and prospective employees," P. Morgan of San Antonio, Texas, said in response to the survey. (Read at The74Million.org)*
National News
TESTING — Anti-Test Movement Slows to a Crawl (Read at Education Week)
SCHOOL MERGERS — New Report: Most States Lack Power to Merge Struggling Districts With Wealthy Neighbors, Leaving Poor Districts Stranded (Read at The74Million.org)
CAREER-TECHNICAL EDUCATION — Trump Priority Gathers Steam as Senate Passes Career-Technical Education Bill (Read at Politics K-12)
District and State News
NEW YORK — A Law Tailored for Orthodox Jewish Schools Is Unconstitutional, Lawsuit Says (Read at The New York Times)
CALIFORNIA — LAUSD Board Member Pleads Guilty in Campaign Money Laundering Conspiracy (Read at NBC Los Angeles)
NEVADA — Clark County School District has no money to up support staff pay (Read at the Las Vegas Review-Journal)
ILLINOIS — New Law Allows Kids to Unlock Potential (Read at the Daily Herald)
CALIFORNIA — Charter school network spreads 'personalized learning' model nationwide (Read at EdSource)
TEXAS — Other Voices: Numbers show Texas school funding can improve soon (Read at the Longview News-Journal)
FLORIDA — Community, students help collect thousands of books for children in need (Read at the Miami Herald)
Think Pieces
GENETICS — Many Genes Play a Role in Educational Attainment, Enormous Genetic Study Finds (Read at The New York Times)
CIVICS — What does civics education look like in America? (Read at Brookings Institution)
SCHOOL CHOICE — A Plea for a Fact-Based Debate About Charter Schools (Read at The New York Times)
PARENTS — The 'Over-Parenting Crisis' in School and at Home (Read at NPR Ed)
BUSINESS — In Their Own Words: 10 Business Leaders Explain Why They Are Calling for Major Changes at America's Schools (Read at The74Million.org)
STUDENT-PARENTS — OPINION: Many student-parents drop out because they don't have enough time for their schoolwork, research shows (Read at The Hechinger Report)
Quote of the Day
"If you listen to the teachers, [they'll say,] 'I give up a day of teaching for these tests, and I don't even get the info back in time to help my students. Most teachers said, 'If I don't have it within a week that doesn't help me.'" —Patricia Levesque, the chief executive officer of the Foundation for Excellence in Education, a think tank started by former Florida governor Jeb Bush, on problems with standardized testing. (Read at Education Week)
* Disclosure: Walton Family Foundation provided support to Business Forward for this survey and provides support to The 74.
Want the day's top school and policy news delivered straight to your inbox — for free? Sign up for the TopSheet Daybreak Education Newsletter.
Support The 74's year-end campaign. Make a tax-exempt donation now.