Exclusive: New Survey Shows a Majority of Business Leaders Believe U.S. Education 'on the Wrong Track,' Many Fear Poorly Performing Schools Could Harm Their Industries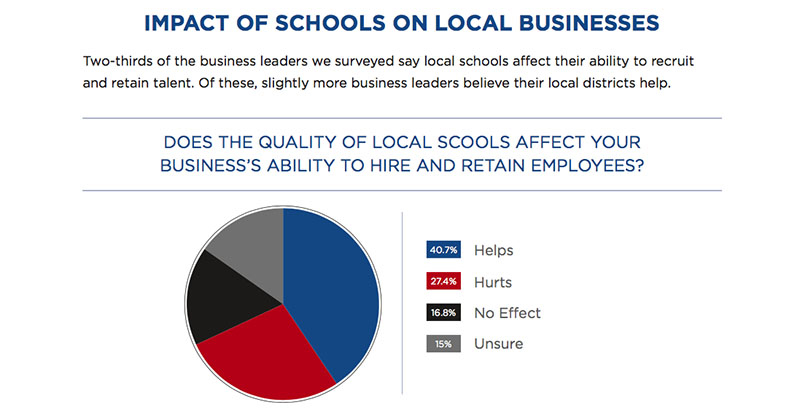 Cities and towns looking to grow their economies are likely misdirecting their efforts if their priorities are not centered on education, a new national survey of business leaders suggests.
In canvassing 234 local business leaders on the state of their public schools and how they could be improved, Business Forward found that a majority believe that American K-12 schools are "on the wrong track" — and 1 in 4 are concerned that poorly performing schools will negatively impact their businesses.
"When considering relocating, good schools are a primary consideration for both companies and prospective employees," P. Morgan of San Antonio, Texas, said in response to the survey.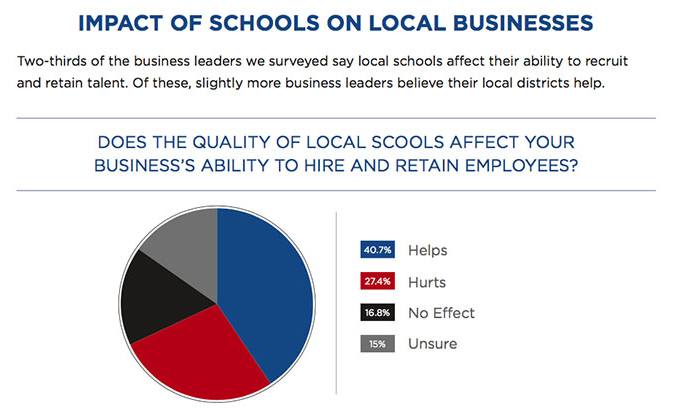 The leaders surveyed represent a wide spectrum of industries, business sizes, and more than 40 U.S. states and territories. Two out of three also have children who either graduated from or are currently enrolled in public schools. Business Forward is a national nonprofit that works with local business leaders across the country for networking, programming, and advocacy.
"My children have graduated. The schools seem worse since then," E. Karle of Lexington, Kentucky, said in the survey. "We need a strong commitment to education across the country or we will have trouble finding qualified employees. … Whatever else we must skimp on to save money, we must not skimp on our schools."
Half of those executives surveyed said American schools are underfunded, and half of those business leaders were more concerned with poor students than their own. Many called for increasing funding for the state's neediest schools as a means of closing the opportunity gap between rich and poor districts, reducing income inequality, and supplying integral talent to their businesses.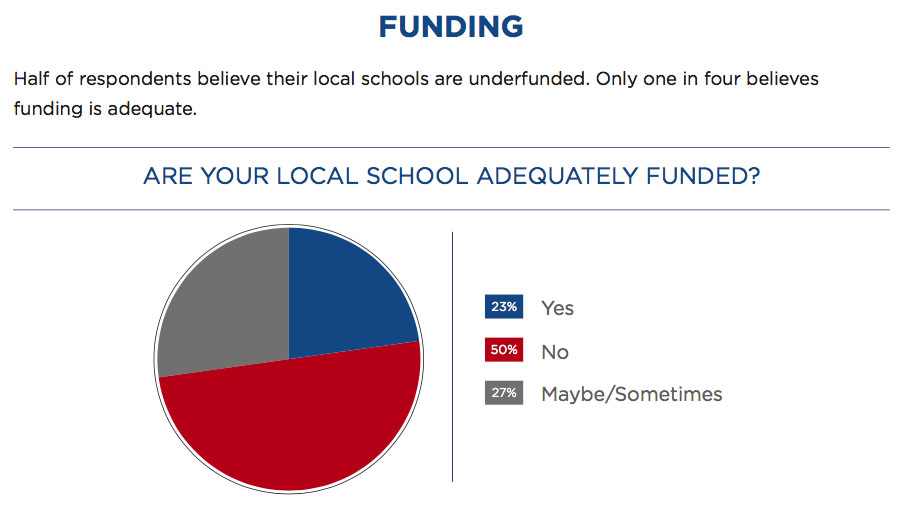 This trepidation comes as the U.S. economy surges, readying itself to expand in the second half of this year at the fastest rate since the Great Recession. The rapid growth has allowed employers to continue to hire, driving the unemployment rate — sub-4 percent — toward its lowest level in 50 years.
But there's a widening gap between the rising number of job openings and the number of workers with enough education and skill to fill them, which could debilitate economic growth in the long term, according to a paper released last week by President Trump's Council of Economic Advisers.
Proposals in the House and Senate seek to allocate more federal funding toward workforce training in fiscal 2019 — albeit at lower levels than advocates have hoped.
Overall, 3 out of 4 business leaders surveyed expressed the need for one of three issues:
Greater accountability and autonomy for teachers and principals
Practical skills and technical training
Equitable and more funding for schools in poor communities
While there is support for greater accountability, the leaders surveyed expressed caution in handling schools like businesses. A number of respondents denounced reforms that create schools modeled like factories, treating students as "outputs" or "widgets." Instead, they said, schools should act as service providers in which students are the "customers."
To improve schools so they can provide skilled workers, 85 percent of business leaders surveyed said, one or more market-driven reforms must take place: implement greater school autonomy (59 percent), replace underperforming schools (39 percent), and expand charter schools (34 percent). Just 15 percent of respondents said traditional school management models should remain intact.
Also now live at The 74, about the Business Forward findings: 10 key quotes from surveyed business leaders about the state of America's schools, and Business Forward president Jim Doyle writes about how schools could benefit from being run like businesses.
Disclosure: Walton Family Foundation provided support to Business Forward for this survey and provides support to The 74.
Get stories like these delivered straight to your inbox. Sign up for The 74 Newsletter