EduClips: From NYC's Breakthrough in Integrating Middle Schools to Florida's New Plan to Offer Teachers Bonuses, the Education News You Missed This Week at America's 15 Top Districts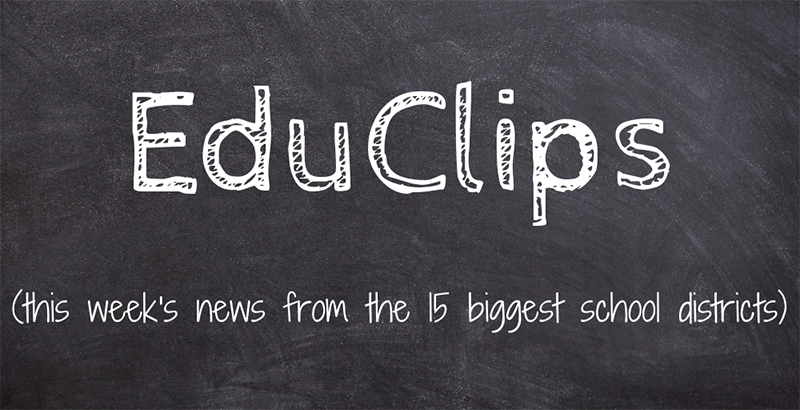 EduClips is a roundup of the week's top education headlines from America's 15 largest school districts, where more than 4 million students across 10 states attend class every day. Read previous EduClips installments here.
NEW YORK CITY — Brooklyn Desegregation Plan Is Making Schools More Diverse, Data Show: This year's enrollment numbers indicate that a plan to make district middle schools more racially integrated in one part of Brooklyn is working. Middle schools in District 15 this year used a lottery-based enrollment system and eliminated admissions screens in an effort to create schools that reflect the diversity of the area. "City leaders hope that District 15's efforts can be a model for the city's other school districts — all of which must now develop integration plans of their own," Christina Veiga and Amy Zimmer report. (Read at Chalkbeat)
● Related: Amid Fierce Debate About Integrating New York City Schools, a Diverse-by-Design Brooklyn Charter Offers a Model
FLORIDA — Governor Rolls Out New Teacher Bonus Proposal: Republican Gov. Ron DeSantis announced last week a new bonus plan for Florida teachers, saying it is one of his priorities for the upcoming legislative session. The $300 million program would benefit those who meet a certain growth threshold on the state's rating system, with more money going to teachers in Title I schools, he said. Earlier this year DeSantis said he also wants to set minimum teacher pay at $47,500. Jeffrey S. Solochek explains the proposal. (Read at the Tampa Bay Times)
HAWAII — What's Behind Hawaii's Rising Test Scores for English Learners? Hawaii's 2019 NAEP scores showed little change in performance over the 2017 results except for one group: fourth-grade English language learners, who had double-digit gains in both math and reading. Officials said a recent change that made the criteria more rigorous for reclassifying students as proficient in English may have been responsible. The change means students learning English are getting more support for a longer time, even though the state department of education admits that the services should be even stronger. Suevon Lee explains. (Read at Honolulu Civil Beat)
CALIFORNIA — Schools Keep Hiring Counselors, but Students' Stress Levels Are Only Growing: California has in recent years increased the number of school counselors, but mental health professionals say they still have overwhelming workloads. In addition to college and career guidance, counselors help students deal with trauma from fires, shootings and social media, Carolyn Jones reports. "The reality is, school counselors and psychologists are saving thousands of troubled kids every day," one expert said in the wake of last week's school shooting in Santa Clarita. "But the demand is increasing exponentially and it's harder and harder to keep up." (Read at EdSource)
TEXAS — Texas Education Board Likely to Approve African-American Studies Course in 2020: After years of contentious back and forth over ethnic studies classes in Texas, the state board of education "appears poised to approve its first African American studies course next year," Aliyya Swaby reports. Some Republicans on the board previously opposed ethnic studies classes out of concerns they would cause racial division, but the board approved a Mexican American studies curriculum last year. The board will take a final vote in April, after creating standards for the possible course based on an existing class in Dallas, but board members appeared supportive of the idea at a public hearing Wednesday. (Read at The Texas Tribune)
Noteworthy Opinion & Analysis
HOUSING: Long Island Real Estate Agents Sell Schools as Much as Houses, Investigation Finds (Read at Newsday)
STUDENT VOICE: 'It Was Paralyzing': I Graduated From Detroit's Most Prestigious High School. I Still Struggled When I Got to College (Read at Chalkbeat)
ELECTION 2020: Education Week Annotated Bernie Sanders's and Elizabeth Warren's Platforms on Charter Schools (Read at Education Week)
HIGHER ED: HBCUs Are Leading Centers of Education — Why Are They Treated as Second-Class Citizens? (Read at The Hechinger Report)
VOCABULARY LESSON: What's the Difference Between a College and a University? (Read at The Atlantic)
What Else We're Reading
NEW YORK CITY: 114,000 Students in N.Y.C. Are Homeless. These Two Let Us Into Their Lives (Read at The New York Times)
INVESTIGATION: The Quiet Rooms: Children Are Being Locked Away, Alone and Terrified, in Illinois Schools. Often It's Against the Law (Read at ProPublica Illinois)
GUN VIOLENCE: Since Parkland: Student Journalists Tell the Stories of Kids Killed by Guns Since Feb. 14, 2018 (Read at The Trace)
SOLUTIONS: What Happens When College Students Discuss Lab Work in Spanish, Philosophy in Chinese or Opera in Italian? (Read at The Hechinger Report)
KICKER: Teens Are Getting Historical on TikTok and It's Both Fun and Educational (Read at Buzzfeed News)
Quotes of the Week
"No kid should have to grow up in a shelter." —Sherine, who lives with her children in one of New York City's homeless shelters. Her son, Darnell, 8, is one of 114,085 homeless students in the city. (Read at The New York Times)
"I will never forget the look they gave us. Like you belonged in somebody's zoo." —Antoinette Harrell, on the harrowing early days of integration in Louisiana's Tangipahoa Parish. Both parties in a 54-year-old desegregation suit against the parish school system worked to settle the case this week. (Read at The 74)
"We have to acknowledge that our goals for federal education funding will continue to face serious political opposition. Supporting well-regulated public charters, in the meantime, is a meaningful complementary solution. The promise of better schools some day down the road doesn't do much for children who have to go to schools that fail them today." —Democratic presidential candidate Cory Booker (Read at The New York Times)
"There's nothing automatically good about being a charter school. The school opens and then the work starts. A few years down the road, a decision has to be made whether the school is good enough to stay open." —Greg Richmond, who recently stepped down after 15 years as president and CEO of the National Association of Charter School Authorizers. (Read at The 74)
"Since when did real estate agents become experts on schools?" —Fred Freiberg, executive director of the Fair Housing Justice Center, who served as a consultant on Newsday's three-year investigation that uncovered widespread evidence of unequal treatment by real estate agents on Long Island. (Read at Newsday)
— With contributions from Andrew Brownstein 
Support The 74's year-end campaign. Make a tax-exempt donation now.