'Testifying Before Congress … Not as Fun as Working With People to Talk About a New School': Charter Authorizing Guru Greg Richmond on Past 20 Years & What's Next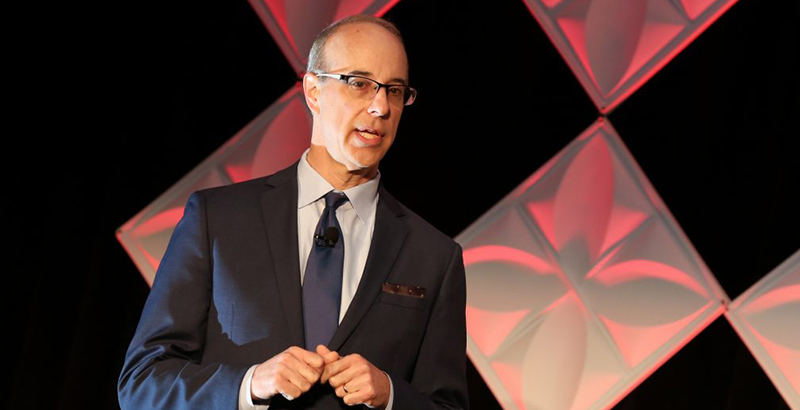 For an admittedly small pond, it was quite the ripple: Greg Richmond has resigned from the National Association of Charter School Authorizers. Richmond had been with the organization for 20 years, first as its founding board chair and for the past 15 years as its president and CEO.
Vice President of Research and Evaluation Karega Rausch will serve as acting president and CEO while a search for a new leader takes place.
If you're unsure why Richmond is a big fish, know that he is credited with pushing — no matter how much it meant swimming against the tide — to make sure the accountability part of public charter schools' autonomy-for-accountability bargain is meaningful. As the entities that grant or deny the schools permission to open and then stay open, charter school authorizers need to set and — much more difficult — stand behind high standards, he insisted.
It will not surprise anyone, then, to hear that it's a role that meant years of friendly — and not-so-friendly — fire. Three years ago, for example, the association was given the "rotten apple" award by Expose Liberal Charter School Turncoats, a group with ties to for-profit online charter schools, presumably for Richmond's vocal role in insisting that states clamp down on the schools' poor performance and questionable business practices.
Richmond "always believed that charter school authorizing, when practiced well, can improve the education and life outcomes of millions of children," said Scott Pearson, association board chair and executive director of the DC Public Charter School Board. We are enormously grateful for his service."
In a recent exit interview with The 74, Richmond said he simply felt it was time for him to do something different and for the association to have new blood. "I don't think it's good for an organization to be led by the same person for too long," he said. "It's a good time for me, personally, to make changes."
Specifically, Richmond said, he's interested in spending more time talking to educators who have promising ideas for new schools. Which is exactly what he did in the early years of the charter school movement, as head of Chicago Public Schools' New Schools Office.
At that time, there was tremendous excitement, particularly among teachers, about the idea of opening new schools. But not much attention was paid to the role of charter school authorizers, he recalled.
"It was viewed as a power, like a political power," he said — but Richmond wanted policymakers to look beyond that control over who got to open a school and where, to the role authorizers could play in ensuring the new schools met high standards.
"There's nothing automatically good about being a charter school. The school opens and then the work starts," said Richmond. "A few years down the road, a decision has to be made whether the school is good enough to stay open."
People were less eager to engage in this discussion, he recalled, even though for many of them, not tolerating poor performance indefinitely was a key ingredient of the charter school concept.
"Closing a school is incredibly difficult, and yet that's one of the cornerstones of the charter school model," Richmond said. "If it doesn't work, we close it."
Thus the association was born, with Richmond serving as founding board chair. The organization has pushed states to tighten charter school accountability laws and urged professionalization of the authorizing sector.
Partly as a result, he said, for each of the past few years, some 200 underperforming charter schools have closed. In the process, it's become clearer how to minimize harm to students when a school shuts down. Criteria for closure must be clear and understood well in advance.
"We've learned that if the school and the authorizer reach that decision mutually, that's the best place to be," said Richmond. "Then the school and the authorizer can work together to figure out what best to do for kids."
So if he's moved the needle in terms of accountability, why step down?
"What attracted me when I first got into this work at Chicago Public Schools was talking to people who had ideas for new schools," said Richmond. "I'd like to get back in that direction.
"Running a national organization, you can lose track of that," he added. "Testifying before Congress is fun, I guess. But it's not as fun to me as working with people to talk about a new school."
Disclosure: Walton Family Foundation and the Bill & Melinda Gates Foundation provide financial support to the National Association of Charter School Authorizers and The 74.
Get stories like these delivered straight to your inbox. Sign up for The 74 Newsletter