EduClips: FL Senate Deals Blow to Teachers Unions; WV Strike Enters Day 8 — and More Must-Reads From America's 15 Biggest School Districts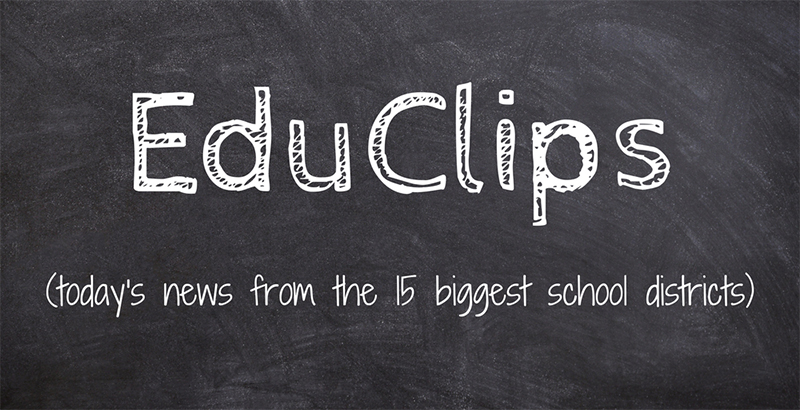 EduClips is a roundup of the day's top education headlines from America's largest school districts, where more than 4 million students across eight states attend class every day. Read previous EduClips installments here. Get the day's top school and policy news delivered straight to your inbox by signing up for the TopSheet Education Newsletter.
Top Story
STRIKE — West Virginia public school teachers are set to strike for an eighth day on Monday after the state legislature did not meet their demands for higher pay and better benefits. The West Virginia legislature debated for hours on Saturday but could not come to an agreement on how much of a raise teachers should receive. As a result, schools are expected to be closed across all 55 of the state's counties.
As many as 20,000 teachers took part in a walkout on February 22, bringing classes for nearly 277,000 students to an abrupt halt. The teachers, who earn an average annual salary of about $45,000, are some of the lowest-paid educators in the U.S. Union leaders have said teachers will not return to work until they get a 5 percent raise. They are also demanding better benefits. (Read at Newsweek)
National News
SCHOOL OFFICERS — School Officer: A Job With Many Roles and One Big Responsibility (Read at The New York Times)
SCIENCE — Half of Parents Not 'Very Confident' They Can Support Children's Science Learning (Read at EdWeek)
SCHOOL SHOOTING — Education Department gives $1 million for Florida school shooting recovery (Read at The Washington Post)
PRE-K — What Drives the Cost of Early-Childhood Programs? Here's a Tool to Find Out (Read at EdWeek)
TITLE IX — No One Would Hire Her. So She Wrote Title IX and Changed History for Millions of Women. Meet Education Trailblazer Patsy Mink (Read at The74Million.org)
MIDTERM ELECTIONS — Among Vulnerable Lawmakers in Midterm Elections, Few Deal Much With Education (Read at Politics K-12)
District and State News
NEW YORK — New York Official Who Championed Education to Join Charter School Network (Read at The Wall Street Journal)
FLORIDA — Florida Senate deals blow to teachers unions (Read at the Palm Beach Post)
CALIFORNIA — Fear, absenteeism, falling grades among impacts of immigration crackdown, study finds (Read at EdSource)
PUERTO RICO — Puerto Rico and Its Teachers Unions Clash Over Proposed Charter Schools (Read at NPR)
TEXAS — Opinion: You are paying more property taxes but schools are still getting less (Read at Dallas News)
NEW YORK — Mayor de Blasio says NYC students 'deserve better' after schools chancellor pick from Miami backs out of job (Read at the New York Daily News)
ILLINOIS — Pension Proposal by Governor Rauner Would Impact Illinois QCA School Districts (Read at WQAD)
NEVADA —New retail, education options may signal dawn of revival for downtown North Las Vegas (Read at the Las Vegas Sun)
CALIFORNIA — Oakland schools balance improving student performance while making deep budget cuts (Read at EdSource)
Think Pieces
D.C. SCHOOLS — Eden: D.C. Public Schools Deserves an F for Bogus Reforms, Faked Successes, and Disastrous Failures (Read at The74Million.org)
GRADUATION SCANDALS — After the scandals, what happens to public school students in college? (Read at The Washington Post)
NYC CHANCELLOR SEARCH — Alberto, Prince of Dade: Lessons Mayor Bill de Blasio Can Learn From the Indecisive Chancellor Fiasco When It Comes to Picking One Who Will Stick (Read at The74Million.org)
LATINO STUDENTS — 50 Years After the East L.A. Walkouts, We're Still Fighting for Latino Students (Read at the Huffington Post)
DISRUPTING EDUCATION — Why This Tech Executive Says Her Plan to Disrupt Education Is Different (Read at The New York Times)
CIVICS — Will better civics classes lead to a better America? Don't count on it. (Read at The Washington Post)
TEACHER MENTORING — Does every teacher need a coach? (Read at The Hechinger Report)
ARMING TEACHERS — Trump Wants to Arm Teachers. These Schools Already Do (Read at The New York Times)
Quote of the Day
"They have to be a mentor — a kind, caring, trusting adult, the nice police officer who will give you a high five and ask you how your day is going. And very quickly they have to become a tactical cop. That switch is not for everybody. The ability to do that is very difficult." —John McDonald, the security chief for the Jefferson County, Colorado, school district, which includes Columbine High, on the role of school police officers. (Read at The New York Times)
Want the day's top school and policy news delivered straight to your inbox — for free? Sign up for the TopSheet Daybreak Education Newsletter.
Get stories like these delivered straight to your inbox. Sign up for The 74 Newsletter