No One Would Hire Her. So She Wrote Title IX and Changed History for Millions of Women. Meet Education Trailblazer Patsy Mink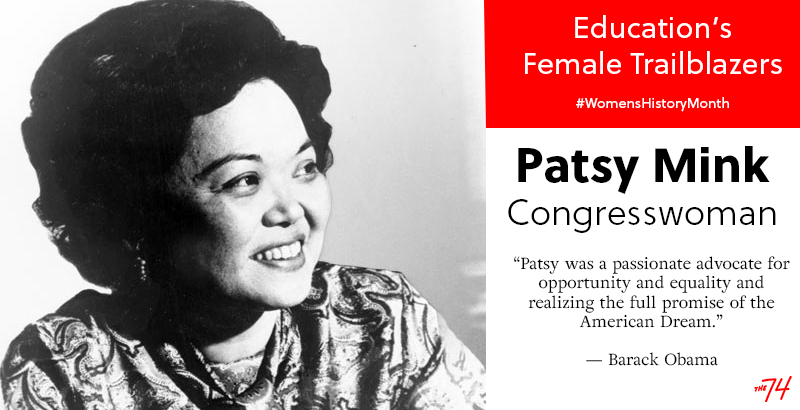 March is National Women's History Month. In recognition, The 74 is sharing stories of remarkable women who transformed U.S. education.
She applied to a dozen medical schools, but she was denied admission because she was a woman. She earned a law degree instead, but firms refused to hire her because she had a daughter and employers said she couldn't work long hours. So she became a politician and wrote legislation that changed the politics of gender, knocking down barriers to educational opportunity for millions of women.
"I didn't start off wanting to be in politics," Patsy Takemoto Mink once told a reporter. "Not being able to get a job from anybody changed things."
And Mink changed a lot of things. The first woman of color elected to Congress, she co-authored Title IX, which mandated equal treatment for women and men in education. After 45 years, the law has led to dramatic progress: Now 11.5 million women attend college, compared with 8.9 million men. Before Title IX, just 300,000 girls nationwide participated in high school sports every year, versus the 3.5 million who do today. The fields of medicine and law that first excluded Mink are now almost equal in their enrollment of male and female students.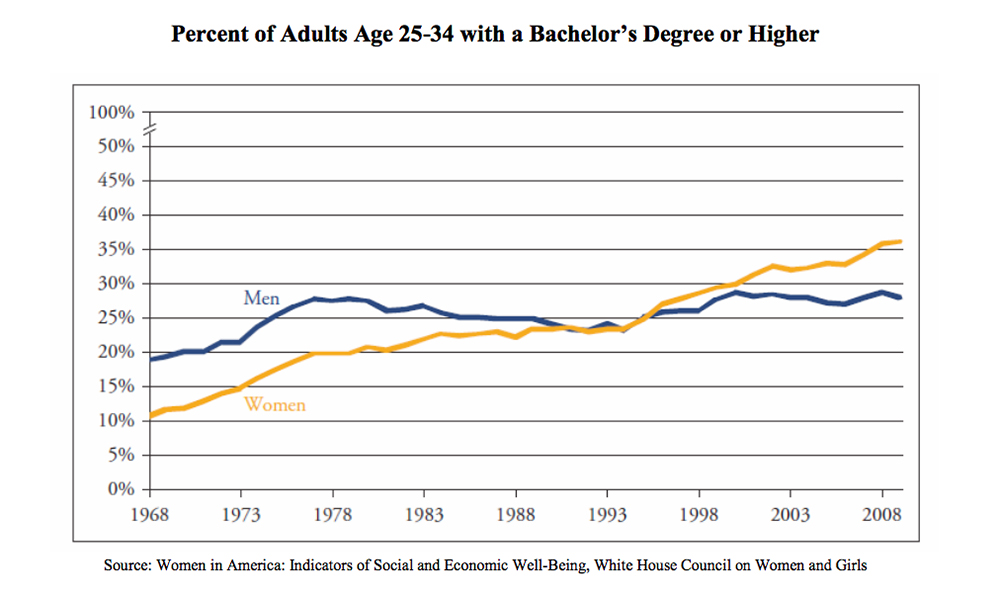 "She changed the course of history — and how many people can we say that about?" said Rep. Rosa DeLauro after Mink's death in 2002.
Mink served 13 sessions in the House of Representatives as a congresswoman from Hawaii, first from 1965 to 1977 and then from 1990 until her death at age 74. In between, after a failed run for Senate, she worked for the Carter administration, ran for U.S. president in the Oregon primary, worked for a liberal political lobbying organization, and served on the Honolulu City Council. She returned to Congress in 1990.
After her success with Title IX, she helped pass the Women's Educational Equity Act in 1974, which provided funding to prevent discrimination in education programs. For example, schools could use the money to replace textbooks riddled with stereotypes pushing men toward careers in medicine and engineering while encouraging women to remain in the home.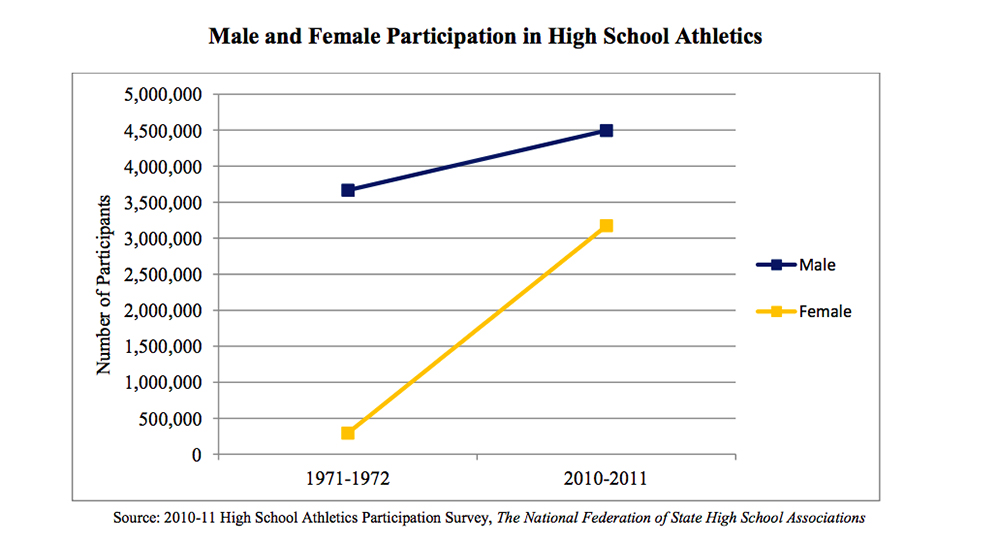 "So long as any part of our society adheres to a sexist notion that men should do certain things and women should do certain things and then begin to inculcate our babies with these certain notions through curriculum development and so forth, then we'll never be rid of the basic causes of sex discrimination," Mink said in an interview in 1974.
She also supported legislation on bilingual education, child care, student loans, and support for students with disabilities.
For many, Mink's life was an example of how to kick down doors, regardless of how many times they were slammed in her face. When law firms in Honolulu refused to hire her because she was a mother, she started her own private practice, accepting a fish as payment for her first case. A political newcomer, she won her first race for a Hawaiian territorial House seat by walking through neighborhoods, knocking on doors, and talking to constituents — an uncommon tactic for 1956. Even after Title IX was signed into law, Mink had to fight against subsequent bills that tried to undermine it in the areas it applied to, like athletics.
It wasn't easy to be an Asian-American female politician, either. When Mink first arrived in Washington, she was heralded by the press as "diminutive" and "exotic." She and her female colleagues were banned from House facilities, like the gym, or dismissed with comments about "raging hormonal imbalance[s]." She was accused of neglecting her child for her career.
But as people soon learned, Mink fought back.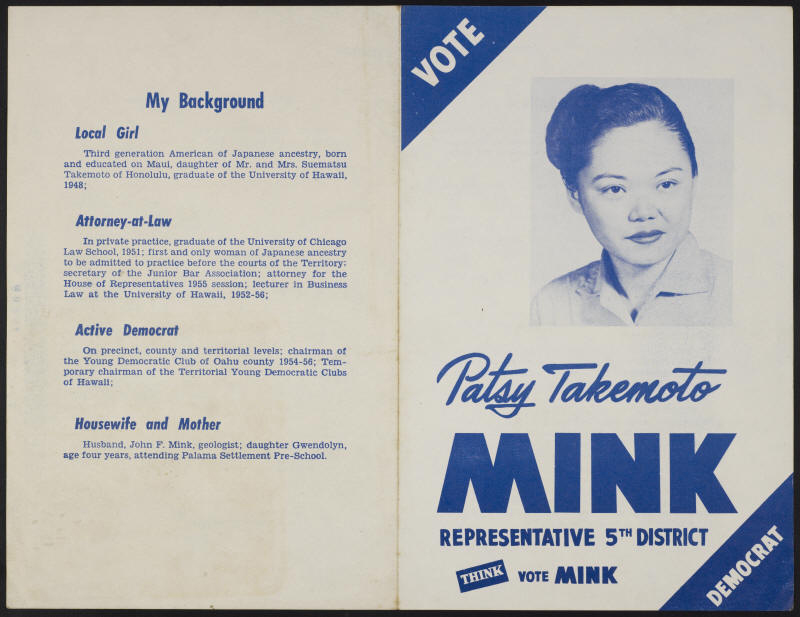 "I think that's the most offensive question that's ever asked," she said calmly, after a reporter questioned how she balanced being a married congresswoman. "I've never heard anyone ask a man, 'How has it been on your family?' "
When President George H.W. Bush vetoed the Civil Rights Act in 1990, she harshly criticized him, saying he walked back on his campaign promise. She called on voters to judge him by this vote, which was "an affront to all of us, men and women, in the workplace," she said.
And despite all the progress Title IX had made, Mink was quick to acknowledge when she returned to Congress in 1990 that much work was still needed toward achieving equality.
"I have been away from the Congress for about 14 years, and I am astonished to find that in the first month of my return here … we are still debating the question of what equality really means in this country," she said.
That reality isn't too far from the one facing women today, advocates said. "Even though now women have supposedly equal access to educational opportunities, they still earn less than men regardless of educational attainment, and women, in fact, have to attain a Ph.D. — basically the highest degree possible in academia — in order to match the lifetime earnings of men who have bachelor's degrees," said Lenora Lapidus, director of the ACLU Women's Rights Project.
Still, for women seeking to attain positions of power overwhelmingly held by men, Mink is an icon. Mazie Hirono, now a U.S. senator, recalled how Mink encouraged her as a young politician, and when Hirono was first elected to the House of Representatives, she cast her first vote for Nancy Pelosi to be speaker. Hirono dedicated her vote to Mink, an announcement that caused Pelosi to turn around in her chair and smile: Mink had told Pelosi that she would one day become speaker. And Pelosi did, the first woman to lead the U.S. House of Representatives.
"No matter how many times she was excluded from traditionally male spheres, this did not hold back Patsy — inspiring me and many others along the way through her perseverance and risk-taking," Hirono wrote in an essay for Politico.
Title IX was eventually renamed the Patsy Mink Equal Opportunity in Education Act, and in 2014, President Barack Obama posthumously awarded Mink — his former congresswoman — the Presidential Medal of Freedom, the nation's highest civilian honor.
"Every girl in Little League, every woman playing college sports, and every parent, including Michelle and myself, who watches their daughter on a field or in the classroom, is forever grateful to the late Patsy Takemoto Mink," he said. "Patsy was a passionate advocate for opportunity and equality and realizing the full promise of the American Dream."
Get stories like these delivered straight to your inbox. Sign up for The 74 Newsletter