Alberto, Prince of Dade: Lessons Mayor Bill de Blasio Can Learn From the Indecisive Chancellor Fiasco When It Comes to Picking One Who Will Stick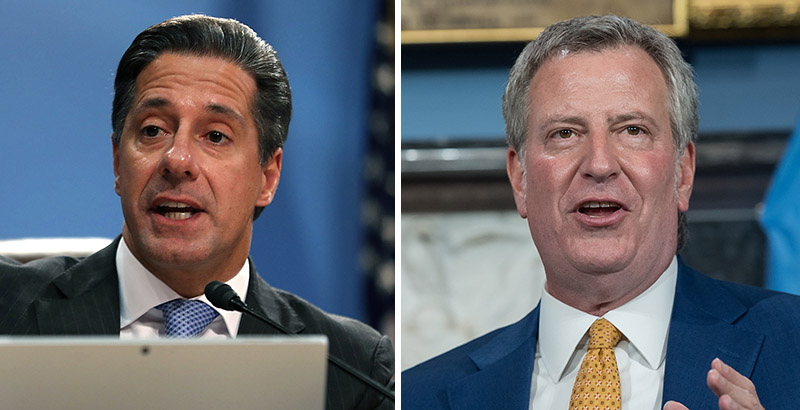 Alberto Carvalho's incredibly public rejection of an offer to lead New York City's schools less than 24 hours after the city let it be known he would take the job has embarrassed Mayor Bill de Blasio and left uncertain future leadership of the nation's largest system.
The administration must resume a search that began last year and seemed to languish before news of the hiring of Carvalho, the charismatic leader of Miami-Dade County's large system, brought it, briefly, to a triumphant close.
Running the city's schools and overseeing its 1.1 million students remains "the number one education job in America," the mayor said at a press conference Thursday, but he now faces pressure to pivot from the Carvalho debacle and make a choice quickly, and probably from a weaker negotiating position.
At the same time, the mayor needs to regain his footing following a stunning turnaround that suggested his process for replacing Chancellor Carmen Fariña, who will retire at the end of March, had been sloppy.
As de Blasio recounted it at the press conference and in a Friday radio interview, Carvalho accepted the job about a week earlier and signed off on a plan to share the news with Politico, which broke the story Thursday evening. Within hours, it had been picked up by every major outlet in the country's biggest media market. Carvalho and the mayor spoke again that night, de Blasio said.
But while Carvalho committed to New York City, he didn't tell that to Miami, as Politico subsequently reported. Miami outlets reported that their superintendent, who had run the district for a decade, had been offered education's most prestigious job but had not yet accepted.
At a quickly called board meeting the next morning, residents pleaded with Carvalho for hours to stay, in a spectacle that seemed too extreme to be stagecraft and too rhapsodic to be spontaneous.
He returned from a brief break to say he'd spoken to de Blasio and, acknowledging for the first time he'd made an agreement with New York, proceeded to renege on it: "I am breaking an agreement between adults to honor an agreement and a pact I have with the children of Miami."
Carvalho's apparently real-time turnaround amid showers of love on live television made the mayor look weak: He had lost control of the announcement and perhaps made a mistake in hiring the indecisive Carvalho at all — while also disclosing that he bumped the salary by $100,000 to match Carvalho's current compensation. It seemed as if de Blasio had been played by a political operator who wanted to strengthen his position in Miami.
Carvalho mentioned "honor" often during the meeting, but events suggest he may have acted dishonorably. Playbook Florida reported allegations that he changed his mind after realizing he wouldn't have the hiring authority he wanted. He surely didn't learn of that only after New York City went public.
Another possible rationale — that he wanted to avoid renewed scrutiny of an alleged affair 10 years ago with a Miami Herald education reporter — raised questions about the city's vetting effort. The mayor said that uncomfortable subject had been fully explored.
"That topic was discussed in great detail with him well in advance," de Blasio told WNYC. "We vetted him very extensively. I went over every element in the vetting with him personally and reminded him that all these issues would be rehashed. … It was quite explicit that there would be scrutiny."
The emphasis is off. The relevant issue isn't how much de Blasio and his team reiterated there would be questions — it's whether Carvalho was prepared, in messaging, tone, and demeanor, to give answers that satisfied the mayor.
The superintendent's late-breaking buyer's remorse was unusual and irresponsible, but the mayor made additional mistakes that might have avoided or limited the damage. Candidates aren't foolproof, but the process needs to be.
De Blasio allowed Carvalho to attend the public meeting in Miami, for instance, rather than come to New York for a formal announcement, even though City Hall officials knew that news of the deal was already out.
Some wonder why the city hadn't arranged for a transition long before.
"I was more surprised at the way it unfolded," said David Bloomfield, a professor of educational leadership, law, and policy at Brooklyn College, who writes frequently about the city schools. "When a chancellor resigns, the replacement is sitting next to the mayor at the time. So that was surprising to me. A wholly predictable resignation was followed by an empty seat at the table."
Bloomfield said outgoing chancellor Carmen Fariña should not have been allowed to announce her retirement — as she did right before Christmas — until the city had a plan in place.
De Blasio must now resume a search that feels dispiriting after the elation that greeted news that the city had reached terms with Carvalho, who has won national awards for his leadership in narrowing learning gaps, defending undocumented immigrant children, and fighting the spread of guns.
With Fariña leaving by the end of the month, de Blasio may now be forced to name an interim chancellor while looking to fill what remains one of the headline jobs in education. One consequence of the fallout with Carvalho is that it has intensified the need, politically, to find a replacement soon.
It won't be any easier now for de Blasio to hire a top-tier candidate, but it's not clear the city must settle for a lesser choice than before: Those who wanted to work under de Blasio previously will still want to. There may also be candidates who throw in while they perceive the city is down in hopes of having a strong bargaining position.
"This happens all the time in school districts; it's just usually less condensed," said Bloomfield. "Superintendents are wooed and their home board woos them to come back. And a lot of times they do."
But usually not on live television.
Support The 74's year-end campaign. Make a tax-exempt donation now.