EduClips: District School Chiefs Sue IL for $7.2 Billion; Top KS Court Hears Arguments in School Funding Case — and More Must-Reads From America's 15 Biggest School Districts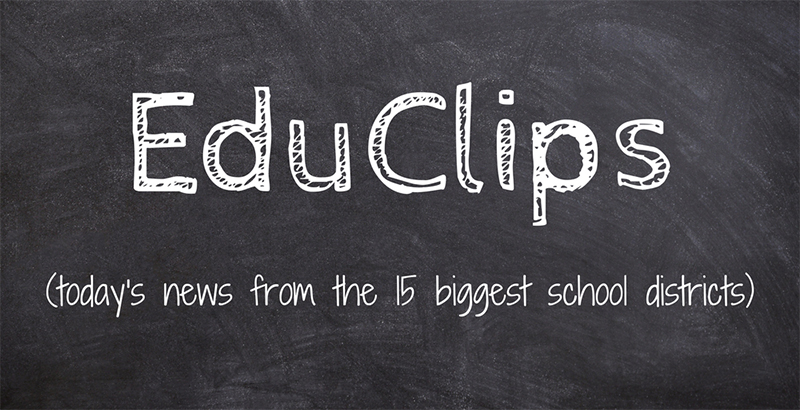 EduClips is a roundup of the day's top education headlines from America's largest school districts, where more than 4 million students across eight states attend class every day. Read previous EduClips installments here. Get the day's top school and policy news delivered straight to your inbox by signing up for the TopSheet Education Newsletter.
Top Story
TEXAS SCHOOL SHOOTING — When Texas Gov. Greg Abbott this week convenes the first of his planned roundtable discussions to come up with laws to protect people from gun violence, it could mark a turning point for the state.
Texas has some of the most lenient gun laws in the country. A shooting at a small Texas church in November that killed 26 and injured 20 others didn't prompt changes in state legislature or public rhetoric. And the school shooting in Parkland, Fla., in February that killed 17 and brought gun-control measures to the forefront elsewhere also didn't lead to changes here. Earlier this month, Dallas hosted the largest National Rifle Association convention ever, and Mr. Abbott was among the speakers.
But since Friday's shooting at Santa Fe High School near Houston that left 10 dead and 13 injured, Mr. Abbott and other high-level officials have spoken out and taken to social media to talk about gun control. (Read at The Wall Street Journal)
National News
TEXAS SCHOOL SHOOTING
— Will the Texas Shooting Prompt Action From Trump's School Safety Commission? (Read at Politics K-12)
— Since Parkland, 14 states have introduced 25 measures to arm teachers and staff. Only 1 has passed (Read at CNN)
— The US has had 57 times as many school shootings as the other major industrialized nations combined (Read at CNN)
— Texas lieutenant governor calls for 'hardening' of schools (Read at PBS)
TEACHER GRANTS — Education Department Launches 'Top-To-Bottom' Review Of Teachers' Grant Program (Read at NPR)
KANSAS FUNDING — Top Kansas court to hear arguments on school funding (Read at Washington Post)
DC SCHOOLS — Why does Bowser keep saying D.C. is the 'fastest improving' school district in the country? (Read at Washington Post)
District and State News
ILLINOIS — School Supts Sue State For $7.2 Billion (Read at NPR Illinois)
FLORIDA — Florida Department of Education prepares rules to govern scholarships for bullied students (Read at Tampa Bay Times)
NEW YORK — NYC's first citywide Student Voter Registration Day draws teens looking to stop school gun violence (Read at New York Daily News)
ILLINOIS — CPS promised better academic opportunities, but students saw test scores drop (Read at Chicago Sun Times)
CALIFORNIA — Charter backers outspend teachers in 2 California races (Read at Education Week)
NEVADA — Clark County School Board approves $2.4B budget (Read at Las Vegas Review-Journal)
CALIFORNIA — Push underway to increase California school funding by billions (Read at EdSource)
NEW YORK — Success Academy COO leaving for another charter network (Read at Chalkbeat)
Think Pieces
'THIS IS AMERICA' — From Viral Video to the Classroom: Childish Gambino's 'This Is America' Spurs Discussion on Race, Gun Violence, and History (Read at The74Million.org)
TEACHER PAY — Pay Teachers More—but Make Sure They Earn It (Read in The Wall Street Journal)
TEACHERS' UNIONS — Exclusive: Ahead of a Key Supreme Court Decision, America's Largest Teachers Union Slashes Budget by $50 Million, Projects That 300,000 Members May Leave (Read at The74Million.org)
TEACHERS — Democrats have a better deal for teachers and our kids, too: Chuck Schumer & Nancy Pelosi (Read at USA Today)
DRESS CODES — Dress codes can't cover for bad teaching (Read Hechinger Report)
PROFICIENCY STANDARDS — States Are Raising the Bar for Their Students, New Report Shows, but Higher Standards Are Not Driving Higher Test Scores (Read at The74Million.org)
INSTRUCTION TIME — How do Mississippi's requirements for instructional time compare to the rest of the country? (Read at Hechinger Report)
Quote of the Day
"They gave more care to the gun than they did to the victim, which I thought was very interesting. And my teacher didn't point that out, I did. Which was pretty cool." — Kenny Shirley, 14, a student in Nathan Tanner's history class at Northwest Middle School in Salt Lake City, Utah, on Childish Gambino's "This is America" video. The class is one of many in the U.S. to use the video to explore issues of race, gun violence and history. (Read at The74Million.org)
Want the day's top school and policy news delivered straight to your inbox — for free? Sign up for the TopSheet Daybreak Education Newsletter.
Support The 74's year-end campaign. Make a tax-exempt donation now.