EduClips: Betsy DeVos: Year One; Chicago Union Votes to Include Charter Teachers — and More Must-Reads From America's 15 Biggest School Districts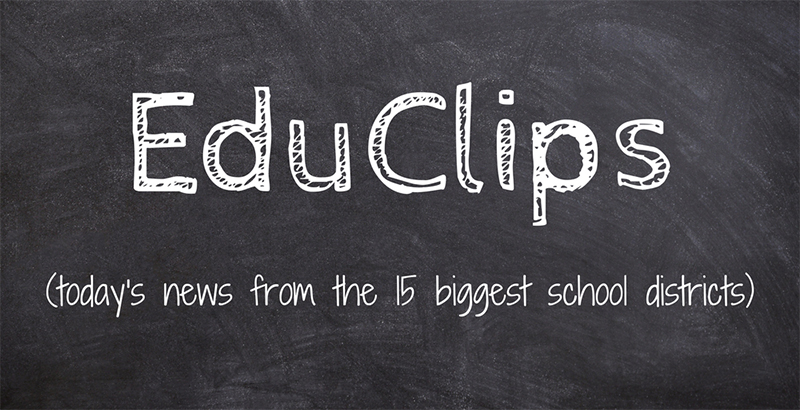 EduClips is a roundup of the day's top education headlines from America's largest school districts, where more than 4 million students across eight states attend class every day. Read previous EduClips installments here. Get the day's top school and policy news delivered straight to your inbox by signing up for the TopSheet Education Newsletter.
Top Story
DEVOS — Today marks the first anniversary of Betsy DeVos's tenure as U.S. secretary of education. In a progress report, Education Week describes her freshman year as "a bumpy ride." The report says DeVos and her team have made "only modest progress" on school choice, one of DeVos's core issues, with the key victory being language in the new GOP tax-overhaul legislation that allows families to use 529 college-savings plans for K-12 private school tuition. The report also examines her impact on civil rights, higher education, and implementation of the Every Student Succeeds Act. (Read at Education Week)
National News
GATES FOUNDATION — With new focus on curriculum, the Bill & Melinda Gates Foundation wades into tricky territory (Read at Chalkbeat)
FLU EPIDEMIC — Flu-Related Map of School Closures Now Extends to 15 States, as More Than 50 Children Die Due to H3N2 Epidemic (Read at The74Million.org)
SCHOOL CHOICE — Where Will Trump Go Next on Choice? Watch These Three Groups of Students (Read at Politics K-12)
District and State News
ILLINOIS — Chicago Public School Teachers Vote to Include Charter Teachers in Union (Read at Education Week)
TEXAS — More than half of Texas public school students are in districts where teacher certification isn't required (Read at the Texas Tribune)
PUERTO RICO — As Puerto Rico's Governor Embraces Major School Reform Agenda, New Orleans Offers Inspiration, Caution (Read at The74Million.org)
ILLINOIS — Illinois Private School Tax Break Proposed (Read at NPR Illinois)
NEW YORK — Charter advocates descend on Albany but could see fewer battles in 2018 (Read at Chalkbeat)
CALIFORNIA — California schools may no longer get more help based on test scores (Read at ABC 10)
FLORIDA — Florida House gears up for big debate on education bill (Read at the Bradenton Herald)
NEW YORK — Racist slavery lesson at Bronx school ignites fiery protest outside City Hall (Read at the New York Daily News)
NEVADA — Nevada governor candidate wants to use Raiders money for education (Read at the Las Vegas Review-Journal)
Think Pieces
RELIGIOUS SCHOOLS — New Analysis Shows Milwaukee's Religious Schools Now Overwhelmingly Enroll Voucher Students (Read at The74Million.org)
SCIENCE — Following the lessons of learning science in schools isn't convenient (Read at Hechinger Report)
ZONING — The Two-Board Knot: Zoning, Schools, and Inequality (Read at American Affairs)
BLACK HISTORY MONTH — 24 Children's Books to Read to Your Kids in Honor of Black History Month (Read at Huffington Post)
DACA — This Teacher of the Year Showed Me Just How Important DACA Is (Read at Education Post)
Quote of the Day
"I think it's probably better than the status quo, which is in essence incoherent curricula in most places. But then again, I completely recognize that what I'm describing is probably exactly what was said about teacher evaluation in 2007 … and also Common Core." —Morgan Polikoff, professor at the University of Southern California, on a plan by the Bill & Melinda Gates Foundation to change K-12 curricula. (Read at Chalkbeat)
Disclosure: The Bill & Melinda Gates Foundation supports The 74.
Want the day's top school and policy news delivered straight to your inbox — for free? Sign up for the TopSheet Daybreak Education Newsletter.
Get stories like these delivered straight to your inbox. Sign up for The 74 Newsletter