EDlection2018 Final Count: Taking Stock of All the Governor and Superintendent Races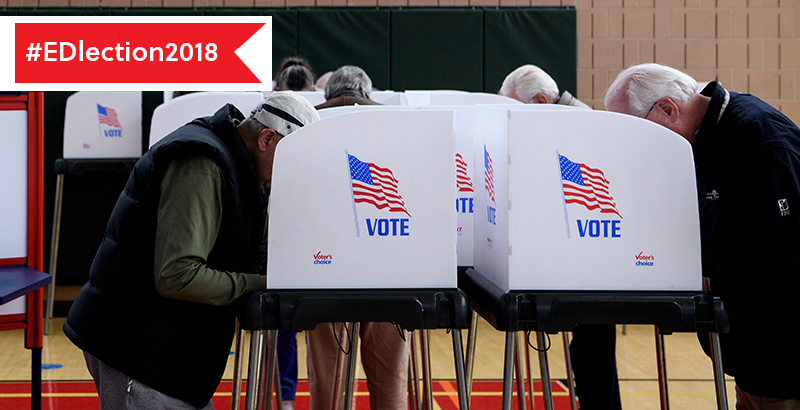 EDlection2018: This is one of several dozen races we've analyzed for the 2018 midterms that could go on to influence state or federal education policy. Get the latest headlines delivered straight to your inbox; sign up for The 74 Newsletter.
Much of the public's attention today has focused on the shifting power in Washington, D.C. and what Democrats retaking the House but likely losing seats in the Senate will mean for governing generally and education policy specifically.
But for K-12 watchers, the races that really matter for important issues like funding, school choice, school safety and ESSA implementation are for governor and state superintendent. In all, 36 states had governor's races yesterday, and seven cast ballots for state schools chief.
In these races, it was a good night for Republicans overall, particularly incumbent ones. Here's a brief recap of the remaining contests that we haven't already covered in the past 24 hours.
Superintendents
Georgia: Incumbent Republican Richard Woods beat Democratic challenger Ota Thornton, a retired military officer and the first black male president of the PTA. Woods won with 53 percent of the vote, according to the secretary of state's website.
Thornton said his campaign's three pillars were providing wraparound services, school safety (though he opposes a state law that permits teachers to carry firearms if authorized by the school board), and updating the state's funding formula, he told Atlanta Magazine.
Woods touted his efforts to reduce testing, including working with lawmakers to establish an innovative assessment program. He backs the state law allowing educators to carry firearms, he told Atlanta Magazine, but would support changes in the law requiring public input or training standards for teachers.
Oklahoma: Republican incumbent Joy Hofmeister beat John Cox, superintendent of Peggs Public Schools in the eastern part of the state, by nearly 25 points, according to the state Board of Elections. It was a re-match from four years ago, when Hofmeister won by 11 points.
Hofmeister touted what she said was help in passing a pay increase for educators following walkouts this spring, alongside reducing the number of tests and raising standards. Cox had called the increased standards an "assault on public education."
South Carolina: Incumbent Republican Molly Spearman was re-elected easily, with 98 percent of the vote, according to the state election commission. Her Democratic opponent, Israel Romero, was forced to drop out of the race a month ahead of Election Day after a South Carolina newspaper discovered he had been convicted of impersonating a lawyer, a felony that barred him from holding office.
Spearman was dealt one loss, however: South Carolina voters rejected, 60 percent to 40 percent, changing the state Constitution to make the job one appointed by the governor rather than chosen by the voters. Spearman backed the change.
Wyoming: Incumbent Republican Jillian Balow ran unopposed.
Governors
Alabama: Republican incumbent Kay Ivey was re-elected, beating Democrat Walt Maddox, the mayor of Tuscaloosa, by a margin of 20 points, according to election results posted by Politico.
Maddox had called for the state to establish a lottery to fund universal pre-K, college scholarships, equalized school funding between rich and poor districts, and wraparound medical and mental health services.
Ivey, the former lieutenant governor who was elevated to the office in April 2017 after the former governor resigned amid a sex scandal, on her campaign website noted her past as a teacher and touted "record funding for pre-K" under her watch.
Alaska: The race has yet to be called, but Republican Mike Dunleavy was ahead of his nearest competitor by about seven points as of early Wednesday afternoon, with 98 percent of precincts reporting.
The race was scrambled last month when incumbent Bill Walker, an independent, dropped out and threw his support to Democrat Mark Begich. Walker's name still appeared on the ballot.
The state in recent years has faced several budget crises as the price of oil, its primary source of tax revenue, has fallen, and lawmakers have held education spending mostly flat. The candidates have tussled over cutting spending, including for education, or raising taxes, to continue providing Alaskans with their full amounts due from the Permanent Dividend Fund, an investment fund for residents financed by oil revenues.
Arkansas: Incumbent Asa Hutchinson, a Republican, bested Jared Henderson, the former executive director of the state's Teach for America program and the Democratic nominee, by more than 30 points.
Henderson had called for raising teacher pay to make Arkansas teachers "the highest paid teachers in the country adjusted for cost of living." Hutchinson in a campaign ad touted an effort to put computer coding classes in high schools across the state, an idea he said came from his granddaughter, Ella Beth.
Hawaii: Democratic incumbent David Ige was easily re-elected, winning nearly 63 percent of the vote in his race against Republican Andria Tupola, a member of the state House.
Ige in a debate touted his efforts to reduce the price of college, including an early college program, as part an overall effort to bring down the high cost of living in the island state. Tupola on her campaign website had called for equalizing funding between district and charter schools.
Massachusetts: Republican Charlie Baker, by some measures the most popular governor in the country, easily won re-election, despite his state's strong Democratic tilt. He took more than two-thirds of the vote in his race against Jay Gonzalez.
Baker's highest-profile move was his backing of a failed 2016 ballot referendum to lift the cap on charter schools in the state, which are among the nation's top performers in the sector. Gonzalez had pledged that every child from birth to age 5 would have "access to high-quality, affordable child care and preschool" by the end of his first term.
Nebraska: Republican Gov. Pete Ricketts was re-elected by a margin of 18 points over Democratic nominee Bob Krist, a state senator, final election results show.
Their debates focused on property tax relief and increasing K-12 education funding, often competing priorities.
New Hampshire: Incumbent Republican Gov. Chris Sununu won re-election by seven points, beating former state senator Molly Kelly, though his political reach will be limited by Democrats, who re-took control of both chambers of the state legislature.
Sununu was one for two in his big K-12 education pushes: lawmakers paid for full-day kindergarten in the state by expanding Keno gambling, but didn't approve his proposal for an education savings account program. Kelly, who was endorsed by the state teachers union, said Keno isn't a sustainable funding solution for full-day kindergarten and pledged to veto any voucher plan.
Oregon: Democrat Kate Brown beat her Republican challenger, State Rep. Knute Buehler, by just shy of five points, according to final results by the AP.
The two had sparred over education funding, particularly exploding costs for teacher pensions, and lagging test scores and high school graduation rates, which are among the worst in the country. They agreed, however, on the need to recruit more teachers of color and lengthen the school year from 170 to 180 days, the Oregonian reported.
Texas: Greg Abbott, the Republican incumbent, was re-elected last night, beating Democrat Lupe Valdez, the sheriff of Dallas County, by about 13 points.
The two had clashed on the amount of education funding provided by the state, the availability of in-state college tuition rates for undocumented students, and Abbott's school safety plan, which called for arming teachers. Although Texas was home to one of the two major school shootings this year, in May at Santa Fe High School outside Houston, lawmakers were not in session this year, so no sweeping legislative changes were adopted in response to school gun violence.
Vermont: Republican Phil Scott was re-elected to a second two-year term by a margin of nearly 15 points over Democrat Christine Hallquist. Hallquist was the country's first transgender major-party nominee for governor.
Scott vetoed state budgets three times during his first term to prevent an increase in property taxes for education, but finally relented earlier this year. He has said the state can put more money into early childhood and higher education without increasing spending, citing the need to "take some meat out of the middle to do that," the Burlington Free Press reported.
Hallquist called for other proposals beyond education to attract more families to Vermont to bolster the dwindling K-12 student enrollment, and to reduce the state's prison population by half with the savings going toward higher education.
EDlection2018: This is one of several dozen races we've analyzed for the 2018 midterms that could go on to influence state or federal education policy. Get the latest headlines delivered straight to your inbox; sign up for The 74 Newsletter.
Get stories like these delivered straight to your inbox. Sign up for The 74 Newsletter